Welcome back to Horse Madness II, the quest for racing's greatest Cinderella.  We have finally reached the Final Four, featuring four of the greatest upsetters in the history of racing.  We are just two days away from crowning a champion…
An updated bracket is available here:  Horse Madness 2016
Our initial Final Four matchup is very enticing, pitting the greatest longshot in the history of the Belmont Stakes against one of the greatest alltime upsets at the Graveyard of Champions, Saratoga Racecourse.  Sarava beat Triple Crown contender War Emblem in the 2002 Belmont, whereas Jim Dandy beat Triple Crown champion Gallant Fox in the 1930 Travers Stakes.  Who will survive and advance to vie for the championship?  You decide…
Sarava
Sarava was a $250,000 yearling, a son of inaugural Breeders' Cup Classic winner Wild Again and out of a Deputy Minister mare. He began his racing career in England, but flamed out there and returned stateside to break his maiden in November 2001. He then came in second in three consecutive outings before finding the winners' circle again at Pimlico in the Sir Barton Stakes. The connections took that win and jumped right into the deep end of the pool, entering the Belmont Stakes against War Emblem, who was threatening to be the first Triple Crown winner in 23 years. War Emblem did not particularly scare anyone away, however, as 11 horses made the gate, including Medaglia d'Oro and Perfect Drift. Of those horses, Sarava actually was not the longest shot on the board – Artax Too was 71/1 – but those two were by far the outsiders as far as the betting public was concerned. The rest of the field was between 3/2 (War Emblem) and 25/1. But weird things happen over a mile and a half – especially when the heavy favorite stumbles badly at the start. The call of the race was also quintessential Durkin, building to the last quarter mile (War Emblem is toiling!) and culminating with a surprised exclamation of Sarava! at the line, even though Sarava took over from Medaglia d'Oro with a furlong to go, and ground him down to the finish. Incidentally, Artax Too ran to his 71/1 odds, coming in dead last. Sarava did not run again as a three year old, and ran just once at four, coming in 6th in an optional claiming contest. He had a decently long campaign as a five year old, but it was clear that his best day was that warm day in June 2002 in Jamaica, Queens – he would never win again.
Jim Dandy
Jim Dandy's 1930 Travers Win against Triple Crown winner Gallant Fox embodies everything we love about sports.  Dismissed at 100-1 odds,  Jim Dandy pulled away from the Fox and other racing blue bloods to prevail, adding a prominent tombstone to the Graveyard of Champions.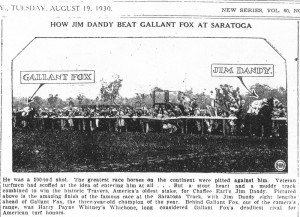 The 1930 Travers was run on a muddy track, after hard rains that morning and intermittent showers throughout the day.  Jim Dandy had run in 141 (!) career races prior to the 1930 Travers and had run last in more than half of them.  BUT, he had won the Grand Union Hotel Stakes at Saratoga the prior year in similar conditions.  Though the bookmakers still gave him no shot, he skipped over the muddy going.  At the top of the stretch, Whichone, the second choice owned by the Whitneys, bore out and brought Gallant Fox with him (a post race examination would show that Whichone bowed a tendon in the race), but more importantly, it gave Jim Dandy and his jockey Frank Baker space to charge through on the rail.  Baker and Jim Dandy never looked back, crushing that year's Triple Crown hero by 8 lengths.  It was a race that remains one of horse racing's greatest upsets, and is one of the primary reasons that Saratoga is known as the "Graveyard of Champions."  Jim Dandy became honored as the namesake for the Travers key prep, more importantly, his name also dons the front of our favorite dark and dingy racetrack bar.
1930 Travers Stakes (Not in HD)
Share and Enjoy