The Triple Crown gathers the most mainstream attention, but racing fans all know the best two days of the year are upon us.  Loaded fields of Grade 1 winners—from the East Coast, West Coast, and globally– collide in all of the key divisions.  Horses going off at odds they've never seen in their entire career.  Huge payouts the expectation, not the exception.  Happy Breeders' Cup Friday, everyone.
Our thoughts on the Future Stars Friday races are below.  It is a pretty tough five race sequence, so if you have a strong opinion in one race, go with it and spread deep in the others. Good luck!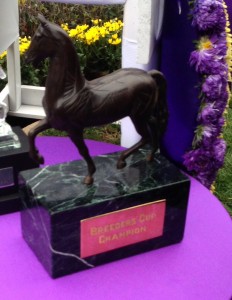 Juvenile Turf Sprint
Why not start the Breeders' Cup off with a complete crap shoot—a two year old turf sprint.  Further complicating matters is a rather small sample size of this race historically to even pin point a winner's profile.  That said, to date, domestics have dominated this race and so we will largely overlook the Euros. We will be keying trainers who thrive at turf sprints.
Twighlight Gleaming (who we count as a domestic) is the most sensical winner.  In a race with a lot of speed, this filly can get first run. Ward is the king of two year old sprinters, and this horse followed his typical playbook for getting to the cup.
Peter Miller is another historically strong turf sprint trainer.  Time to Party has, in our opinion, the best speed figure pattern heading into the race.  Yes, he is speed in a race full of speed, but he showed some ratability last out. Wins over this turf course and a top local pilot are bonuses. 15-1.
Given the speed in this race, closers are logical. Derrynane, for another turf sprint winning trainer, Clement, should be running late.  We also note her best effort to date was the only time she caught firm turf.  We will likely key this one at 12-1.
We will play the 8 and 9 defensively as B's—too much speed, too short a price.  We will sprinkle in some 1 and 6 as Euros.
A:  11, 10, 7
B: 1, 2, 8, 9, 6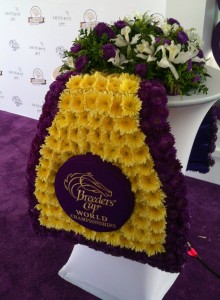 Juvenile Fillies
Homer alert—the Bros are investors in Black Type Thoroughbreds, so it goes without saying we will be pulling hard for their Hidden Connection.  All bias aside, the horse makes a lot of sense, her figures are just as good if not better than JuJu and Zulu, but the key difference is a more proven ability to rate.  We like her using early speed to get a ground saving trip on the rail and then making first run at the two speed horses. Given her breeding, this horse should be able to run them down in the stretch.
Of the two speed horses, we actually like JuJu better.  She has an improving pattern and stepped up when stretching out.  Her last work was quite sharp, suggesting she is all systems go for this one.
For our last A, we will take a flyer on Tarabi.  DeVaux is a very capable trainer.  The timeoff and stretch out would normally be red flags, but instead, this strikes us as a carefully managed horse for a sire known to produce early winners, albeit somewhat fragile ones. Tarabi lost all chances against Zulu last out while smashing into the gate.  She has been firing bullets since.  Her numbers are very fast and if she steps forward stretching out, she could be right there at all of 12-1.
We will play Zulu defensively but first try around two turns, coupled with a regression when stretching to a mile make us question her willingness to carry her speed this early in her career, especially with other speed signed on.  At 4/5 ML, we will pass with no regrets.
A: 2, 5, 4
B: 6
We will use the 3 underneath for exactas.
Juvenile Fillies Turf
This race has been dominated by domestics.  With a suspect Euro contingent singed on for 2021, we will follow that trend. At the risk of picking two horses in the first three races as who come for a trainer who is 0-40 at the Breeders Cup, we really like Pizza Binaca. The rail shouldn't bother her with her running style and she should be able to save ground. She had a big step up going to a mile last out.  How will she like firm turf is the question.
At the odds, Haughty may be a our key for Chad Brown who has won 4 of the last 8 editions of this race.  She has the best speed figure pattern in the race, and her stablemate figures to gain more attention at the window—the "other Chad Brown" is often a winning angle.
Again giving credence to horses with experience over this tight turf course, we like Cairo Memories who broke her maiden here before an easy win in the Surfer Girl.  This horse will need to find a spot early to maintain her preferred running style, but Desormeaux knows how to do that at DM.
You could use a raft of other horses and this may be a race to spread deep. 5 and 8 are interesting. No sprinter has ever stretched out and won this race. However, both have promising speed figures in a field short on speed.
A's:  1, 2, 11
B's:  5, 6, 8, 9, 10, 14
Juvenile
Jack Christopher is a deserving favorite, but he backed up when stretching out and there is other speed signed on.
We will go out on another limb here and key the 4 Pappacap.  Unlike Jack, he improved stretching out. He came back from that effort with three handled works, looking sharper each time.
We have no idea what to expect from Baffert's horses this weekend, but the "other Baffert", Barossa, has the best pattern on the speed figures and the right running style. At 10-1, she should be used.
Commandperformance rounds out our A team.  It's tough to key a maiden, but we like this horse's development and note he was gaining on the favorite in their prep and now gets an extra panel and a better pace scenario.
One bomber to note—Double Thunder.  He's another improving colt and can close from the clouds if the pace goes nuts.
A's: 4, 8, 10
B's: 5, 12
Juvenile Turf
Unlike the filly version, Euros have done well in this race, especially from top connections.  Appleby exactas have done well on big US race days this year and we like Modern Games and Albahr best. Dubawi Legend is the other Euro that makes sense to us, albeit from a tough post.  For a domestic, we like Portfolio Company best.  Historically, speed horses have no held on to win this race, but he could be lone speed in this field.
A's: 1, 2, 10, 14
B's: 3, 4, 8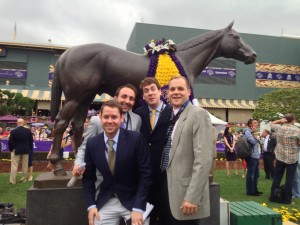 Share and Enjoy