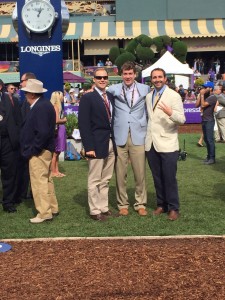 Contact us at:  Thorobros@thorobros.com
We are three lifelong horse racing fans, between the ages of 26 and 32, from upstate New York and Vermont.  All three of us grew up going to Saratoga and developing a love for the sport.  Although now we have full time jobs and live in various cities across the East Coast,  our passion for racing has only grown.  You can find us at Saratoga every summer and at most major racing days throughout the year.
We always try to introduce our friends and other new potential fans to the sport, bringing them with us to days at the track and showing them the very best racing has to offer.  An afternoon with friends spent outdoor drinking, gambling, and people watching seems like such an easy sell to the younger generation that we have always refused to believe that racing cannot establish a younger fan base.
As with most racing fans, we have heard and challenged  the public perception that racing is a dying sport.  However, as more and more pundits forecast doomsday, it becomes more and more difficult for us to dismiss this prognosis.  We spent countless hours writing and exchanging emails with one another about how racing could  reverse this perception and embrace change rather than remain static and prepare for extinction.
Instead of just limiting our thoughts and ideas to internal email exchanges and discussions at a picnic table in Saratoga's backyard, we decided to start this website, Thorobros.com, which will be offering commentary on the business, legal and marketing aspects of thoroughbred racing.  The focus of our efforts is to spark debate and make suggestions as to how racing can change its perception, generate new fans, and adapt to the times.
In addition to providing our analysis and critique of the industry, we also realize that some of the best promotion of the sport is to create debate amongst fans and to relive great races and moments from the past.  Accordingly, we intend to feature content and recurring series to those effects–such as our 40 Days series during the Saratoga Meet and our recently concluded Horse Madness event.
We hope you enjoy reading our content, listening to our soon to be launched interview series, and following us on Twitter at @Thorobros.  Please reach out to us with any thoughts or suggestions or if you want to grab a beer at the next big race day.
Contact us: Thorobros@thorobros.com
Share and Enjoy