Welcome back to Horse Madness II, the quest for racing's greatest Cinderella.  We have finally reached the Final Four, featuring four of the greatest upsetters in the history of racing.  We are just two days away from crowning a champion…
An updated bracket is available here:  Horse Madness 2016
Our second Final Four matchup is exactly what we envisioned when we started this Horse Madness bracket.  It pits two very different kinds of upsets against each other and asks racing fans to determine which they consider to be the bigger upset.  Is it the giant killer, Onion, with Hall of Fame connections but who played David to Secretariat's Goliath? Or is it a true rags to riches Cinderella story like Mine That Bird, who rode a pick up truck, not a pumpkin, into the Churchill Downs' winners' circle? We are excited to see how this one ends.
Onion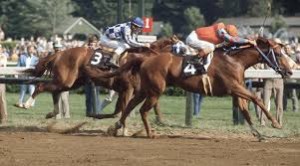 The Graveyard of Favorites. The legend of Saratoga as a stumbling block for champions is well celebrated, and has numerous entries in this bracket.
But not all upsets are treated equally and Onion's defeat of Secretariat was quickly dismissed.  Instead of a courageous or historic upset, Onion's 1973 Whitney victory over Secretariat has been labeled a fluke—the lowest designation an upset can receive. Even Onion's own rider, Jacinto Vasquez, admitted the win was a complete fluke–"I probably caught him on a bad day. Onion wasn't the same caliber. It's just that he loved Saratoga and had a good day."
Of course, Vasquez is right. Onion is not Secretariat—not even close. And he did catch the champ on a bad day. Secretariat had a low grade fever on Whitney Day. And Big Red was stuck on a dead rail. However, quickly casting aside Onion as another Buster Douglas overlooks the brilliance of Onion's connections– Vasquez, and primarily the Giant Killer himself, H. Allen Jerkens.
The story of Onion's historic upset starts four days prior to the Whitney. The four year old gelding, largely relegated to low level stakes and claiming and allowance company, fired a masterpiece at Saratoga, winning an allowance race in spectacular fashion; setting a track record for six furlongs in the process. The horse was thriving. But the Whitney, in just four days? Against the greatest horse ever? The horse who won the Triple Crown by a combined 31 lengths and showed no signs of slowing down, winning his next start at Arlington by nine lengths? Crazy.
Instead of placing the flowered blanket on Big Red, Jerkens did his homework. He watched Secretariat train in the morning and noted the horse looked flat. He then started paying attention to potential starters. There wasn't a lot of speed in the race. With Onion thriving, Secretariat potentially gassed for his first attempt against older horses, and a favorable race set up, the Chief took his shot. "Just get me a check" was his final instruction to Vasquez.  The public made Onion the second choice, slightly below 5-1, in the six horse field.
On race day, after noticing the rail was completely dead, Jerkens instructed Vasquez to keep Secretariat inside of him—a place Big Red was not accustomed to being. As a cool aside, these prerace instructions occurred in the Saratoga infield as track officials decided to forgo the paddock and instead allow the fans to enjoy a more public saddling. In fact, Jerkens watched the race from the infield, and couldn't even see his horse for a 1/16th of a mile down the stretch as they disappeared behind the tote board.
To Jerkens surprise, when the pack emerged from behind the tote board, the front running Onion still had the lead, and Secretariat was struggling inside on the dead rail. Following Jerkens instructions, Vasquez invited Secretariat to pass him on the inside. As Big Red pulled closer, Vasquez pinned him against the rail. Secretariat had no answer. The upset Jerkens had envisioned, was a reality.
Here is the video.
Mine That Bird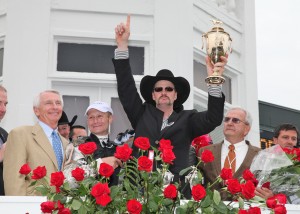 Mine That Bird was purchased for $9,500 as a yearling. The gelding began his career in Canada where he won four of six starts and was named Canada's two year old colt of the year. However, MTB's form did not translate south of the border when he shipped to the States. After a last place finish in the Breeders Cup Juvenile for Richard Mandella, MTB was transferred to the barn of obscure trainer Chip Woolley. The results that followed did not forecast Derby glory–a second and fourth place finish in two ungraded stakes in New Mexico. However, Bird's graded stakes winnings were sufficient to earn him a spot in the Derby starting gate. So the journey began with the now famous 2,100 mile drive across the US, with Chip Woolley, crutches and all, hauling Bird in a trailer behind his pickup truck.
The 2009 Derby was a relatively open affair after the scratch of morning line favorite I Want Revenge. Pioneer of the Nile, more on his legacy below, was the lukewarm chalk while MTB was 50-1. And as the field turned for home, Pioneer had the lead over a very game (and Thorobros backed) Musket Man. Then the unthinkable happened. The sea parted, giving Calvin Borel a clear path on a rail that had been golden all day. MTB exploded from the back of the back with a move so rapid, that Durkin missed him until he was three lengths clear. He splashed home to win by six and half lengths. An amazing upset and an unbelievable story. The Bird would never win again, but it didn't matter. His spot in history was cemented during his epic 2009 road trip.
Watch the 2009 Derby
Share and Enjoy