In the wake of the news that yet another metropolitan OTB has closed its doors (the Turf Club in Center City Philadelphia), we found it an opportune time to publish our proposal to market racing through a glamorized and modernized OTB experience–which we presented at the University of Arizona Racing Symposium that past December. We named the racing centric bar the "The Track", as the primary concept was to bring the glamor and excitement of an on track experience to the target audience.  Below is our concept, the logistics and advantages we see for this model, and an analogy to what Lucky Strike did for bowling.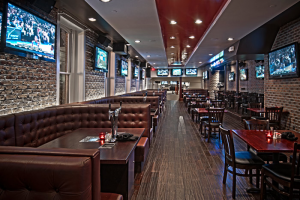 CONCEPT
There has been a lot of discussion and hand-wringing concerning the introduction of racing to a younger fan base. The industry's response to this dilemma has been to drive new fans to the race track through enhancing the on track experience and promoting other aspects besides the races themselves, namely food, fashion, and glamor. It is difficult, however, to encourage millennials, with a short attention span, to dedicate an entire day, often travel a great distance, and attend a five to six hour event where action happens only every 30 minutes. The issue is further complicated by the fact that once there, new fans are often overwhelmed by the intricacies of pari-mutuel wagering and hieroglyphics printed in the Daily Racing Form. It's an intense introduction to the sport that although many new fans admittedly enjoy, does not lead to return visits.
So the questions remain: (1) how does racing make the on track experience more convenient for the younger generation and (2) once there, how does racing hook a fan? Our answer: Bring "The Track" to the target audience–young urban professionals. While race tracks cannot be resurrected in the middle of cities, that doesn't mean racing can only be enjoyed in the suburbs.
OTB's offered a city center for racing with constant wagering action across all tracks. While OTB's had their flaws, our proposal is reinvent the OTB, glamorize and modernize it. Much like Lucky Strike did for bowling alleys, we propose a racing centric bar designed to introduce new fans to the sport by combining racing education, with the best of food, drink, and fashion.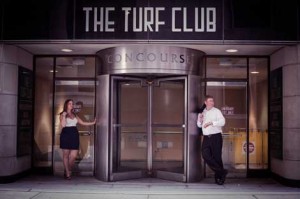 DESCRIPTION/ATMOSPHERE
The specifications are as follows:
-An upscale "sports bar/ gastropub" in key metropolitan markets. Based on our current research concerning gambling and also real estate prices, our initial market targets are Philadelphia and Baltimore.
-No tellers or windows at the Track but rather an ADW partner, on site, to sign up new users who will bet from iPads or their phones. For competition, we'd consider having multiple ADW providers on site on different days.
-Work with Brisnet or DRF or other handicapping data providers to sell/provide simplified programs and past performances for that day's races.
-Televisions everywhere broadcasting the best racing of the day. Racing coverage will focus on the big meets and big race days and not smaller tracks running on Mondays or Tuesdays.
- Staff on hand to not only serve drink and food but also to help explain handicapping and wagering.
-Embrace fashion, food, and beverage (i.e. bourbon tasting, a menu featuring the best items from racing rich cities across the country; brunch on big European racing days, etc.)
-Promotions and fan events around big racing days and throughout the year and also to keep the focus on racing even when not showing live races (i.e., handicapping seminars, game nights using historic races, etc.).
ADVANTAGES
The advantages to this system include:
-Making it easier for young urban professionals to "attend the races". People can make the Track a happy hour destination on their way home from work, watch a few races, occurring much more frequently than every 30 minutes, and leave after an hour or two.
- By using the ADW platform, each new fan who leaves is now that much more likely to keep betting. They have an account, and it's presumably funded and can place wagers anywhere, anytime.
-The strict reliance on ADW applications, along with upscale food and drink, will save the Track from the same image problems associated with OTB's.
-The promotion of the sport all year long and not limited to the racing season for each venue. The Track is not limited to a certain circuit's racing calendar–it can simultaneously benefit from Del Mar and Saratoga while then turning to Keeneland in the fall.
-A captive audience. Due to the size of a race track and the many distractions, it is often difficult to focus fans and help explain to them the ins and outs of wagering and handicapping. However, in the confines of a bar, or even a booth, it will be easier to hold handicapping 101 events; make announcements over an intercom system of upcoming post times and betting opportunities.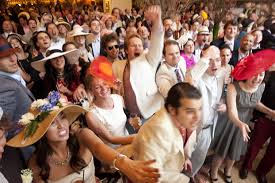 ATTRACTING NEW FANS
-We believe that if young people experience racing in the context of an upscale, relatively trendy atmosphere where you can gamble (legally and easily), they will take interest in the sport.
-The idea here is to make this essentially the opposite of what OTBs and other off track betting parlors became. The racing and the gambling will be at the center, of course, but the goal is to make the Track a place where people would go just for a night out.
-There will be promotions around the big days – Derby, Preakness, Belmont, Pacific Classic, Travers, key Derby Preps, Royal Ascot, Prix de l'Arc de Triomphe, etc.
-Tournaments and contests – we see this as a way to bring the tournament experience to the young fan. It is also a way to bring online tournaments "live" – in other words, to combine the best parts of the online tournament – ease of the betting platform, more choice in the style of tournament you participate in – with the best parts of the live tournament – the group experience, watching races with your competitors, the camaraderie of the tournament experience.
-Embrace the history of the sport, perhaps with a horse racing quizzo night, or décor that emphasizes the long and storied history of racing. This is an advantage that horse racing has over many other sports or gambling endeavors, and it gives the sport a connection to the American experience that is deeper than any other non-major sport other than perhaps boxing.
-And, of course, we will also promote on track attendance. However, we believe it will be more effective to hook these fans through this convenient and less intimidating environment beforehand.
BOWLING EXAMPLE
Bowling has been a pastime in the United States since before the formation of the country. It became a viable commercial enterprise in the early 1900s, and then flourished in the 1970s and 1980s before experiencing an extended downturn.   Beginning in the middle of the 2000s, bowling centers began to repackage themselves away from the dingy, smoke-filled bowling alleys that had been the industry's stereotype.
From 2007-2014, bowling has experienced 7 consecutive years of increased participation, and in 2014, at least 51 million adults over the age of 18 and 19 million young adults between the ages of 6 and 17 bowled at least once.  Further, the move towards upscale bowling centers has pushed the target market for bowling into a higher socioeconomic class. According to an October 2014 report by IBISWorld, "Consumers in households that earn more than $100,000 are the largest market for bowling centers." This is exactly where horse racing wants to be.
CONCLUSION
We love the sport of racing and believe the racing product is stronger than ever. Unfortunately, racing has an image problem and an aging fan base.  We believe a change in strategy to address these issues is warranted.  Fundamentally, it is our position that fans, especially, young fans, are not going to flock to the sport in any significant form or fashion in the way the product is currently delivered, i.e., either poorly maintained and attended long race days at most tracks (with notable exceptions such as Keeneland, Del Mar and Saratoga) or in generally dingy and undesirable betting parlors. If the product were to be packaged and delivered to the young fan differently, however, it really combines all of the things that could make for a real boom in popularity: (i) the excitement of a live sporting event; (ii) legal, easy, and well-regulated gambling; (iii) the presence of wealth and affluence; (iv) fashion; (v) celebrity; and (vi) ultimately, the ability to take what you learn to like at The Track, and go to experience live racing, ideally on one of the big days put on by tracks around the country.
The Track will directly target the key demographic racing needs by making it easier and less intimidating to access racing and navigate the maze of handicapping and wagering. And it will approach those fans in a way that is most likely to get them out — they do not need togo out of their way to spend a whole Saturday watching a brand new sporting event. Instead, come to Friday happy hour, watch the races from Belmont or Santa Anita in HD in a clean, chic and fun atmosphere, and hopefully learn a little bit about betting in the meantime. Our idea is to have racing front and center at The Track, but one of the best parts about the idea is that if you package the racing, just like other high-end sports bars package more high profile sports, it really does not matter why people initially come in the door. It could be for the food, it could be for the atmosphere, it could be simply because they heard it was a great place to go. We think that once young people get into a place where they are immersed in the sport of racing, many of them will become fans.
Finally, and not to get ahead of ourselves, but we believe the Track could address racing's other primary issue, lack of uniformity. There is incentive and little downside for racing circuits across America to support this initiative, ADW providers should certainly embrace this concept as well.
Share and Enjoy