Most horse racing fans would agree that race tracks, especially smaller market tracks, need to improve their marketing campaigns in order to attract fans.  How the small market tracks achieve marketing success, however, is debatable.  Every Tuesday, in Marketing Mix, we will analyze a race track promotion from the week before, examining why it worked or why it failed, and whether it furthers the goal of promoting the sport.
No race track is enjoying more positive PR right now than Los Alamitos.  Much like Philadelphia Park benefited from Smarty Jones' 2004 Triple Crown pursuit, Los Al's is receiving similar attention as California Chrome's home base.   Los Al's marketing department has recognized this unique opportunity and is capitalizing.  300 fans came to the track on April 26, 2014 for California Chrome's final workout and to attend a subsequent  poster signing by trainer Art Sherman and jockey Victor Espinosa.  On Kentucky Derby day, Los Al's gave away a limited edition California Chrome pint glass to all on-track patrons.  On Preakness weekend, according to the marketing department, Los Al's enjoyed a 10% increase in onsite attendance and a 60% increase in reservations at its Vessels Club restaurant.
For Belmont Day, Los Al's is expecting an even bigger crowd.  They have placed a new order for California Chrome glasses and will offer a signature cocktail in the horse's name.  Although plans are not finalized, the marketing department intends to have a California Chrome ice sculpture on display in the Vessels Club.
In perhaps its most interesting attempt to turn Chrome into gold, Los Al's is offering fans a chance to send a message to California Chrome as he prepares across the country for his third and final challenge.  Starting last Wednesday, May 21, 2014, fans were given the opportunity to write a note to California Chrome's connections on a giant good luck posters.   Los Al's will mail the posters to California Chrome's connections at Belmont.
Los Al's placed four posters around the facility on Wednesday morning, a day before the promotion was intended to begin, and by that afternoon the marketing department acknowledged that it was printing additional posters as signature space was already filling up. "We want to make sure all of California Chrome's fans have a chance to send their messages to the his connections" noted the track's director of Marketing, Orlando Gutierrez.  Los Al's does not offer live racing on Wednesday and Thursday so the signatures received were from the simulcast crowds and, according to the marketing department, from many who visited the track primarily to sign the posters.
Obviously such a promotion would not work for any horse, nor would it even work for most triple crown candidates.  But few horses in recent decades have built the same emotional connection with the public as California Chrome has.  As owner Steve Coburn declared on the Preakness podium, this is "America's horse".  But he is also the pride of Los Al's.  And it is this pride, and the public's desire to want to be a part of this historic run, which had Los Al's officials expecting a big turnout for the greeting card signing.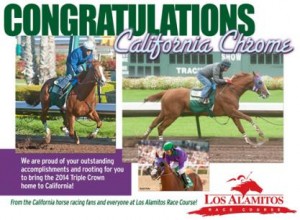 The timing of California Chrome could not be better for Los Alamitos.  The facility has recently undergone major track renovations to its infield and is currently improving its winner's circle as it prepares to host its first eight day thoroughbred meet in July.  Los Al's also appears to be the biggest winner from Hollywood's closing, with several Hollywood Park mainstays pledging their barns to Los Alamitos for their upcoming meet.  Further, the Los Alamitos Derby (formerly Hollywood Park's Sham Stakes) is now part of a million dollar bonus offered to any horse who can win that race, the Pacific Classic and the Breeders Cup Classic.  The million dollar bonus and the $500,000 purse has attracted an impressive field of nominees, including Shared Belief and, of course, California Chrome.  While California Chrome's connections have announced that he will likely bypass the Los Alamitos Derby due to a grueling Triple Crown campaign, Los Al's holds out hope that the horse may be available to parade the track in between races.  "It would be a dream come true" said Gutierrez "to have California Chrome parade on the track".
Indeed, times are good for Los Alamitos.
 Four Beulah Twins
From their debut in 1998, the Beulah Twins represented the holy grail of race track promotions and marketing. Relegated to dismal simulcast rankings, Beulah rolled the dice, and replaced its crusty track talking heads with two attractive blonde girls—labeled "Twin Picks."  The result—Beulah's off-track simulcast numbers increased by $20 million. The Beulah Twins will serve as our "star" system for a race track promotion, with five Beulah Twins being the top score.
Share and Enjoy