Having lived through eight Derby-Preakness winners, and attending four of those Belmonts, I had choices for my most heart-breaking Belmont. However, one stands out as the most devastating to myself and the sport. In 2004 Smarty Jones took America and the first two legs of the Triple Crown in a tour de force. But before that, he dominated the trio of traditional preps at Oaklawn Park in Arkansas (the Southwest, the Rebel and the Arkansas Derby). He came into the Belmont undefeated, the first horse to do so since Seattle Slew.
But it wasn't necessarily his dominance that captivated the racefans and the public. It was his story. He was considered a blue-collar horse. Neither his owner, trainer or jockey had ever had a Derby starter, let alone a winner. He was of humble origin. He was a Pennsylvania home-bred, for the small operation Someday Farm.  His home stable and site of his first victory was Philadelphia Park (now Parx Racing), an unlikely palace for horse racing royalty. Additionally, his racing career almost never happened. When he was training in the summer of his 2 year old year, Smarty reared in a starting gate and fractured his skull, which is often a fatal injury for a horse. However, he survived and made his first start later that fall.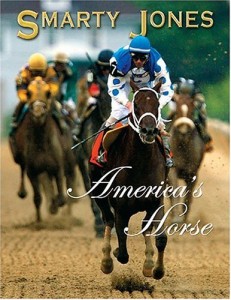 America caught onto the story. The public and the media ate it up. 2004 was the third consecutive year with a Derby-Preakness winner, but the hype seemed different. Smarty was dominate, not only in the Triple Crown races, but in the prep races as well. It appeared that there was no horse in his crop that could hang with him.
I traveled to Belmont in 2004, having gone before in 2002 only to see War Emblem miss the break and lose any real chance in the first 100 yards. I was confident Smarty could do it. He didn't need the lead like War Emblem. I thought he had the perfect running style, a stalking trip would keep him out of trouble but also allow him and his jockey Stewart Elliot to sense the pace. And he decimated all challengers in the Derby and Preakness, winning both races by daylight. This was it, he was going to win.
I refused to bet the race, thinking if I tried to play against him somehow I would jinx him. I bought my souvenir ticket (well not me, my mom did because I wasn't old enough to bet). I wore blue, the same colors as his silks.I remember feeling nervous before the race, butterflies in my stomach. Watching from the third floor of the clubhouse, I had a great view of the track. The starting gate and the wire were right in front of us. I was ready to witness history.
2004 Belmont Stakes (you can watch the video here)
The gate opened and the place went nuts. There were 120,000+ people there to see one thing: a blue collar horse be crowned king of American racing.  The opening half was honest at :48 3/5. Smarty got the trip I imagined he would, outside in the clear sitting just off the leader in third. However, after the half, Smarty pulled himself into the lead. The crowd roared again as he put his head in front. But this roar was premature, and the cause of the roar could also be considered the cause of the defeat.  The race was far from over, and Smarty had the lead earlier than usual.
When Smarty made the lead, the fractions quickened. Smarty stayed in front, but horses kept making runs at him. First Rock Hard Ten and Eddington. But both those foes, were turned back and Smarty had a three length lead at the top of the stretch. Everyone was watching Smarty but announcer Tom Durkin noticed Birdstone making a sustained run. It was something that I did not want to think of, and denied its existence in the moment
When Smarty made it into the stretch he still had two lengths on Birdstone who was closing fast. I remember pleading for the wire to come, hoping for Birdstone to falter and whither into a footnote in history. But it wasn't meant to be.
Birdstone had momentum. Smarty was tired not only from the quick first mile he ran (1:35 3/5), but from his long campaign. He had raced four times prior to the Derby and now this was his seventh race of the year and third in five weeks. Stewart Elliot was desperately shaking the reins on Smarty to no avail. At the eighth pole they were neck in neck. I hoped against hope that Smarty would battle back. But he couldn't. Birdstone passed him and closed the records books.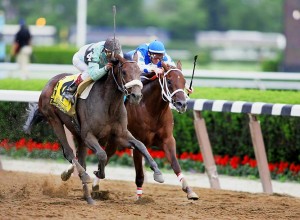 I was upset. Not at Stewart Elliot for a bad ride, nor Birdstone for beating him, but because I wasn't sure if I would ever see a Triple Crown. At the ripe age of 15 I thought i had lived long enough to deserve a Triple Crown.
But America and I had to wait. It might only be three more weeks. Many of the reasons why I thought Smarty Jones could win the Belmont, are the same reasons why I think California Chrome can win this year.
Chrome is also a stalker, allowing him to view the pace and not let someone steal it on the front end. He also has proven to be the best in this crop, winning the first two legs by daylight. Chrome has a similar back story. Chrome too trains at a less than prominent track, Los Alamitos, which is better known for quarter horse racing than thoroughbreds. Chrome is also a homebred, not from this country's regal Kentucky bloodlines.  This was trainer Art Sherman's first Derby starter.
However, Chrome has many of the same knocks as Smarty Jones. The distance of 1 1/2 miles will be difficult with his breeding. He also will be facing horses that are fresher than him; horses who rested during Preakness week will now be fresh to run him down in the stretch.
Chrome does have a few advantages though.  He ran in one less prep than Smarty did leading into the Triple Crown.  He also has a jockey with triple crown experience, as Victor Espinoza attempted ti pilot War Emblem to a Triple Crown in 2002.
I think Chrome will have the lead at the top of the stretch, much like Smarty did. But can he hold on to the chance of immortality down the stretch? I sure hope he can, America doesn't need another broken heart.
Share and Enjoy