Throwback Thursday last week was about failed Belmont dreams. This week's is about Belmont dreams coming true. The year is 2008. Most of you will wonder: why 2008?  Didn't Big Brown get routed and basically pulled up in the stretch of the Belmont, failing to achieve Triple Crown glory? So why is it a year of dreams coming true? Because at a racetrack, and with gamblers, one man's defeat is another man's victory.
I had just finished my first year in college and thought I had the world by the balls. I had a great seat to watch the big race in the clubhouse and a bachelor party to attend and steal beers from in the backyard.  I had started my summer job as a caddy and had money to burn. I had handicapped the undercard, and had some live-longshots I wanted to play.  The stars were aligned for an amazing day.
The day began simply, small wagers on smaller fields. I had maybe a winning ticket or two early, but nothing major. But the fifth race of the day was the one I wanted to bet the most. It was a turf sprint, my self-proclaimed specialty. I liked one horse on top, a favorite but not the top choice at 5-1. And I liked a group of 3 longer horses underneath, including a 30-1 choice.  I keyed my top choice in a trifecta, boxed my four horses in an exacta, and played the 30-1 across the board. I probably bet over $30 on the race, which was a lot for me at the time. I watched the race in the backyard, among the various picnics set up next to a TV monitor.
The 30-1 horse was a speed ball, and he broke well. I was excited from the start. Coming around the turn, my key started to pick off horses. Entering the stretch, I knew the 30-1 and my top choice would finish top two. I was going to cash, it was just a matter of how big. My key closed him down, and won convincingly. And one of my other horses came up for third.
To be honest with you, I went nuts. In hindsight, probably too nuts. At top of the stretch I was pounding my program; my best Team Rotondo impression. I started calling for my horse to get up. The finish was coming and I was going to win. When the horses crossed, I screamed "I got the exacta, I got the tri", let out a Dean Howard-esque "Byahhh" and made an epic Tiger Woods fist pump as I turned to collect from the ticket window.
It was a great celebration, and it caught the attention of everyone around me. However, the excitement was tempered instantly. The vicious fist pump I made connected with more than the air I had intended. Instead, my fist connected with the most unlikely of items: an unsuspecting young lady's plate of sushi. The sushi flew in the air, soy sauce everywhere, and with most of a california roll landing on the roof of the mutual window building.
When I saw it I laughed. I mean, WHO GETS SUSHI AT BELMONT?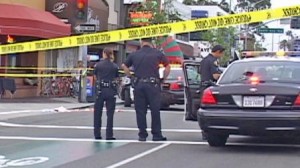 When you Google image search "Sushi at Belmont" this comes up. Pretty telling.
She was basically asking for it. I even had the audacity to ask her that question,  of which she was not amused. I apologized, and  gave her $20 to pay for her most assuredly overpriced sushi. But she still seemed upset, as if eating sushi at a picnic table was more important or interesting than winning a big bet. Obviously she didn't even know what a trifecta was. I decided she  had never been to a race track before, nor would she go to one after this experience, so I didn't worry anymore.
That win made my day. I had more winners, but that was the biggest and no matter what, I was a winner that day because of it. I was exactly where every bettor wants to be: at the race track with more races to come, playing with house money. I couldn't have drawn it up better, a dream come true.
Meanwhile, one of my friends, Joe, was just planting his seed for his perfect day at the races. This guy is a gambler, through and through. He has little to no knowledge of horse race handicapping, but loves to  gamble. After we told him how little money he could make betting Big Brown, he decided he would bet against him, and hope he finished way up the track. Others told him he was being mean, that he was wrong and that he shouldn't root against a historical event like the Triple Crown.
But Joe could not be deterred. He was there to make money, and was willing to take the heat to do it. So as the race neared and the odds on the others grew, he started to bet. Mostly large show bets, because of the negative pool. He also made win bets on the longest shots.
No need to recount the race, this photo tells the story every race fan knows well:
After the race, Joe was the only person celebrating at Belmont Park. He made a ton of money on the race, as Big Brown never really got into the race. Strangers were visually upset at how proud Joe was that he "had called it", that Big Brown was a joker and never had a chance. He gloated and taunted the rest of us about what kind of suckers we were. He was on top of the world, albiet alone.
Belmont Day 2008 was an experience. Highs and lows for many people. I had a good day, handicapped a race to near perfection, although I did not get to see a Triple Crown. Joe had a great day, won a ton of money betting against history.
But our good days created bad days for others. But that is the nature of the gambling and the sport of horse racing. It wouldn't be any fun if it wasn't like that. For something to be good, there was to be something that is bad to compare it to. There is no place for participation ribbons in the Triple Crown or horse racing.
In about a week's time, there will be people who have a good day on Belmont Day and those that have bad ones. Someone's dream will come true. But in the end, only the outcome of the Belmont Stakes  will make or break the day for most people in attendance. And most of us can do nothing to affect this result. All we can do is have a dream, and do everything in our power to be there, participate in it and watch with baited breath.
Well, that and not ordering sushi at the racetrack.  That is the only  sure-fire way to have a bad day at the races. Byaaaaaah!
Share and Enjoy