The best weekend of the racing calendar is upon us.  Friday's future stars card features five competitive Breeders Cup juvenile races.  Unfortunately, sugar induced late bedtimes on Halloween lead to an abbreviated write up for today's BC races.  But we put in the time handicapping and think several of these races are wide open.  Good luck everyone and happy Breeders' Cup.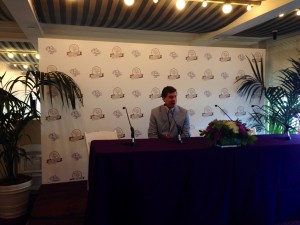 Race 5–Juvenile Turf Sprint
Most likely winner:  Four Wheel Drive–Lightly raced, but impressive in two starts.  Not a ton of early speed in here.
Best Value:  A'Ali–Draws outside and can watch the race unfold.  Adds Lasix and brings Dettori who is 3 for 3 on him.  This race has always been a target and connections believe he'll love hard turf.
Bomber: Encoder–Turns back from a mile and has Santa Anita turf experience.  Should be full of run late.
Race 6– Juvenile Turf
Most Likely Winner — We'll go with Arizona, a touted Euro in a race in which the Euro's have dominated.  That said, the post is not ideal and he may be forced to go much faster than EU fractions.  We will use on top, but are more focused on some longer odds horses
Best Value:  Vitalogy–Just missed in his last and although he loses a panel, the pace should favor this late runner.
Bomber:  Billy Batts–He doesn't win, but he's been consistent.  He's improving with each one mile effort and has experience over the course.  Lopez/Miller connect at 44%.
Other logical horses that figure here are the 2, 3,  4 and 14.  Wide open race.
Race 7–Juvenile Fillies
Most Likely Winner:  British Idiom–2 for 2 and had a nice move forward when stretched out at Keeneland.
Best Value:  Comical–Graded Stakes winner is tested on both coasts and seems to be headed in the right direction.  I like the outside post and she figures to move forward again after being legged up in her last.
Bomber:  Two Sixty–Has yet to face this much class, but the last effort was impressive.  She seems to be thriving and another forward move could put her right there.
1, 6, and 7 also figure if filling out exotics.
Race 8–Juvenile Fillies Turf
Most Likely Winner:Selflessly–It's Chad Brown and the Ms. Grillo winner (historically the key prep).  She has enough speed to over come the post.  I doubt we'll get 8-1.
Value: Crystalle–The pace should be honest for this closer.  She just missed despite going 9 wide in her last.  The slight turn back should have her full of run late.
Bomber: Croughavouke–The Irish shipper seems to have had this goal in mind all along.  Despite the pedestrian Beyer numbers, the Rags numbers are more competitive and show two forward steps in her US efforts.  Another one who could run late and grab a share.
Others to use 3, 8, 12
Race 9–The Juvenile
Most Likely Winner: Dennis' Moment–Not exciting, we know.  But two impressive efforts to date and the workout reports are glowing.  The horse has been outside in his two wins so maybe the rail bothers him?
Value:  Eight Rings–A speed favoring course and this one could be lone speed.  Baffert has never won this race in CA and we don't love the regression when stretching out.
Bombers:  Scabbard–Unfortunately, the favorites all figure here and even getting creative, we don't see a ton of value.  Scabbard had a nice route debut and had to steady in that one.  If Dennis and Eight Rings Lock up early, this one could benefit.
Share and Enjoy