Friday Happy Hour at Siro's. Crafting a late Pick 4 ticket on Saturdays. Nursing a hangover in the shade of the picnic area on a Sunday. Back to work on Monday—counting down the hours until you can hit repeat.  Weekends in the summer are meant for Saratoga.  And it's not just the championship racing.  It's jet skiing on the lake, concerts at SPAC, fried chicken and dough boys, and late nights on Caroline Street.  Our Weekend Warrior Series highlights the very best of the racing, establishments, events and experiences for each 72 hour stretch of glory.  Happy Friday, Saratoga! 
We take a break from our regularly scheduled programming this weekend to instead pay a Weekend Warrior's tribute to one of the all-time coolest horses, local hero and proclaimed Sultan of Saratoga, Fourstardave. Dave's affinity for the Saratoga sod and his massive following earned him the honor of being the namesake for major Saratoga Saturday Grade 1 turf mile race (a race he won several times).  And this year's Fourstardave is full of intrigue as two talented mares—Uni and Got Stormy—take on the boys.  Got Stormy in particular would make Dave proud as she is proclaiming her Saratoga love by wheeling back off a one week layoff (after dominating the De La Rose). Got Stormy also tries to join the legacy club as her sire, Get Stormy, won this race in 2010.
In preparation for Saturday's Fourstardave check out our ode to the Sultan of Saratoga:
On August 28, 1987, hall of famer Randy Romero piloted a 2-1 second choice juvenile to win what appeared to be an otherwise benign edition of Saratoga's Empire Stakes–a six furlong event for two year old New York Breds.  Fast forward seven Saratoga meetings later, and that otherwise unremarkable 1987 state bred stakes held a much larger legacy. It marked the birth of a Sultan.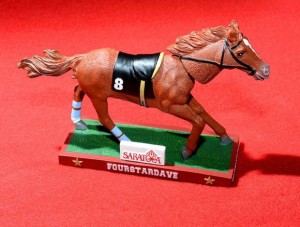 Fourstardave, The Sultan of Saratoga, won at least one race at the Spa for eight consecutive years spanning from 1987 thru 1994.  In doing so, he became a local legend.  Fourstardave retired after making 99 (!) starts with a record of 21-18-16 and earnings of $1,636,560.   He also owns a mellon turf course record at Saratoga, traveling a mile and sixteenth in 1:38 4/5.
In 1995, following his retirement, Fourstardave was given an edible key to the city of Saratoga and a street,  "Fourstardave Way" was named in his honor.  On a personal note, two young Thorobros attended the 1995 street naming outside Siros and have signed goggles which Angel Cordero wore that day as he rode 'Dave over from the barn area.  As an aside, proof of our attendance can be seen here–at the four second mark–that young jockey sporting the black and cherry silks is indeed a young Bro. Fourstardave Ceremony
In 1996, the Darly's Joy Stakes–a race Fourstardave won twice–was renamed the in the Sultan's honor. Besides its namesake, only one other horse has won the race multiple times–Wise Dan. Other winners include Breeders' Cup mile champs Lure, Da Hoss, and Steinlen.
Today's clip features Tom Durkin, in rare cheerleader mode, rooting home the "Old Boy" as he dominates an allowance field for his final Saratoga victory in 1994.
Fourstardave's final Saratoga win
Enjoy and best of luck to everone wagering on today's Fourstardave.
Share and Enjoy