This is not the first Friday in May racing fans expected. Churchill is empty. The Run for the Roses has been moved to September.
But…the julep glass remains half full. Oaklawn Park has blessed us with not one, but two Arkansas Derbies! Add the Oaklawn Handicap as the meat in the middle of this Pick 3 Sandwich and we have a great evening of racing ahead. With NBC Prime airing 2 hours of historical Derby Coverage, followed by two more hours of NBC Sports covering Oaklawn, racing has a unique opportunity to remain the center of the sports world even absent the Kentucky Derby.
For those of you looking for some live betting action (not the simulated Triple Crown Race—Secretriat/Pharoah exacta box), we have you covered with our thoughts on Oaklawn's Big 3.  Happy "Derby Day", everyone—may the juleps still flow!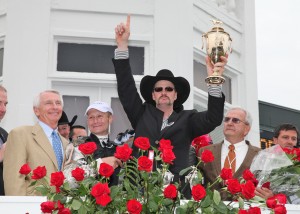 ARKANSAS DEBRY—HEAT 1—1M 1/8TH DIRT—3YO GRADE 1
All eyes will be on Charlatan for the first heat of the AK Derby. His first two starts have been electric—2 for 2, a combined 16 lengths ahead of his competition. His speed figures are leaps and bounds ahead of this field. The only other logical speed horse scratched, so Charlatan figures to set a nice easy pace from the rail. He's the most logical winner and we cannot fault those who single him. BUT…he is even money. He's going two turns and stretching out past a mile for the first time with a sprinter pedigree on his sire's side. He's never left the friendly confines of SA since he started training and now he finds himself in Arkansas. So there are reasons to try to get creative here.
We will look at the 4, 8, 11 and 9. Basin has not caught a fast track in his last three starts. His two fast dirt numbers are solid and if he can improve off of those, he has a shot if the 1 does not fire. We also like him to sit right outside the leader and get first run. If Charlatan does not want to go 9f, Basin could end up on the lead in the final 1/8th of a mile.
Anneau d'Or fired a complete dud last out. If you are willing to give him a mulligan (he tried blinkers and is now removing them), the rest of the profile is solid (although we don't like that he couldn't pass the winner in his last two starts at two). The works have been strong and Wright is 30% blinkers off.
We will use Winning Impression some as well. We know this Paynter son can get the distance and he has a prior showing at a 1M 1/8th. Dallas Stewart is a pro at having seemingly hopeless horses lug up for second and third. The last work really stands out.
Most Likely Winner: 1
Best Value Plays: 8 and 11
Longshot: 9
OAKLAWN HANDICAP—1M 1/8th 4YO AND UP GRADE II
This is a competitive edition of the Oaklawn Handicap. There are several horses with strong chances and we plan to watch the odds and key on the best value plays.
Tacitus stands out on class and speed figures. Our concern is that he hasn't won in nearly a year and those trips to the Middle East sometimes have unknown impacts on horses. Still, he will have a solid pace to run at and figures very likely to at least hit the board.
By My Standards is an honest horse only missing the trifecta once in 8 starts. He seems to be improving at 4, is working like a machine, gets a jockey/trainer combo firing at 33%, and is 2 for 2 at this distance. He will likely be our top pick assuming he's not overbet.
Improbableis another honest horse, but he burns a lot of money at low odds. 8-1 is a very square price, but the post is not ideal and we expect him to be bet down.
Combatant will take some money and we will use him underneath but we are concerned he may be a west coast horse who does his best running at Santa Anita. Mr. Freeze is another expected to be played but raises concerns. His last race was a huge effort, if he repeats it, he wins. We think it's likely he regresses. At 4 or 5-1 we will probably pass, but if he slips to 8 or 10-1 and the track is favoring speed, he becomes enticing.
We will be using 1 and 2 for value as both longshots have a chance.
Most Likely Winners: 9, 12
Best Value: 14, 4
Longshots: 1, 2
ARKANSAS DEBRY—HEAT 2—1M 1/8TH DIRT—3YO GRADE 1
We are taking a stronger stand against this Baffert favorite in Heat 2. Nadal is undefeated, but he has regressed from a speed figure stand point in his last two starts—suggesting we've seen his best number. There is also other speed signed on as Wells Bayou likely has to press from the outside post.
Our top pick is King Guillermo. Although he is a speed horse, he has rated in the past and we like him to do so here. He should like the extra panel from the TB Derby. Although 3-1 morning line, many think his $49 win in Tampa was a fluke. However, he may just be a dirt horse and his recent works have clockers raving. We are hoping he gets overlooked and we get 5-1 or better.
Along with KG, we will be keying two longshots on our A team. Silver Prospector has been wildly inconsistent. But his best effort was the one time he caught a fast track in his last four starts. He is an "every other" horse coming to his "good race". Santana and Asmussen dominate Oaklawn. We like this horse to stalk and hope some of the favorites tire each other out. The breeze work two back suggests he's doing great. Fast Enough appears to be an improving horse with little known connections. He may be completely forgotten at the windows. He needs to fire his best going the longest distance of his short career, but his last work suggests he's sitting on a huge race.
We will be using the 3, 5 and 11 some underneath and defensively.
Most Likely Winner: 4
Best Value: 7
Best Longshot: 8
Bonus: For those of you looking to play the late Pick 4, we like 4, 9, 13 in the last.
Share and Enjoy