Friday Happy Hour at Siro's. Crafting a late Pick 4 ticket on Saturday. Nursing a hangover in the shade of the picnic area on a Sunday. Back to work on Monday—counting down the hours until you can hit repeat.  Weekends in the summer are meant for Saratoga.  And it's not just the championship racing.  It's jet skiing on the lake, concerts at SPAC, fried chicken and dough boys, and late nights on Caroline Street.  Our Weekend Warrior Series highlights the very best of the racing, establishments, events and experiences for each 72 hour stretch of glory.  Happy Friday, Saratoga! 
The Whitney is the biggest race of the Saratoga Meet this side of the Travers. Always a historic and prestigious race, the 2019 Whitney has even more meaning given the recent passing of its namesake, Marylou Whitney.  Saturday promises to be a very special day at the track.  But the Whitney is not the only major event this weekend.  Friday is the Hall of Fame induction ceremony—a Thorobro favorite.   Add gorgeous weather forecasted and this weekend carries epic potential.  Here is your guide to all the on and off track excitement of Whitney weekend. Weekend Racing and Analysis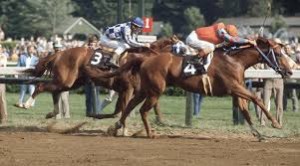 Onion holding off Secretariat in a shocking upset of the 1973 Whitney
Friday
The weekend kicks off with three stakes races across varying divisions. The National Museum Hall of Fame Stakes is one mile on the turf for three year olds. We are going to key Global Access. The turf efforts have been good and he seems to be improving.  He's been at Saratoga for over three weeks and appears to be pointed to this one.  We should get a square price. Casa Creed has been the most consistent and seems to do well at the mile distance.  The lack of wins is concerning, but he has the best speed figures here. Award Winner has been a new horse on the turf.  He seems to like a little more real estate but may find himself on the lead here.
In the Alydar, Tom's d'Etat is certainly a deserving favorite.  If he runs his race, he should win.  He'll be an A for us and a potential single. Candyman seems to be improving and should get a nice stalking trip—he's our most likely winner if Tom falters.  There could be a lot of forwardly placed horses in this race resulting in fast fractions.  We will use Carlino—especially underneath in tris.  Plagued by slow starts, if he can stay a little closer to the field, he should be running late and seems to like Saratoga.
Concrete Rose highlights the Saratoga Oaks—a mile and 3/16th's on the turf for three year old fillies. Rose has been perfect this year.  There is little pace in this race so we expect her to go right to the lead and never look back. Aiden O'Brien does have an uncoupled entry in here for the same owners—although neither have shown speed, maybe he sends one to press Rose.  If that happens we like Happen to benefit.  We will also use Her Royal Highness underneath.
Saturday
Saturday's card boasts five (5!) stakes races, highlighted of course by the Whitney Stakes.
Troy: Stakes action kicks off with the Grade 3 Troy, a five and half furlong turf sprint.  A small but accomplished field is headlined by World of Trouble.  Since his almost win in the Breeders' Cup, WOT has fired off five straight victories, including two Grade 1's.  Other than that BC defeat, he is 4 for 4 on turf sprints.  He's clearly the one to beat.  However, he only has one speed—fast—and he could be compromised by Pure Sensation, another well know speed ball. Rocket Heat may also press the pace.  Given the race shape, and amount of money we expect WOT to take, there could be an opportunity to beat him.  We like Wet Your Whistle best.  The horse has won three straight and is the only true closer in the race.  He's training well and will need a career top to pull this off.   Disco Partner is proven at this class and we will use him as a B (we hesitate to use him as an A because he hasn't found the winners' circle much lately).
The Lure: The Lure, a mile and sixteenth on the turf, is an extremely competitive race where I could make an argument for every turf entrant.  Our top picks are Lucullan, Tinconderoga, and Gidu.  Based on odds, we will likely key Gidu. He is outside speed and figures to sit a trip and be able to find a spot on or near the lead. Noble Indy figures to press but otherwise the pace should be controlled. Gidu is working very well and his firm turf numbers put him right there with this group.  If Lulcullan can pair or improve off his last, he will be tough to beat. But McLaughlin runners don't often fire their best second off.  Ticonderoga seems to be circling back to a big effort, likes the distances, and will be closing late.  At 12-1 you can definitely use Say the Word.  The horse is moving forward, but this is now his fourth start of the cycle and it's tough to expect another improvement.
The Test: The Test is a very cool and historic race—a Thorobro favorite.  This year's edition features an accomplished field, yet several questions surround the favorites. Bellafina is coming off a layoff following a disappointing Oaks. Maybe that effort was due to a speed-favoring track or maybe she doesn't like leaving SoCal? Covfefe caught a speed-favoring track on Black Eyed Susan Day and freaked.  Will she ever come close to repeating? Serengeti Empress got a dream trip in the Oaks but couldn't  hold when pressed in the Acorn—can she win while being pressed by Covfefe? Royal Charlotte is stretching to 7f and stepping up in class.  So many questions.  So why not take a flyer? We will be keying Trenchhtown Cat.  Her two dirt starts have been very good and another step forward here puts her right in contention.  She figures to sit right off the pace and get first run.  Ortiz and Crichton are 5 for 9 together.  She's 12-1!  Of the logical horses, we will use Seregeti and Royal Charlotte as A's with the Cat.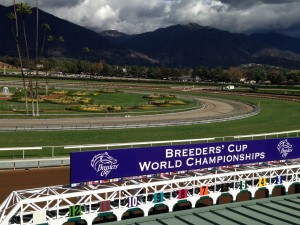 The Whitney:  The race of the weekend is, of course, the Whitney and it features a well credentialed field. This is a Breeders' Cup Wi n and Your In–offering an all expense paid ticket to the Calssic for the winner. Unfortunately, from a betting perspective it is not the most appealing of races as the three favorites all appear formidable.   To take some type of stance though, we will try to beat McKinzie with either Thunder Snow or Preservationist.  The former appears to be in top form and the recent workout reports have been dynamite.  He's back to a more preferable distance after a very game Met Mile.  The latter looks like he may inherit the lead from a favorable post. Jerkens and Alvarado hit at a high clip.  We will likely key the longer odds of these two.  Nothing wrong with McKinize, but that was a very tough race he ran against Mitole.  Although he gets a two month freshening, this once lightly raced colt will have now made half his career starts since Christmas. We expect him to be a heavy favorite. Vino Rosso could offer some value although we think he'll need a top effort here, and his prior best numbers have all been at Aqueduct.
De La Rose: Fillies and mares going a mile on the turf in this great betting stakes race. Capla Temptress,  Got Stormy will be ours keys, but we want to use the remaining space we have for this race to mention Dynatail at 30-1.  Her firm turf numbers are competitive and her dislike for soft ground may explain the last two.  She has an outside post, which is not ideal but could force her to go to the lead in a race short on speed. She's turning back and could prove tough to catch.  Again—30-1!
Sunday
Stakes action continues on Sunday. Take note that NYRA is offering an all stakes two- day Pick 6 with the Test, Whitney and De La Rose Saturday followed by the Waya, Saratoga Derby and Adirondack on Sunday.  An impossible bet given the uncertainties which can occur in a 48 hour race period, but a cool concept nevertheless.
We did not have past performances for Sunday at the time of print. However, the Waya features even money favorite Santa Monica for Chad Brown. The Saratoga Derby features 11 horses and appears to be wide open. And eight promising 2 year old fillies line up in the Adirondack. Good luck and follow us on Twitter for live updates from the track.
Weekend at the Track
It's Whitney weekend! The racing itself is really all you should need.  The weekend kicks off with the newly created Saratoga Oaks – a $750k turf race for fillies – and the GII National Museum of Racing and Hall of Fame stakes.  Then on Saturday, you have a card with 5 stakes races – the GI Whitney, the GI Test, the GIII Troy, and then the $100k De La Rose and the $100k Lure.  Finally, the weekend is bookended by four more stakes on Sunday, the GII Adirondack, the GIII Waya, the $100k John B. Morrissey for New York Breds, and then the newly created, $1MM Saratoga Derby for three year old colt turf horses.  With the performances that some horses have been putting up recently (e.g. Imperial Hint's track record over 6f and Shancelot's all-timer (121 Beyer) in the Amsterdam) there should be plenty of fireworks on the track to enjoy.
Additionally, you have the stand-bys – Sunday family day, performances at the Gazebo (this weekend you have The Stony Creek Band (Friday), Soul Session (Saturday), and the Bluz House Rockers (Sunday)), and the Sunday low roller tournament.
Also, on Friday you have the annual induction ceremony for the National Museum of Racing and Hall of Fame. This year's inductees include a star-studded cast headlined by Marylou Whitney, which will lend a somber and reflective mood to the proceedings given her recent passing.  Other inductees include great owner Ogden Phipps, racehorses Royal Delta and Waya, and jockey Craig Perret.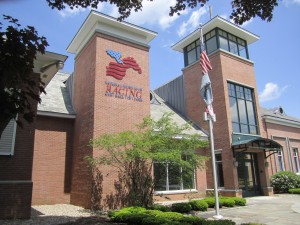 Finally, in light of Marylou Whitney's passing, the Spa has appropriately declared Saturday to be Marylou Whitney day at the track. Fans are encouraged to wear pink, in honor of the late, great racing owner, breeder and philanthropist.  There will be a tribute video for her shown on track, and the 92nd running of the race named for her family will be run on NBCSN – it should be a great send off for the Queen of Saratoga.
Also, while it's not happening this weekend, don't forget that the next giveaway day is this Wednesday, August 7! Come out and get your free Saratoga red, black and gray camouflage hat, which should come in handy if you plan on going hunting on Mars.
Weekend Around Town
Being that Whitney weekend is such a great weekend of racing on-track, much of the off-track events are a horses-first focus. First off is the Hall of Fame Induction Ceremony on Friday. We always love this event, as it is (1) open to the public; (2) filled with horseracing's heroes past, and present; and (3) a great way to get amped up to see some live racing after the ceremony. This year's conventional voting class is only two deep in Craig Perret and one of our favorite horses of recent memory, Royal Delta. This classy mare was good enough to win the Alabama in her sixth start, go on to win consecutive Breeder's Cups at three and four, and still win the Gr. I Personal Ensign at Saratoga at 5.
Inducted in by the historical review committee is the race mare Waya, who has a race named in her honor carded for Sunday. Among her many accomplishments was a then-world record at 1 1/8 miles on turf in the Diana as well as multiple Gr. I wins against males.
Also being inducted are twelve individuals for the Pillars of the Turf category. The group is highlighted by Queen of Saratoga, Marylou Whitney. Also getting inducted are William Farish of Lane's End who has bred three separate horses of the year and the winners of all three Triple Crown races in 1999 (Charismatic and Lemon Drop Kid).
Also on Friday, but conveniently after the races, is a great benefit: Lauding Legacy; An Aftercare Celebration. Held just down Union Avenue at the Canfield Casino, this charity event is a collaboration of the aftercare entities whole all work to ensure the safety and quality care of retired thoroughbreds. The events honorary guest is our favorite racing photographer, Barbara Livingston.
This weekend is also known as sales weekend, as the Fasig-Tipton select yearling sale starts on Monday. The young yearlings will start to arrive now, and will be open for inspection. Even if you aren't actually shopping, going to see the yearlings is a fun way to see the sports future.
For way off track experiences, the Philadelphia Orchestra is at SPAC Friday and Saturday. However, for our money the best show of the weekend will be the 90's throwback of Hootie and the Blowfish with special guests Barenaked Ladies on Sunday night.
This is a great weekend in Saratoga and one where racing truly takes center stage. Get out there, enjoy it!
Share and Enjoy