Friday Happy Hour at Siro's. Crafting a late Pick 4 ticket on Saturdays. Nursing a hangover in the shade of the picnic area on a Sunday. Back to work on Monday—counting down the hours until you can hit repeat. Weekends in the summer are meant for Saratoga. And it's not just the championship racing. It's jet skiing on the lake, concerts at SPAC, fried chicken and dough boys, and late nights on Caroline Street. Our Weekend Warrior Series highlights the very best of the racing, establishments, events and experiences for each 72 hour stretch of glory. Happy Friday, Saratoga!
Happy Friday, Saratoga! After a rough week of heat and cancelled racing, weekend number three looks much more promising. The Jim Dandy, the traditional prep race for the Travers, headlines a terrific weekend of racing. This year's edition features Triple Crown stars Tacitus and War of Will along with other promising colts. In addition to the Jim Dandy, this weekend features other top stakes action, on track entertainment and benefits for a great cause, and lively food and drink options around town.
Here is your guide to all the on and off track excitement of Jim Dandy weekend.
Weekend Racing and Analysis
It is rare that the biggest and most anticipated race of the weekend in Saratoga is not a Grade I race, but that is almost always the case on Jim Dandy weekend. Although a Grade II, the traditional prep for the Travers always draws a great field of horses from the Triple Crown trail, along with a few new shooters who are rounding into form for a strong summer/fall campaign. This year is no different, as the Jim Dandy Field is led by Preakness winner War of Will, making his first start since a less than stellar performance in the Belmont. Joining him from the classics, is Bill Mott's Tacitus for Juddmonte Farms. Tacitus also exits the Belmont, where he was a closing second following his third place finish in the Derby. Joining them are Triple Crown veteran Tax, Mihos from the dangerous Jimmy Jerkins barn, Sagamore Farm's Global Campaign making his first start since winning the Peter Pan, and Laughing Fox who was seen most recently in the Preakness. A strong field of six, we see this race being a jockey's race as the horses seem evenly matched and pace could likely determine the race. This probably plays against Tacitus, as he tends to do his best running late and is somewhat pace dependent. Additionally, he is 7/5 on the morning line. We will not be surprised at all if he wins, as we believe he is the most talented of this group. However, we think he wants it longer and faster so will look elsewhere. On top, we will look to play Tax. This horse has shown great talent running a solid second to Tacitus in the Wood Memorial and an admirable 4th in Belmont. He has shown tactical speed which can help him in this smaller field. We see him either on the lead or just off waiting to get first run at a price. We will play Tax to win here, and possibly an ice cold exacta with Tax over Tacitus, avenging his half-length defeat in the Wood.
Bonus:  Here's some media coverage from Jim Dandy's major upset over Triple Crown winner Gallant Fox in the 1930 Travers.   No place celebrates upsets quite like Saratoga, so it's no surprise the spirit of Jim Dandy lives on in racing and (see below) in spirits.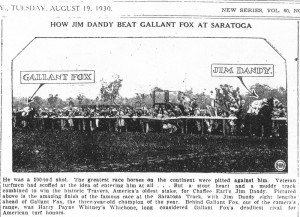 The other stakes this weekend, although they do not get the top billing or buzz of the Jim Dandy, also have great fields either in terms of size or competitiveness.
The Bowling Green on the Jim Dandy undercard is the local prep for the $1 million Swordancer held on Travers day. It drew an ultra-competitive field of 13 to go the 1 3/8 mile distance on the turf. The male turf division has Bricks and Motor as the clear leader, but he is not in this race and is waiting for the Arlington Million. Therefore, there is no clear cut favorites in this race, which is reflected by the favorite in this field, Channel Maker, being a lukewarm 7/2. Channel Maker showed his affinity for Saratoga last summer, winning the Bowling Green and running second in the Swordancer. Also in the field are fan favorite and deeeeeeep closer Sadler's Joy. This Tommy Albertrani runner is always moving late and with a large field should get the pace he needs. No turf stakes in Saratoga (or North America for that matter) would be complete without Chad Brown having a entry, and this is no exception as Chad starts three here (Focus Group, Olympico and Ya Primo). With the large field and the 1 3/8 distance having a short run to the first turn on the backstretch, we see this race favoring closers and inside horses. That brings us to Sadler's Joy who we are betting on moving late down the lane under Javier to steal it. Underneath we will use Channel Maker, Focus Group, Zulu Alpha and Red Knight.
The other stakes on Saturday is a small but very talented rendition of the A.G. Vanderbilt. It is lead by Mitole, who is currently on a 15 month, 7 race win streak. A speedy sprinter last year, he stretched his speed out last time to take the Met Mile on Belmont Day. However, now he has to come back two furlongs to the Vanderbilt distance of six furlongs, which can be difficult after a big effort last out. Making his 2019 North America debut is Imperial Hint. We last saw him in the Dubai Golden Shaheen, where he ran third. The six year old has been towards the top of the sprint division for the last two years, but we feel his form might be tailing off a little and never like playing a horse first time back since Dubai. The horse on the improve in this field is Strike Power. Running out of the Mark Hennig (*Homer Pick Alert*) barn for Courtlandt Farms, this speedster can really fly and may have the gas to stay with Mitole. He started his career with a bang, earning triple digit Beyer first out. After trying a route of ground last year, he has come back sprinting this year and proven that is his best game. This is his third start off the layoff coming out of a close second in the True North, which is a huge thorobro handicapping angle. We see him sitting on a big race, especially shortening up just a hair from 6 ½ furlongs to 6 furlongs. Finally, you have Firenze Fire who won the 6f Runhappy at Belmont in May and exits the Met Mile where he ran 5th. A really strong field here, but we will be playing and cheering for Strike Power. However, you can't ignore Mitole as he could be a complete freak. Play those two together and because of the competitive nature of this field, it may be an "all-button" race in multi-race wagers.
Closing out the weekend is a full field of 12 in the Amsterdam for 3 year olds, the local prep for the H. Allen Jerkens. It is led by Nitrous for Steve Asmussen. Also in the field are impressive maiden winner for Juddmonte Honest Mischief; Classy John, who debuted on Travers Day 2018 to win for Dallas Stewart; Wendell Fong for Jeremiah Englehart; Bourbon Calling for Ian Wilkes and Achilles Warrior for Mark Hennig. No PPs as of press time here but it should be a great betting race with a field that size.
Friday's card includes the Curlin Stakes, which is also a restricted prep for the Travers, for horses who have not won a stake beyond a mile in 2019. A field of nine lines up for this bout, lead in our eyes by Intrepid Heart for Todd Pletcher. He won very impressively to break his maiden going two turns at Keeneland and followed that with a valiant 3rd in the Peter Pan before somewhat of a dud in the Belmont. Back to shorter distance may help him here. Also in the field is Looking at Bikinis, who wins the award for best name of the weekend. This horse is 2-2, with a win last fall to break his maiden and a very professional 2019 unveiling at Belmont in an allowance, however he will try two turns first time for Chad Brown. We will being keying Intrepid Heart over the two Chad Brown runners (Looking at Bikinis and Highest Honors), along with Endorsed for the Godolphin Stables and Kiaran McLaughlin.
It's a great weekend of racing, with competitive fields and some of the best horses in training. Get out there and enjoy it.
Weekend at the Track
Jim Dandy bar: In honor of Jim Dandy weekend, why not pay a visit to the Jim Dandy bar? Located in the lower level of the clubhouse, this one time dark and dingy race track bar underwent a bit of a remodeling. Don't get us wrong, it's still dark and dingy but nostalgic nevertheless. Although we wouldn't recommend spending hours here, it serves as a solid pit stop on any walk from the paddock to the winners' circle and vice versa. It's also very close to the path the jockey's and horsemen take after the race and offers a unique vantage point to observe post-race celebrations or second guessing while sipping a cocktail. On Saturday, the Jim Dandy bar is featuring specials on unique Woodford Reserve bourbon cocktails from 3:00-5:00.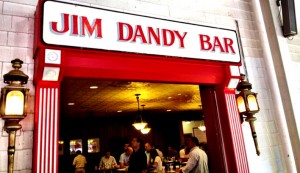 Jockeys: On Saturday, Saratoga will celebrate the Permanently Disabled Jockeys' Fund (PDJF) Awareness Day Across America. The PDJF is a Thorobro favorite organization which increases awareness for and offers financial assistance to disabled jockeys. Top jockeys will sign autographs outside the jockeys' room before the races. A suggested donation amount of $5 will benefit the PDJF and includes a "Riders Up" poster for the jocks to sign. We encourage you to come out and support this great cause.
Speaking of Jockeys, few sport venues offer access to their star athletes quite like Saratoga. Nine to twelve times a day, approximately 20 minutes before each race, jockeys exit the locker room and navigate through the crowd and backyard area to the paddock. Kids seeking autographs line up eagerly awaiting the chance to meet their favorite jockeys. Each rider willingly signs autographs and often interacts with the fans. In five plus years of living by the jockeys' room, we never saw a jockey refuse to provide an autograph. The only requirement is that you walk with them as they sign.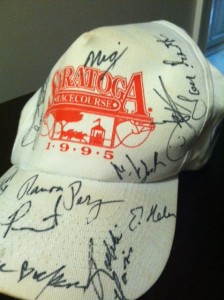 After the races, the jockeys return to the locker room passing by betting windows, beer vendors, and often a band. There is a walkway leading from the clubhouse back to the jockey's room which marks their intended path. Fans congratulate winning jockeys and many riders will stop and pose for pictures (especially if not rushing back to get ready for the next race—check the program). This walk back provides fans with another opportunity to seek autographs and also with the chance to request goggles from the riders. Especially towards the later races, many jockeys are willing to give a pair of their freshly muddied goggles to requesting young fans—a cool and unique souvenir. Programs make for an easy surface for collecting autographs as do Saratoga posters and hats (which can be purchased from vendors outside the track), and jockey cards (sets available in on-track gift shops).
Family Fun: The sleek 1863 Club will be open to families on Sunday with the first ever Family Fun Day, featuring a family friendly buffet, a make your own sundae station, and kids activities. Tickets are $75 for adults and $45 for kids. The 1863 Club is an upscale new spot to enjoy the races and Sunday's event is a great opportunity to check out this new space while also getting some quality time with the family (in between crafting vertical wagers and checking out pick 3 will pays).
Weekend Around Town
Historically, this is one of the great weekends around Saratoga, as the racing meet has just gotten started, and everything around the area gets into full swing. Even with the extended race meeting, this year is no different.
As usual, downtown Saratoga is the focus for a lot of the weekend events. The McKrells are playing at the Parting Glass, the Jamcrackers at Café Lena and the George Muscatello Quartet at 9 Maple Avenue. Also, the Shakespeare in the Park series continues in Congress Park with what promises to be a wonderful rendition of King Lear. Hopefully tonight, which will be milder than what we have seen recently but likely still not cold, won't "turn us all to fools and madmen."
Outside of the downtown area, the Saratoga County Fair kicks off at the Saratoga County Fairgrounds, 162 Prospect Street, Ballston Spa, NY 12020. This is the 178th renewal of the County Fair, which offers carnival fun for the whole family. This is a classic county fair with games, rides and of course motorized sports including tractor pulls and a demolition derby, which are both awesome. If you happen to be looking for something a little different, the Saratoga Polo Association is holding its Mid-Summer Celebration at Whitney Field (2 Bloomfield Road, Greenfield Center, NY 12833). The matches start at 5:30, and there are all different kinds of tickets. But if you just want to bring some food and some fine wine (it is polo after all) and tailgate, it's $50 per car. It's a really fun evening, and also great for kids.
Finally, it's also a great weekend for live music at SPAC. On Friday night, Train and the Goo Goo Dolls perform. Train's drummer is from Saratoga, so this is always a homecoming of sorts for the group. Then, on Saturday, Joe Bonnamassa brings his blues/rock brand to the performing arts center.
Last but assuredly not least, if you are staying in Saratoga for Sunday night, you have to check out the Jockey Karaoke to benefit the PDJF at Vapor Night Club. In the second year of an East Coast v. West Coast Battle (think Biggie v. Tupac but no guns or drugs and wayyyyy more off key), the East Coast jocks, lead by Julien Leparoux, Johnny V and Rajiv Maragh, look to continue their dominance. Judging the competition will be trainers D. Wayne Lukas, Mark Hennig, Graham Motion and Mark Casse. Always an event filled with laughs, and a couple actually talented acts, the star of the show are the jockeys who benefit from this great fundraiser. In addition to the show, there is a silent auction of really great horse racing and sports memorabilia. Tickets can be purchased online on pdjf.org.
It's a great weekend on the track, at the track and around Saratoga. Enjoy!
As a bonus for reading to the end, here's a throw back replay, the 1978 Jim Dandy Stakes: https://www.youtube.com/watch?v=vZsmcF8xmMQ. In Affirmed's return to the races after winning the Triple Crown, Sensitive Prince came into the stretch many lengths ahead of Affirmed, and even watching the replay, it's hard to conceive of Affirmed winning the race. But 18 year old Steve Cauthen and Affirmed showed championship heart, and ended up pulling off a win that would serve as a prelude to Affirmed and Alydar's tenth and final meeting in the 1978 Travers.
Share and Enjoy