Saratoga Weekend Warrior—Second Weekend
Friday Happy Hour at Siro's. Crafting a late Pick 4 ticket on Saturdays. Nursing a hangover in the shade of the picnic area on a Sunday. Back to work on Monday—counting down the hours until you can hit repeat. Weekends in the summer are meant for Saratoga. And it's not just the championship racing. It's jet skiing on the lake, concerts at SPAC, fried chicken and doughboys (yes, we still refuse to convert to oboys), and late nights on Caroline Street. Our Weekend Warrior Series highlights the very best of the racing, establishments, events and experiences for each 72 hour stretch of glory. Happy Friday, Saratoga!
Welcome to the second weekend of Saratoga racing….or not. The big news this weekend is the weather, choking humidity and high temperatures have already led to the cancellation of racing on Saturday. No worries though—Saratoga has plenty to offer around town and this week's Weekend Warrior is filled with suggestions for beating the heat. Even with the temperatures and no Saturday racing, there's no such thing as a bad weekend in Saratoga.
Weekend Racing and Analysis
Well, our race analysis section took a serious hit when NYRA announced that Saturday's card is canceled due to brutal heat. But when life hands you lemons…..show replays.
So in honor of the east coast heat wave, we present to you, hot weather inspired replays showcasing efforts of aptly named horses and scorching hot paces.
1. Our first replay features Xtra Heat, the gutsy filly sprinter, with perhaps her best career effort, albeit a losing one, in the 2001 Breeders Cup.
2. Speaking of valiant losing efforts, our second replay features Hero of Hot, Sun King, losing by a nose in the 2006 Whitney to eventual BC Classic winner, Invasor. This beat still haunts me.
3. Perhaps the most fitting name for this weekend belongs to British 2 yo star Too Darn Hot, shown here returning to championship form, capturing his first win of 2019 in the Group 1 Prix Jean Prat.
4. And last but not least, we leave you with a scorching hot pace, and an even spicier stretch duel—the 2002 Test Stakes (we look for any excuse to post this T Bro favorite replay). Carson Hollow blazed a 21 and 3 opening quarter, but still had plenty in the tank to engage in an epic stretch duel, eventually succumbing to You.
Luckily, there is still some weekend racing on the schedule. Today's card is highlighted by the Grade III Lake George—a mile on the inner turf course for three-year-old fillies. From the current forecast, it appears this race will be on the turf so we provide analysis accordingly (if it gets rained off unexpectedly, Espresso Shot looks tough to beat). Our key in this race is the 3, Winter Sunset. Based on speed figures, she appears to be a horse on the improve. She returns to a distance where she is two for two and the turnback angle should have her full of run late. We like this one to sit just behind Blowout (our second A horse) and get first run. She is a square price at 6-1. Our A team is rounded out by The Mackem Bullet. Her two turf numbers are very competitive in this field. She's coming off the shelf but boasts a steady work diet and seems to have the confidence of Ward sending her north for this effort. We will use the two other Brown horses, Regal Glory and Dogtag defensively as B's and underneath in vertical race wagers.
Everyone knows maiden claiming races are a great way to beat the heat, so as an added bonus this week, we'll share a few thoughts on today's nightcap.   Ranger Up certaintly makes sense, but the horse has burned a lot of money as a beaten favorite. Also, it raises questions about the horse's fitness when you see a $575,000 purchase drop in for a $48,000 sales tag. At even money, he's worth playing against. Our top choice is Super Silver, his dirt speed figures are actually the best in the race. He now gets a new trainer and change of scenery. There's some speed in this race, so he can sit back and try to make a run. Distance is a question, but at 12-1 , he's worth a shot. Our other A horse is Final Say who boasts consistent speed figures for this group. Same questionable placement issue though as Pletcher drops this $470,000 purchase in for a $48k tag. But at 7/2, we like the other Pletcher better.
Sunday now features the Coaching Club American Oaks, a refugee from Saturday's card. The five horse field is headlined by deserving favorite Guarana. However, we'll be using Point of Honor who appears to the "now" filly, getting better each race.
Weekend at the Track
As highlighted earlier in this post, the "Around the Track" vibe has been hurt by some brutally hot weather set to roll in on Saturday. NYRA made the decision to move the Saturday card to Sunday, and we still have a nice Friday card to enjoy, but Saturday, the on-track main event of the weekend, has been removed. There's no giveaway this week, either – but there's still reason to brave the 90 degree heat and head over to East and Union on Friday and Sunday.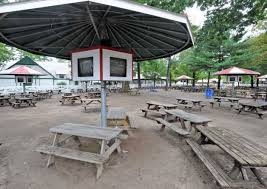 As with every Friday, there is craft beer and cider tasting in the Coca-Cola Pavilion, where you can get 5 samples for $5! On Sunday, in the same spot, you can enjoy family Sundays with fames and activities (and hopefully some shade). For those that are more inclined toward the racing (like us), Sunday features the weekly Low Roller Challenge handicapping tournament. It only costs $40 to enter, of which $30 goes to your bankroll and $10 goes to the prize pool. This is a great way to get involved in handicapping contests, and test your skills against many other handicappers at Saratoga.
Finally, given just how inhospitable it will be in the afternoons all weekend, this might be a weekend to enjoy the horses in the morning, before the heat of the day. One of the best things to do at Saratoga is watch the workouts in the morning with an iced coffee and a breakfast sandwich. The track is open from 7a to 10a, and admission is free! You can also take a tour of the backstretch. Tours depart every 15 minutes between 7:30 and 9, and give you a nice view into what happens in the barn area, and how the equine athletes are cared for and prepared for competition.
Weekend Around Town
With the weather and the early cancellation, we are bringing to you a bigger off-track presence. We are going to some you how to spend a whole day away from the races, and stretching out into the surroundings area of Saratoga. We also will bring you some of the best ways to stay cool this weekend.
Start your morning off early with a stop at one of the great breakfast places. In town, we are always suckers for Compton's. An oldie-but-a-goodie, Compton's brings a consistently great breakfast and the food comes out fast. Try the corn beef hash. It is also a great place to head if you make it to last call (4am) on Caroline Street, as they open at 4:30. Head south of Saratoga to the Saratoga County seat in Ballston Spa for Beverly's. Formerly of Phila Street in Saratoga, Beverly's brings big, hearty breakfast. They are known for their breakfast burritos and omelets, but their various 'benedict' creations and pancake specials are great as well.
The motto for Saratoga Springs is "Health, History, Horses". During the day take your pick from activities that represent the other two parts of that motto. Head east to the Saratoga National Historic Park and Battlefield. It was there that the Battles of Saratoga were fought in September and October of 1777. These battles are known as the turning point in the American Revolution, as the victory by the Americans helped persuade the French government to join them in the fight against Britain. The driving tour allows you to see the battlefield (in the comfort of your air conditioned car, hopefully) and listen to a guided tour through the radio. If battlefields are not your thing, head to the Saratoga Spa State Park right in town. Early in the morning it will be the coolest, and it is a great time to walk some of the trails and sample the springs. There are many miles of trails in the park, with some great views that make it hard to believe you are still in the City of Saratoga Springs.
If you need to feed your horse racing hunger, our good friends at the National Museum of Racing and Hall of Fame are opening an all-new Women in Racing Exhibit. Although we have not seen it yet, here's to hoping it features Thorobros favorites Julie Krone and Diane Nelson.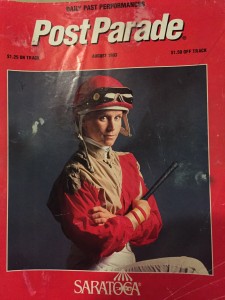 For lunch, grab a sandwich at Roma Deli on Washington Avenue. With the biggest meat and cheese selection and other ingredients, everyone in your group will be able to find something great to eat there.
In the high heat of the afternoon, head to the water of Saratoga Lake to cool off. There are a few options around here. The Kayak Shack on Fish Creek has paddle board rentals. If you are just looking to take a dip, head to Brown's Beach on the south side of the lake on Route 9P. Their remodeled restaurant is great too and allows you to grab a cold brew to help beat the heat. If you don't mind a little drive out of town, a float down the Battenkill River in either Washington County New York or Arlington Vermont makes for a refreshing way to see some of the countryside. The Saratoga Spa State Park also boasts two pools to help you beat the heat. If you are looking for a more swanky, Vogue-esque swimming and lounging opportunity, head to the Victoria Pool in the state park. The ballerinas from the NYC Ballet have been known to frequent this spot. If you have kids and want a more waterpark, splashtastic experience, head to the Peerless Pool. They have diving boards, water slides and a kiddie waterpark. The perfect way to keep the kids cool and entertained in this heavy heat.
For dinner, try some Off-Broadway (Caroline and Phila too) options. Eddie F's on Clinton Street serves up summertime seafood favorites like classic New England lobster rolls and fried fish, whole-belly clams and scallops. Augie's in Ballston Spa serves up huge, family-style Italian meals. Come hungry and be prepared to bring home multiple doggie bags.
Late-night will be the coolest part of the day this weekend. If heading downtown, make sure you head to one of the watering holes with an outdoor area. Our favorites for a hot night are the roof top at City Tavern and the court yard at Sinclair on Maple Ave. However, on warm nights like this sometimes there is nothing better than enjoy the peacefulness of the evening on one of the many front porches in town.
Share and Enjoy