A controversial and intriguing Triple Crown season comes to an end today with the Test of Champions, the Belmont Stakes.  Although the star power may be lacking and there's no triple crown bid, this year's Belmont is an interesting betting race and the exclamation mark on an epic graded stakes filled card.  This "mini Breeders' Cup" promises competitive fields and some big prices.  That makes the late Pick 4 a daunting task–but it's a potentially lucrative challenge we are willing to accept.  Here are our thoughts on the main event Pick 4.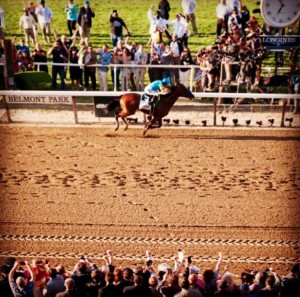 Race 8– The Woody Stephens –3YO 7f Grade 1
Of all the races in the sequence, we see the Woody Stephens as perhaps the best chance for a big price.  And with that said, we 5-2 Mind Control is the most likely winner. Contradictory, we know.  But he's two for two at the specialty distance of 7 furlongs and boasts the best speed figures.  He can sit off the speed and make an early run.  However, his best efforts have been at Aqueduct.  We aren't willing to go all in on this horse, and beyond him, it becomes wide open.
Our top value play is Hog Creek Hustle.  He ran a game second on a speed favoring Derby Day track in the Pat Day mile.  He cuts back to a distance where has won before.  The horse is clearly doing well coming off of a career top number and just posting a nice CD work.  Look for him to be flying late.
Speaking of good works, Borracho has been lighting it up in the a.m. The horse is moving in the right direction and although he exits an optional claimer win–he soundly defeated one time Derby Trail darling Hidden Scroll in that effort. Another closer who can fly late if the pace heats up.  The price is right.  15-1.
A's:   3, 8, 9
B's: 4, 6
Race 9: The Metropolitan Handicap, One Mile, Grade 1
The chalk looks formidable in this year's Met.  We played against MckInzie on Oaks day and it cost us.  He has been consistent since his BC flop.  He's shortening up here and the maybe a mile is not his best distance.  But he's got the best speed figures and class in the race.
Mitole also has distance questions, but the issue is how will he react to going beyond seven furlongs for the first time in his career. Still, he has very quick sprint numbers and figures to be on the lead as they head for home.  He's won six straight–catch him if you can.
If Mitole falters, we like Promises Fulfilled at a price to get brave and hold on late.  His form appears off, but he has back efforts that make him competitive here. 12-1 is a square price for him. This is when Roman's is at his most dangerous.  Firenze Fire is 3 for 3 at Belmont and 3 for 5 at the distance.  He appears to be circling towards a top effort
A's: 2, 3
B's: 6, 7
Race 10:  The Manhattan 1 Mile and 1/4 (Turf), Grade 1
Bricks and Mortar has reeled off four straight wins in impressive fashion. He's back on a Belmont turf course he loves. The lack of true speed may be of some concern, but we suspect his stalemate Raging Bull will be charged with pressing the pace.  Bricks race to lose.
Epical ran a disappointing 5th last out at Belmont.  We expect him to be more forwardly placed today.  With not a lot of speed singed on, this still improving 4yo could get brave and hold on late.  At 15-1, it's worth a shot.
Robert Bruce just wins and Chad Brown has been known to score with his "forgotten" runner.  That combination makes this horse a must use on your Pick 4 tickets at 6-1.  He rounds out our A team.
Our B's will be 6, 7, 10.  We highlight the 6, Bandua, as a bomber play.  This 30-1 longshot returns to turf where his numbers are competitive.  He's two for three at the distance.  Sisterston scored an undercard upset on Preakness Day, why not repeat the feat today?
A's: 3, 8, 9
B's 6, 7 10
Race 11:  The Belmont Stakes, 1 Mile 1/2, Grade 1
Given the pace set up, we were a little hesitant to single Bricks and Mortar.  We actually are more likely to single here in the Belmont.  Tacitus was our top Derby choice.  He had a compromised trip but came flying late to finish third (after the DQ). He's bred to get the distance, has been working lights out, and has the grinding running style which has been successful in this race.  He's rested and appears ready for a top effort.
If we don't single Tacitus it's because we are going for a bigger score with Tax.  Another horse we were big on in the Derby.  He had an inside post, but no real excuses as he failed to fire.  If you assume Tax just didn't like the slop, then you have an improving horse who is also bred to get the distance.  All systems go at 15-1.
War of Will looked loaded for bear in the Derby before he lost all chances when Maximum Security cut him off.  He came back to win the Preakness.  Yet people are doubting this horse–"he got a setup in the Preakness" and "running in all three races is too demanding."  At this point though, he's proven to be the class of this three year old class. Watch the board.  If he creeps up to 4 or 5 to 1.  Play him.
For B's we are looking at Bourbon War (who appears to be an "every other" horse heading towards his good effort) and Spinoff (a Pletcher trainee who comes in fresh and figures to sit just behind his stable mate).
A's: 4, 9, 10
B's 5, 6, 7
Good luck, everyone!
Share and Enjoy