Many consider the Whitney to be the second most prestigious race of the Saratoga meet. But we would disagree. Historically and recently, the Alabama has attracted stars and consistently served as either a launchpad for or confirmation of a legendary career. From Royal Delta and Banshee Breeze formally announcing their dominance to the career best performances of already anointed juvenile fillies champions like Go For Wand and Silverbulletday, the mile and a quarter test for three year old fillies is a race second to only one at Saratoga.
The Alabama has a long storied history, named after William Cottrell of Mobile, Alabama, the race dates back to 1872.  Since 1917 it has been contested at its current distance of a mile and a quarter. Past winners include such giants as Miss Woodford, Beldame, Maskette, and Shuvee. But the race has not rested on past laurels.  A look back at the last 30 contested Alabama's reveals a who's who of top fillies. In honor of Saturday's Alabama, we take a look back at our five favorite/ most memorable editions of the Alabama from our 30 plus years of attending this prestigious race.
5. 1995–Pretty Discreet: 23 years before he was piloting Justify to a Triple Crown sweep, Mike Smith was scoring Grade 1 upsets at odds of 42-1. Pretty Discreet was the second longest shot in the field for the 1995 Alabama, which was headlined by even money favorite, Golden Bri.   When the gates opened, Smith shot Pretty Discreet to the lead as if she was the even money favorite.  No challenger came within five lengths of the long shot in the final quarter mile, and she pulled away to score a monster upset by nearly a dozen lengths. Friendly Beauty, another long shot was second and anchored an $838 exacta. As a young "jockey" handicapper, I had played Mike Smith horses all day, but shied off what appeared to be a hopeless longshot. On my standard $1 win bet, that $43 return would have bought me a lot of race track water ice.
https://m.youtube.com/watch?v=AtQPld13tIc
4. 2010–Blind Luck: Like any sport, racing thrives with rivalries; Affirmed and Alydar, Easy Goer and Sunday Silence, to name a few. The best rivalry in the past ten years was between talented three year old fillies Blind Luck and Havre de Grace. The Alabama would be only their second meeting, following a fantastic duel in the 2010 Delaware Oaks. Havre De Grace had the lead coming down the stretch, but Blind Luck used her signature closing kick the run down the future horse of the year, winning the Alabama by a neck. The race was a preview of things to come, with the rivals meeting four more times (Blind Luck winning one, Havre de Grace winning two, and both losing to Unrivaled Belle in the 2010 Breeders Cup Distaff).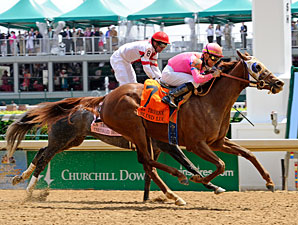 https://m.youtube.com/watch?v=UjPpwVdu2l4
3. 2016–Songbird: Triple Crown winners aside, Songbird is arguably the top headline thoroughbred of the past three years.  Her dominance peaked during the summer of her three-year-old season at Saratoga. The undefeated two year old champ was four for four to start her 2016 campaign and she had just won perhaps her toughest race, putting away Carina Mia in the Coaching Club at Saratoga.  The town was buzzing in anticipation of Songbird's next start in the Alabama, and she did not disappoint.  Songbird was challenged for the lead by Black Eyed Susan winner Go Maggie Go, but she easily put her away and rolled to an impressive seven length victory.  She received a long lasting standing ovation from the Spa crowd as she returned to the winners' circle.
https://m.youtube.com/watch?v=p2UL0WB-wMg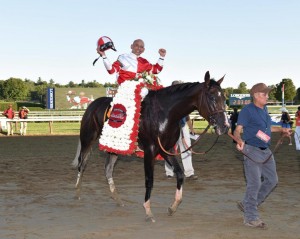 2. 1999–Silverbulletday: In some ways, Silverbulletday may have been the most important Alabama champion of the past 30 years.  Despite guiding the 1997 and 1998 Kentucky Derby and Preakness winners, newly crowned star trainer Bob Baffert had yet to take a horse to Saratoga. His commitment to run his champion filly, Silverbulletday, in the Alabama was a big deal.  Although she would be a heavy favorite, the previous five favorites in the race had all failed to win. Silverbulletday refused to make it six straight, delivering perhaps the best performance of her otherwise stellar career under pilot, Jerry Bailey. Bafftert would later say he fell in love with the ambiance of Saratoga that day. He has since returned to share top horses like Point Given, American Pharoah and Arrogate on his way to earning [controversial] status as a Red Jacket recipient at this year's ceremony.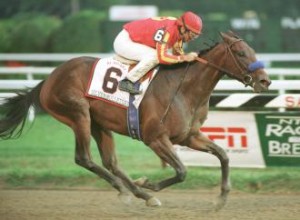 1. 1990–Go For Wand: For this Thorobro, the top choice is clear.  1990 marked my first in person Alabama.  As a kid, my hero was Randy Romero and I became an immediate fan of Go For Wand.  I could not have been more excited to watch the 2-year-old champion race live. Only two other horses challenged Go For Wand, the 1/2 favorite.  It was over as soon as the gates opened and Romero guided the champ to an easy lead. Around the turn, Romero glanced back several times, knowing how much horse he had and simply checking to see if he even had to ask Go For Wand.  He gave her a few taps and she easily pulled away from second choice Charon.  Despite making it look incredibly easy, Go For Wand set the stakes record, which still stands, of two minutes and 4/5 seconds.  To put that time in perspective, only three horses since have finished in less that two minutes and two seconds. Champion Songbird (see number 3 above), who dominated the field, could not break the two minute three second mark. Go For Wand's performance was that good.
https://m.youtube.com/watch?v=um7B1GZlS-E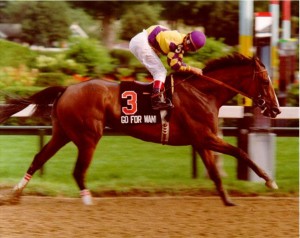 There are plenty of other memorable Alabamas which missed our list.  Which Alabama is most memorable to you?  Let us know! And we hope you enjoy this Saturday's edition of this historic and prestigious race.
Share and Enjoy