The fourth week of July marks the start of our two favorite summer traditions: Saratoga and Shark Week. So last night, we recovered from an epic opening weekend at the Spa by turning on the Discovery Chanel to watch Shaq standing on the bow of a boat screaming for sharks. And as the Big Aristotle dove into infested waters searching for the mythical Megalodon, our mission became clear—"Shark Week–Saratoga Edition."
So far our "Shark Week–Saratoga Edition" has focused on fearsome predators who have trolled the Saratoga waters over the past 25 years. But Sharks have been around for over 400 million years, so it follows that our profiling of Saratoga sharks needs to pre-date our own lifetime. With those parameters in mind, today we profile the Big Fish of the Travers, Hall of Fame Trainer, Winbert "Bert" Mullholland.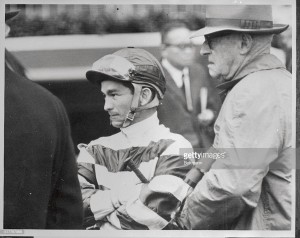 In 1933, Mullholland, then 50 years old ascended to head trainer for legendary owner George D. Widener (former president of the National Museum of Racing and Hall of Fame and one of only five people to ever be named an "Exemplar of Racing"). Mulholland would go on to win a record (which still stands today) 5 Travers Stakes in three different decades. His first winner of the Travers was in 1939 with Eight Thirty—a future Hall of Fame horse.
His last Travers victory came in 1963 when he scored an upset victory with Crewman. The sporting world had dubbed the 1963 Travers as a showcase for the "Big Three"—featuring Derby and Belmont Champ Chateaugay; Preakness winner Candy Spots; and reigning two year old champ Never Bend. Yet when the dust settled after the 94th running of the Travers, Sports Illustrated's headline read "The Big Three Looked Mighty Small." Overlooked Crewman, trained by Mullholland, upset the field. Like a shark, Mullholland laid low throughout the Travers buildup and awaited his time to pounce. He reportedly predicted victory to his jock, Eric Guerin as he gave him a leg up: "Get him away and take a good long hold. Your horse and Never Bend will be on the lead, but don't worry about it. You are on a sharp horse, and you're going to win it." The race unfolded just as the shark predicted it, and when Never Ben tired, Crewman took off, and nobody could catch him.
The 1963 Travers marked Mulholland's second straight win in the race—with the year before being perhaps his most famous. The 1962 Travers was billed as the showdown to determine three year old horse of the year. It pitted the favored Jaipur—winner of the Withers and Belmont Stakes—with Hall of Fame connections Mulholland and Bill Shoemaker, against second choice Ridan—1961 two year old of the year and defeated Kentucky Derby favorite—trained by Leroy Jolly and ridden by another hall of famer, Bill Hartack.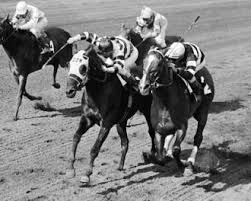 As the gate opened , the two favorites rocketed to the front, where they immediately began to duel in unison. They ripped through a first quarter in 23 and 4/5 seconds. The duo continued to battle down the back stretch, completing a half mile in 47 seconds and change. Neither Ridan nor Jaipur would relinquish an inch as they rounded the far turn, and an already narrow margin somehow became even tighter. The two horses were in perfect harmony down the Saratoga stretch, two prize fighters exchanging punches, a lead change occurring with every head bob. Jaipur, on the outside finally established a slight lead at the eighth mile pole, but Ridan refused to quit. The tandem hit the wire together, with only a photo evidencing that there was a winner (Jaipur) and, for lack of a better term, a runner up (Ridan). It was a Travers, horse race, and sporting event for the ages.
Relive the 1962 Travers here
The race chart said it best—"Jaipur raced on even terms with Ridan from the break….in a torrid duel." Jaipur "won narrowly in a race in which neither horse gave way." Ridan "raced courageously to the end and was beaten narrowly in a thrilling duel."
Mullholland's Saratoga success was not limited to the Travers, as he also won the Sanford, Diana (twice), Test (twice), Hopeful (three times), Saratoga Special, Schuylerville, and Spinaway. Mulholland was elected into the Hall of Fame in 1967 and passed away the following year at age 84.
As we think about Pletcher and Mott and even Baffert's recent Travers runs, we can remember Mulholland as the original Saratoga training shark.
Share and Enjoy