The fourth week of July marks the start of our two favorite summer traditions: Saratoga and Shark Week. So last night, we recovered from an epic opening weekend at the Spa by turning on the Discovery Chanel to watch Shaq standing on the bow of a boat screaming for sharks. And as the Big Aristotle dove into infested waters searching for the mythical Megalodon, our mission became clear—"Shark Week–Saratoga Edition."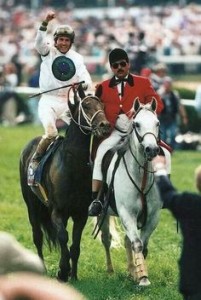 Today's shark always seemed to exhibit the cold-blooded instincts of a shark on the prowl during his dominant years at Saratoga during the 1990s and early 2000s. After Angel Cordero, another Saratoga Shark, retired Bailey took over as the alpha male in the Saratoga jockey colony. Bailey made it a goal every year to win the title at Saratoga, a feat he accomplished 7 times. He ruled the Saratoga jockey colony with an iron fist.
Bailey, unlike Cordero, was the regular rider from some the eras most prolific trainers, namely Bill Mott and Bobby Frankel. Bailey, or J-Money as he is known by the Thorobros,  appeared to always be riding the best horse. But this was an illusion, as he knew how to get the best out of horses and weave through trouble. Much like a shark,  he perservered through a tough trip in order to claim a visit to the winners circle. His calm under pressure seemed to be second to none, waiting until the perfect moment to pounce and take the race by force.
Bailey also was known for sharking mounts away from his peers, by proclaiming and backing up, that he could ride their horses better. Like any other shark, Bailey wanted the biggest and most tasty prey and would do whatever it took to get it. He was never satisfied with the status quo, he was always hungry for more.
Bailey won every major stakes at the Spa including a record seven running a of the Test and six running shoes of the Hopeful. One of his best rides that displayed both his calm nerve, expert sense of pace, and furious finish was in the 2002 Test. It also happens to be this Thorobros favorite race of all time. Aboard Bobby Frankel's filly You, Bailey sat well off a torrid pace set by Todd Pletcher's Carson Hollow. Rounding the turn Bailey asked his mount to start making up ground along the rail. As they reached the top of the stretch, there appeared to be no room for You, but Bailey bidded time and found a tiny seam on the rail to dart through. Then Bailey pulled along side Carson Hollow with Johnny V aboard, and the two went punch for punch to the line with You prevailing by a nostril. It's a race that has to be seen to believe, so please check it out https://youtu.be/oCuJjhBBCS 
Bailey's shark-like dominance of Saratoga came to an end with his retirement in 2006. But Bailey couldn't stay away, continuing on in the industry as a TV commentator. In his new line of work he still asks like a shark, asking tough questions and never fearing to put his opinions on the line, or to question the tactics used by his former peers. Once a shark always a shark.
Share and Enjoy