The fourth week of July marks the start of our two favorite summer traditions:  Saratoga and Shark Week.  So last night, we recovered from an epic opening weekend at the Spa by turning on the Discovery Chanel to watch Shaq standing on the bow of a boat screaming for sharks.  And as the Big Aristotle dove into infested waters searching for the mythical Megalodon, our mission became clear—"Shark Week–Saratoga Edition."  
In honor of Shark Week, we will profile the Sharks of Saratoga, legendary horses, jockeys and trainers who loomed large meet after meet and devoured all competition in their paths. We start with the Great White shark of Saratoga, a/k/a the Sultan of Saratoga, Fourstardave.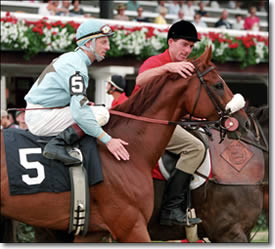 On August 28, 1987, hall of famer Randy Romero piloted a 2-1 second choice juvenile to win what appeared to be an otherwise benign edition of Saratoga's Empire Stakes–a six furlong event for two year old New York Breds.  Fast forward seven Saratoga meetings later, and that otherwise unremarkable 1987 state bred stakes held a much larger legacy. It marked the birth of a Sultan.
Fourstardave, the Sultan of Saratoga, won at least one race at the Spa for eight consecutive years spanning from 1987 thru 1994.  In doing so, he became the king of the sea known as Saratoga.  Fourstardave retired after making 99 starts with a record of 21-18-16 and earnings of $1,636,560.   He also owns a mellon turf course record at Saratoga, traveling a mile and sixteenth in 1:38 4/5.
In 1995, following his retirement, Fourstardave was given an edible key to the city of Saratoga and a street,  "Fourstardave Way" was named in his honor.  On a personal note, two young Thorobros attended the 1995 street naming outside Siros and have signed goggles which Angel Cordero (spoiler alert–another Shark) wore that day as he rode 'Dave over from the barn area.
In 1996, the Darly's Joy Stakes–a race Fourstardave won twice–was renamed the in the Sultan's honor. Besides its namesake, only one other horse has won the race multiple times–Wise Dan. Other winners include Breeders' Cup mile champs Lure, Da Hoss, and Steinlen.
Because what's Shark Week without footage? Here's a clip of one of Fourstardave's most vicious attacks.  It features Tom Durkin, in rare cheerleader mode, rooting home the "Old Boy" as he dominates an allowance field for his final Saratoga victory in 1994.
Share and Enjoy