The fourth week of July marks the start of our two favorite summer traditions: Saratoga and Shark Week. So last night, we recovered from an epic opening weekend at the Spa by turning on the Discovery Chanel to watch Shaq standing on the bow of a boat screaming for sharks. And as the Big Aristotle dove into infested waters searching for the mythical Megalodon, our mission became clear—"Shark Week–Saratoga Edition." In honor of Shark Week, we will profile the Sharks of Saratoga, legendary horses, jockeys and trainers who loomed large meet after meet and devoured all competition in their paths.
Today we are featuring Angel Cordero Jr., the King of the Saratoga Seas. Not only was he clearly the King by winning 11 consecutive riding titles from 1976 to 1986, he did so by displaying many shark like characteristics.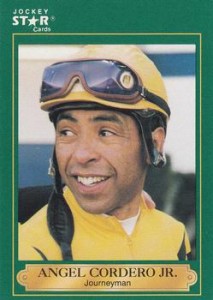 He was clearly held a mental edge on his competitors by toying with Jean Crueget like he did with his ride in the 1984 Whitney aboard Slew O' Gold. A race in which he admittedly talking trash down the backstretch.
Cordero also won all of those titles without being the "go-to" rider for many of the larger training outfits; he did whatever he had to to assert his dominance.  He was fearless on the track, taking any tactic, regardless of the risk, he thought might work to get to the Winners Circle.
And his shark mentality didn't end when he hung up his saddle in 1992. He has since become the a shark-like agent on the grounds, by taking the book and hustling mounts for leading riders Johnny Velazquez and Manny Franco.
His dominance over his opponents, his  killer-instinct and his willingness to take risks to get to his prey make Angel a cold-blooded killer at Saratoga.
Share and Enjoy