It is horse racing's equivalent of Game 7—Belmont Stakes Day with a Triple Crown bid on the line. Since NYRA introduced the Super Card format a few years back, every Belmont year represents an incredible day of racing. But there is no equivalent to when the mini-Breeders' Cup aligns with a Triple Crown chance.
After a 37 year drought, Justify seeks to become the second TC winner in just three years.  As fans, we will be rooting hard for Justify. As handicappers, however, given Justify's profile–a limited foundation, three races in five weeks (including a very demanding last effort), and culminating with a mile and a half challenge–we will likely be playing against him. A huge pay day awaits if Justify's limited foundation catches up with him.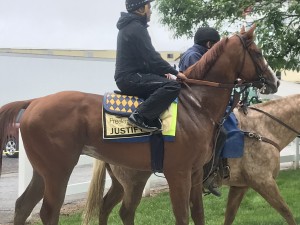 The Belmont Stakes is just the grand finale of an amazing undercard which features 10 (that's right 10!) stakes races, 9 of them graded, six Grade 1's. The nine races preceding the Belmont Stakes are seriously competitive and chalked full of top talent and viable 20 and 30-1 longshots.
Here are our thoughts on the 10 stakes races and some of the key betting sequences. Good luck, everyone and go Justify!
Note/ Rain Watch: As was the case with the Derby and the Preakness, there is potential for rain in the Belmont forecast. Since we started writing this, however, the forecast has seemed to improve, making rain less likely. Nevertheless, throughout our analysis we try to identify horses to upgrade or downgrade depending on track conditions. Also, with Justify drawing the rail and figuring to head straight to the lead, watch early for a track bias favoring inside speed.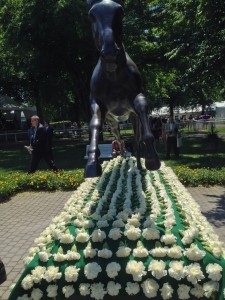 Race 2—The Easy Goer 1M 1/16th 3YO
Stakes action on this Triple Crown day begins, ironically, with a race named after a horse, Easy Goer, who spoiled Sunday Silence's Triple Crown bid 29 years ago. Luckily for Justify's chances, we don't see a horse of Easy Goer's quality lining up in this year's Belmont Starting gate.
Easy Goer, the 2018 race, features several horses who are coming off of failed attempts to reach the triple crown races. Our top choice is the 8, High North. He is turning back a panel, gets a nice outside draw to watch the race unfold, and has the most stakes experience in the race. Cox has brought his winning ways to NY, hitting at a 38% clip so far this year. Our other A team choices are 2-Mask and 6-Breaking the Rules. The 4-Soutache may offer some value as he is 1-1 at dirt routes.
A: 8,2,6
B: 4, 7, 3
Note: This race starts the early all stakes Pick 4. For those of you looking for early action, this Pick 4 sequence appears more manageable than the late Pick 4 ending with the Belmont. It also may be chalky. We think the best chance at value for this sequence are in the first two races.
Race 3—The Ogden Phipps—Grade 1 1M and 1/16th F and M 4YO and Up
The two favorites here—American Girl (5) and Abel Tasman (6) are questionable at low odds. Abel Tasman made her 2018 debut and finished a disappointing fourth. She could very well bounce back here, but sometime older fillies are unable to capture their three year old form when they return the following year. American Girl will set the pace in a race without a ton of speed but we question her ability to get the distance against this group. So we will use the chalk defensively on the B team and try to beat them. For value, we like 7-Unchained Melody at 12-1. Her two best efforts have come at Belmont and she is two for two at the distance. While her 4YO debut was disappointing, she likely needed that race and has worked well consistently since. We like her to sit right outside American Gal and make a run if/when that one fades. Unbridled Mo is an impressive 7 for 7 at the distance and Pacific Wind is coming off of a graded stakes score at Belmont. She is lightly raced though and this is her third start on this cycle.
A: 7, 1, 4
B: 5,6
Race 4: The Acorn—Grade 1—1M 3YO Fillies
Kentucky Oaks heroine Monomoy Girl (3) returns here and is the most likely winner—not very exciting at 4/5. If we are going to use a single in this sequence, it is likely her, although she is likely to be a common single by many Pick 4 players. Breeders Cup Juvenile Fillies Champ—and T-Bros favorite–Caledonia Road (5) will challenge MG and is second off the layoff. She has been training well. However, at a mile, it could be tough for her to run down the favorite. For value, we will use Spectator (2). She has competitive speed figures and ran a game second to Midnight Bisou who ran very well against bias on Oaks Day. Her best race came off a freshening and she's coming off a two month rest here. We also think she will like the turn back and one turn.
A: 3, 5, 2
B: 7
Race 5: The Brooklyn Invitational—Grade 2—1M and ½.
Defending champ War Story (9) returns to defend his title and is the most likely winner. We would consider singling him for Pick 4 purposes. His pattern and speed figures are the strongest in this race and we think he gets a set up. He should stalk the pace of distance challenged Outplay and have the lead turning for home. War Story has fared well in the mud and will be outside—able to stay away from getting too much dirt kicked in his face. Hopportunity is the class of the field, boasts a win at the distance and scored his greatest career victory at this track. Hard Study will need to move forward, but he has a win going even longer and seems to love Belmont. Not a lot of value with those picks, but we like Carlino to get a piece here at 30-1. His two best efforts have been at Belmont and we like him to get a ground saving trip on what we think could be a live rail.
A: 2, 3, 9
B: 1, 4
Race 6: The Jaipur—Grade 2 6f (Turf)
Turf sprints often pose a challenge for handicappers, and that is especially true here. Upon our initial review, we were only able to cut one horse (our apologies Frisky Magician). To try to provide some guidance, we stretched to settle on three A horses, but if playing horizontal wagers, we recommend spreading deep here. There is a lot of speed signed on so we focused on stalkers and closers with success at the distance and the Belmont turf course. That led us to Disco Partner (5), Blind Ambition (7), and Holding Gold (8). Blind Ambition's best two numbers were at Belmont. He's second off the layoff, is turning back a panel, and has a hall of fame combo at the controls. 5-1 is a square price. Disco Partner is the defending champ. His last effort was slower than his previous races. Is he off form or did he not like the soft turf? We think it's the latter (he also ran out of the money on yielding turf in the past), so consider downgrading him if the turf course is soft or worse. Holding Gold was hard charging in this race last year. He has been working well and at 12-1, we think he's a value play. We expect Blind Ambition to sit just off the lead pack and make a first run. Pletcher and Velazquez plus his best efforts have been on the Belmont turf. He's our most likely winner. Pocket Change and Conquest Tsunami are our top presser/speed horse selections, but again, we expect a contested pace which sets up for a closer.
A's: 5, 7, 8
B's: 3, 4
Race 7: Woody Stephens—Grade 2—7(f) 3YO
This is a fun race with some fast horses. The favorites are all logical, but we could only eliminate four of the twelve entrants on our first cut. Our A team is comprised of three horses having success at 7f—Kanthaka (8), World of Trouble (11), and Strike Power (12). All three horses took a shot at the Derby Trail but now return to their bread and butter. Kanthaka is an impressive 3-3 at the distance and his stalker running style fits, but the concern for this one is can he replicate his CA efforts on the east coast. World of Trouble owns a huge effort at 7f. He has been given time off but the works are not inspiring. That brings us to our top pick, Strike Power. After an impressive debut, Strike Power won again at 7f before a very game second place finish in the FOY. A pace duel ended his chances in the Fla. Derby, but now he's back at 7f, is working well, and draws Johnny V. The post should help, as JV can sit outside and watch the race unfold.
We have loaded the B team with value plays. Pure Shot (2) is interesting. He has only caught a fast track once this year and ran a very competitive number. After two slow starts, Asmussen adds blinkers and this one could sit a nice ground saving trip. Santana and Asmussen had a day at Pimlico two weeks back. 30-1? Sign us up. Beautiful Shot dueled with Kanthaka last time out. If you like the 8, it may be worth running back a 7/8 exacta with the 7 being 20-1. Madison Luna (1) also adds blinkers after a rough race in the slop on Derby Day. If he can find his Florida form, he has a real shot here too. Still Having Fun (6) has a big last race effort (granted over the slop) and a prior Beyer top at 7f. The last time he ran a big race though he regressed, so the bounce factor is high on this one. But at 15-1, it's worth a wager he may repeat the effort.
A's: 8, 11, 12
B's: 1, 2, 6, 7
Race 8: Just A Game—Grade 1—1M (T) F and M 4YO and Up
La Coronel (8) had huge expectations this time last year and has somewhat disappointed. An honest horse, but she has become a bit of a "hanger". That said, she has the most consistent speed figures and pattern in this race. There is not a ton of speed here and her post should allow her to get more involved early which seems to be her preferred style). She has never been over 6-1 in the US so we will jump on board at 10-1. Note, we may become a little less enthusiastic is the turf is good or soft—although she did win last year on a good course. On Leave (1) has run two big numbers in 2018 and now returns to her favorite track. She's on the A team as well.
Our B team is led by Dream Dancing (2) at 20-1This horse appears to be getting better and second off the layoff here. We will upgrade her if the turf is good or soft as she seems to run better with some give in the turf. Proctor's Ledge (5) was a borderline A for us, but we think the last race may have bene her peak effort of that cycle. Lull (4) appears to be a step slower than the top horses but has potential lone speed advantage. A likely downgrade if the turf course is soft, though.
The Bros were split on Cambodia and as such she did not make our list. However, she has run well against the best and can sit just off the pace here. Our resident Old Bro handicapper has Cambodia as his play of the day.  We just question how good she is outside of CA.
A's: 1, 8
B's: 2, 4, 5
Note: The $1 Million guaranteed Pick 4 starts here. A very difficult sequence, but one that could pay huge if Justify does not win the Belmont.
Race 9—The Met Mile—Grade 1—1M (Main Track) 3YO and Up
This is a very fun and competitive edition of the Met Mile. This race is one of the most important races on the racing calendar, but falls at a time of year when there is a lot of competitive spots for horses to run. Thus, the horses come into this race from a lot of different angles. We will prioritize horses that seem to have had this race as part of the plan all along, which in this spot led us to some decently priced horses.
We have a triumvirate of A horses. The first is the likely pace of the race, Bee Jersey for Steve Asmussen. One of the unusual aspects of this renewal of the Met Mile is that there is relatively little gate speed – Bee Jersey could be all alone on the front end. This horse loves a mile, with 3 wins and 2 seconds in 5 efforts. He gets a major class test here, but we trust Asmussen and hope that he can hold them off. We also plan on using Good Samaritan. There is a component of trainer-trust in this selection as well, but nobody is better than Bill Mott in New York when you give him a race to prepare for. This has been the target for Good Samaritan all season. If the pace does heat up, we can see Good Samaritan coming late and lighting up the tote a little at 10/1 on the morning line. Finally, we like McCracken. This horse is 3 for 3 around one turn, and it seems like the mile is his distance. This is the second start of his 4 year old season, after a win in an optional claiming contest at Churchill on Derby weekend. We like the 5 weeks off, and suspect that Ian Wilkes has been aiming for this spot since last year. Again, you get 12/1 on the morning line, so value is there.
For the B group, its hard to ignore Mind Your Biscuits. The horse ran against one of the most prevailing biases we have seen at Meydan on the World Cup undercard, and prevailed in the Golden Shaheen. That was an impressive performance. If he runs back to that, he's not losing. We suspect that Golden Shaheen was the target for him, however, and he's coming back 5 weeks earlier from Dubai than he did last year. Plus, he drew the rail, so he will need some help to mount his characteristic rally. Additionally, we have Awesome Slew. We have admittedly chased this horse a little in recent races, but he is currently in form, and has performed well at the mile distance (and should prefer the one turn configuration at Belmont). The last three races of his favored horses with his running style, however, and that might not be the case in this race – so that lands him a nod as a B.
A: 4,5,10
B: 1,11
Race 10—The Manhattan—Grade 1—1M and ¼ (Turf) 4YO and Up
A very competitive edition of the Manhattan. We have three solid A horses here, and will likely add one other depending on how the turf course is listed. Hi Happy (3) and Sadler's Joy (8) are our must use horses regardless of the condition. Hi Happy is extremely consistent and appears to be in top form for Pletcher. We like him to get first run here and, off the turn back, he could be very tough to run down. If anyone runs him down, we expect it to be Sadler's Joy. Yes, this is shorter than his preferred distance but he should get a strong pace to close into. Castellano lands here despite other options. Beach Patrol (10) is the class of the field and probably needed the last race. While he will have to deal with other speed horses, he must be used defensively.
We will round out our A team by using Channel Maker (9) if the course is firm or Manitoulin if the turf is good or soft. Channel Maker has the best Ragozin pattern, is second off the layoff and gets Ortiz (who hits at 33% for Mott at Belmont. He should get a solid pace to run at.
Two other bombers to consider—Hello Don Julio (6) in coming off the shelf but has been working well, is 3 for 3 at the distance, likes Belmont, and has a few prior efforts that would be competitive here. Multiplier (12) had a very strong turf debut. Whether he can repeat that effort against this group is the question. But at 30-1, why not try?
A's: 3, 8, 10 (9 if firm or 11 if soft)
B's: 1, 6, 12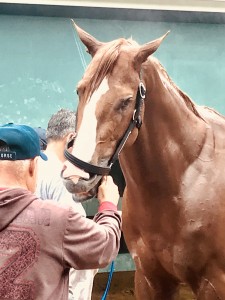 Race 11—The Belmont—Grade 1—1M and 1/2 (Main Track) 3YO
This is the big one. Justify's date with destiny. All things being equal, Justify lays over this field. He has four triple digit Beyer figures, and the rest of the field has exactly … zero. That said, all things aren't equal this Saturday. Justify is on his fourth Grade 1 race in 2 months, and this will be only his 6th lifetime start. That is a tough ask. The only other entrant to have danced all of the Triple Crown dances is Bravazo. The other horses will have a significant freshness edge on Justify.
History is also not on Justify's side, as prior to American Pharoah every horse that had come into the Belmont seeking a Triple Crown since Affirmed in 1978 had left defeated. Given that Justify will be 2 or 3 to 5, we will stand with history and try to beat him. We aren't crazy though, and certainly plan to have some pick 4s and 5s that end in Justify, and will likely have Justify on the top of some trifectas – but those will be a small percentage of our race bankroll.
Note – the discussion below includes As and Bs without Justify. The paragraph above describes what we plan to do with the big horse — you will need to decide for yourself.
Our non-Justify A team is led by Vino Rosso. Pletcher is a master at the Derby-Belmont double, and Vino Rosso is the best of his entrants in today's renewal of the Belmont. The horse was fairly one-paced in the Derby, but had never faced a sloppy track before, and that was a tough spot to face it for the first time. His Wood Memorial win was impressive, and he may just have the right grinding style to get it done in the Belmont. His pedigree suggests that a mile and a half should be doable (sire: Curlin; dam: Mythical Bride (Street Cry)). Our second A teamer is Tenfold. This horse is improving, and Asmussen should have him ready to go off of a 3 week turnaround. The Preakness was his best race yet, and as a son of Curlin out of a Tapit mare, he should get the distance as well. His stalking style should suit this race, especially if Justify gets some early pace pressure from Bravazo (or less likely, Restoring Hope given that Restoring Hope is a Baffert trainee, just like Justify). Finally, we would include Hofburg as a non-Justify A. He had a nightmare trip in the Derby, but has trained well since and is well-bred for distance. He has a deep closing style, however, and we wonder whether that will put him too far back to make it to the wire first – deep closers have not had great success in the Belmont. He is also shaping up to be the "wise guy" horse to beat Justify, which could hurt his odds.
Our B team includes Bravazo, who gave Justify a run in the Preakness. D. Wayne certainly knows how to train a horse to run three big races in 5 weeks, but at the same time, Bravazo has had the same demanding schedule as Justify. His effort in Baltimore may have represented his best chance to beat Justify, as Justify had to fend off Good Magic before the challenge from Bravazo. There will be no similar horse to take the starch out of Justify in this race. But at the same time, perhaps Bravazo improves slightly off of the last race and Justify stagnates or slightly regresses. That possibility lands Bravazo as a B. Our final B is Noble Indy. We've been higher on Noble Indy than most, and he has the same Pletcher angle as Vino Rosso. But he's owned by WinStar, and it is an open question as to whether or not WinStar is going to have him primed in this race to steal a Triple Crown from Justify. In any event, he's 30-1 on the morning line, he had a very nice improvement pattern prior to the Derby, and takes the blinkers off for this one, which is a 31% angle for Pletcher. Worth a look at the price.
Non-Justify As: 4,7,8
Non-Justify Bs: 3,9
Follow us on Twitter and Instagram (@Thorbros) as we will be covering the race live from Belmont. Good luck, everyone and here's to another Triple Crown!
Share and Enjoy