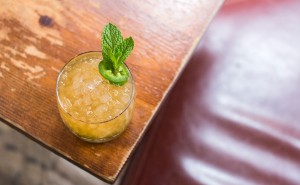 Aaaaaaaaaaaaaaaaaaand good afternoon everybody! How are you today!  We are back with everyone's third favorite Thorobros annual column, the Derby Party mint julep guide.  You all will recall where we name 5-7 mint julep-type drinks after horses in this year's edition of the Kentucky Derby.  And we make a few lame jokes in the meantime.  And I'll save you the time to ask the question – yes the jokes are funny to us.
This was a tough year from the perspective of horse names that work for clever juleps. As usual, we tried our best for you, our 5 readers.  As usual, if you actually try any of these ridiculous, made-up recipes, we would love to hear from you.  We will give you a hat tip in our forthcoming coffee table book on silly mint juleps named after horses*.
*publisher needed, photographer needed, editor needed, agent needed, book contract needed. We have the stupid jokes covered.
Thunder Snow
Buffalo Trace White Dog Bourbon mash, shaved ice, simple syrup, clear mint reduction.
I actually like the idea of this one – a white mint julep, for a horse with Snow in its name! Aren't we clever.  In any event, this one should be somewhat good, if you can dilute the over-proof bourbon mash enough to take the edge off.  Hey, do you guys think that Godolphin can win the Derby this year?  This horse actually has a legit shot, right?  So, not to rain on anyone's parade, but there has never been a horse featured in the Thorobros mint julep guide that has gone on to win the Derby.  Cross this one off!  Sorry Sheikh Mohammed, don't blame us.  Also, you could lose a billion dollars and not notice, so you're probably cool to wait til next year on the Derby.
Release the McCracken
Angel's Envy bourbon, pure cane sugar, splash of simple syrup, 10 mint leaves, shot of Kraken Spiced Rum.
Yes, this is simply a classic julep with a rum floater. But it could be good, and the synchronicity of name of the rum and the name of the horse was too good to pass up.  So there you have it.  I decided on some extra sweetness in there, since you are dealing with some strong spirits.  So if you have a few of these, you are in for a pretty, pretty, pretty rough Derby Sunday.
Irish War Cry
Makers' Mark bourbon, two mint leaves, splash of simple syrup, top with Bailey's Irish Cream.
This drink could actually be good (who knows, I haven't tried it). But it sounds decent, and might be a nice nightcap after a successful day at the track.  Plus this horse has a real chance to be our 2017 Derby champion, notwithstanding the Julep Column Jinx (see above).  Irish War Cry is also a stone cold lock to be my Mom's Derby pick (anything with "Irish" in the name).  Which is a conversation I am really looking forward to:
"Did you know there is a horse named Irish War Cry in the Derby this year?"
"Actually, no, I run a horse racing blog and this is TOTALLY NEWS TO ME"
"Stop being sarcastic"
"Fine"
"Could you put two dollars on him to win?"
"Sure"
"How much does that bet cost?"
"Really?!"
Anyhow, this might be one that I actually mix up and take a chance on, which is more than I can say for the next three stupid drinks that I made up.
Practical Joke
1 Bourbon Barrel aged Kentucky Ale, in a pint glass, with a shot of Wild Turkey 101 in it.
So this drink isn't for sipping (duh), and requires some set up. The idea here would be to make some sort of a bet with a friend that you might want to pull a funny prank on.  Be careful to construct the bet so that you cannot lose.  Then, make the loser of the bet have to chug a beer.  Then, after you win the bet, pour the losing "friend" a nice Kentucky Ale, and surreptitiously slip a shot of Wild Turkey in the bottom, Irish car bomb style.  Then, when they start chugging, yell "PRANK!"  I would also advise potentially running away – there is a decent chance that some sort of liquid is going to come out of that person's mouth.  They might also be none too pleased with your practical joke.  But everyone else will get a good belly laugh out of it.
Patch
Captain Morgan Spiced Rum, mint leaves, lemon juice, splash of tonic water, one eyeball sized ice cube.
So the horse Patch has one eyeball. That's the ingenious joke here.  Ba-dum-ching!   Look, I told you at the beginning that this was not the easiest year.  What do you expect?  But look how well I did?  I gave you a liquor where the mascot is a pirate, and pirates (as you know), stereotypically wear eye patches.  Although, it was surprising when I watched Captain Phillips, a documentary about Tom Hanks getting hijacked by pirates, and NONE of the pirates wore eye patches.  I felt like my childhood was a lie.  But I digress.  We also have lemon juice, and we all know how annoying it is to get lemon juice in your eye.  Finally, we have the single ice cube which really speaks for itself.  If you can make a connection with the tonic and the mint, you are a better person than me.  Ladies and Gentlemen, the Patch Julep!
Also Eligible: Girvin
Four Roses bourbon, southern comfort, a spritz of lime, and one of those giant round ice cubes that the cool speakeasy joints are so fond of. This is called the Cowboy Cocktail because it will have your "spurs spinning" (I got that from the internet).  This one is in honor of San Antonio Spurs legend George Gervin.  So finger roll yourself to the liquor cabinet and mix one of these up.  The Ice Man Cometh!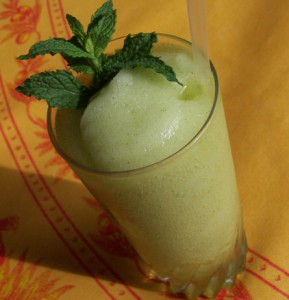 So no need to spend any time on "mixology" for your Derby party, cross that off the old to-do list! Hopefully you give one or more of these Juleps a try and they are halfway decent.  If our gambling is half as successful as these incredible julep recipes, we will be rich!  If you have any compliments or affirmations, we would love to hear them in the comments, on twitter (@thorobros) or via email (Thorobros@thorobros.com).  If you have any complaints about the juleps, kindly direct those to our dedicated complaint inbox at wedontcheckthisemail@thorobros.com.
Share and Enjoy