Derby regrets?  I've had a few.  While some of my biggest vertical race scores have occurred in the Derby (2001 and 2013 exactas and 2008 triple come to mind), I've had plenty of suspect selections.   Dreams of questionable speed horses getting lose on the lead.  Hopes that the hard knocking, hard luck horse would get a clean trip and finally break through on the biggest stage.  Chasing unproven horses from lesser circuits.  All seemed like good ideas at the time.  All seem completely irrational as I look back.  With a 20 horse field, you are bound to swing and miss more often than not.  But that doesn't mean I still do not look back of Derbys of years' past with 20/20 hindsight and ask: "What the hell was I thinking?"  I've tried to learn from my mistakes.  As  they say, those who ignore history are doomed to repeat it.
Let us know some of your biggest Derby regrets and lessons learned.  Below are just some of my biggest Derby flops and the lesson I've taken from these misses.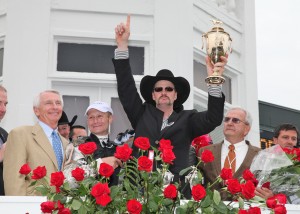 -Cowtown Cal (2001):  This is my top dud.  What was I thinking?  I like to chalk this one up to the 2007 Derby coinciding with my last week of law school, and me spending more time celebrating than pouring over a racing form.  But I knew all the knocks against the horse—distance limitations; a speed horse facing quicker speed (i.e., Hard Spun ); hadn't beaten top competition.  I overlooked those and thought to myself—an Illinois Derby winner who could go right to the lead.  This was War Emblem Part II and I was not going to miss out.  Cowtown failed to beat a single horse. While "lone speed" is one of my favorite racing angles, the Derby is not the time or place to try to predict a wire to wire winner.
-Sun King 2005:  Bet with your head, not with your heart.  That is my biggest weakness.  As a fan, I often have a hard time separating handicapping logic, from emotion.  I had been chasing Sun King since the Breeders Cup Juvenile preps and was convinced he would break through in Derby.  He did not of course, but it didn't matter. I continued to chase him for years to come, which led me to another valuable lesson in Derby wagering:  look for horses that like to win, not just an honest horse who hits the board.  If any of you have followed the Thomas Herding (aka Horse Whisperer) Derby reports, you will realize there's something to the alpha male herd mentality angle in a 20 horse race.
Sun King had a respectable career—but his best efforts usually led to second and third place finishes, not wins. For example,  I like Practical Joke this year, but with his "hanging" in the stretch of Keeneland, I'll be hard pressed to play him much on top.
-Daddy Nose Best (2012):  Fast and improving Ragozin numbers had me very high on the Sunland Derby winner.  He was an also ran.  I quickly learned, however, not to trust the numbers coming out of the Sunland Derby.  This lesson allowed me to resist the urge to bet Chitu in 2014 despite a shiny last race number.  Hence is another wise guy horse coming out of Sunland this year.  I'll likely proceed with caution.
–Bodemeister and I'll Have Another:  No, obviously not flops, but my wagering on this race was an epic fail.  Selecting the right horses is only 40% of the battle on Derby Day.  Having a sound betting strategy is more important in my view.    I made two future wagers in 2012–I'll Have Another and Bode.  Yet for reasons I'll never understand, I did not play that exacta.  I had them both on top of various bets.  But I didn't have anything with my two future wagers selections paired.  I decided to go with a Golden Coral Buffet approach to betting that race–grabbing a bunch of different things without any direction or thought–and I unfortunately left hungry.   What makes the Derby so difficult is not just finding a winner, it's structuring bets.  Many years,  I've handicapped the race relatively well, but completely failed to structure a winning bet.  My recent strategy–although  always subject to change–is to largely commit to one horse and part wheel them with other horses I can't completely toss.   With 20 horses, if you don't take a stand, your attempts to cover will leave you largely exposed.
Good luck to everyone as you continue to whittle down your 2017 Derby selections and wagering strategy.  And just remember to seek guidance from those ghosts of Derbys past.
Share and Enjoy