The mint julep, while obviously a stellar drink in its own right, is nearly synonymous with the Kentucky Derby. When you are at the Kentucky Derby, there are vendors walking by constantly with souvenir glasses filled with ice (a lot), bourbon (a little), sugar, and rapidly wilting mint sprigs — and even those third rate juleps taste unbelievable on the first Saturday in May.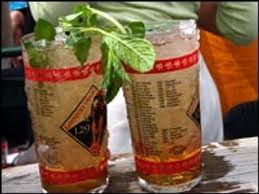 Most people won't be enjoying the Derby on track at the Downs, however, and therefore we have continued our annual tradition of coming up with some Julep recipes inspired by this year's crop of three year old colts.  Here are our ideas.  Let us know if you try any of them – and if you do, I wish you the best of luck.
Exaggerator
Pappy Van Winkle bourbon, shaved Antarctic ice (arctic ice has been totally devalued – global warming, amiright?), fresh Jamaican cane sugar, homegrown, specially fertilized and cultivated, herbicide-free mint, pure gold shavings.
Since Donald Trump might be the next president of the United States, it's only fitting that our first julep is the Exaggerator. This is our most traditional julep, but each of the ingredients has been exaggerated (get it?).  This one might be difficult to pull off literally unless you have recently been to Antarctica, but do your best.  You can get cane sugar relatively easily, use your best freezer ice, and try to find some good bourbon, not the half-full fifth of Wild Turkey 101 that you found on your kitchen counter after the last party that you hosted.  The gold shavings you can get by mail ordering from any one of the "buy gold" telemarketing scam commercials – you are better off drinking the gold anyway, since I have yet to hear of anyone making a fortune because they bought some gold on Fred Thompson's advice.  Just don't accidentally get a reverse mortgage – you can't mix those with bourbon.
The rest is easy. Mix all the ingredients together and voila! You have a great julep.
Mo Tom
Basil Hayden's bourbon, Wild Turkey habanero hot sauce, Worcestershire sauce, wasabi, celery salt, tomato juice, garnish with bleu cheese stuffed olives and tomato wedges.
There are probably a subset of people out there who are like, "that's not a julep, it's a Bloody Mary with bourbon." If you are one of those people I have just one thing to tell you – this is not as easy as it seems, so zip it.  There are only so many horse names, and you try to concoct a julep recipe that corresponds to a horse named Lani.
In any event, this is probably a pretty tasty little drink, particularly if you hit Oaks Day pretty hard and need to get a little hair of the dog. I particularly love the wasabi – it adds that horseradish spice with a little extra kick that should make the drink all the more enjoyable.  Also, we chose the Wild Turkey habanero hot sauce to continue the bourbon theme, but a couple notes on that one:  (i) that is actually a thing (according to www.google.com); and (ii) we have no idea whether it is good, so be forewarned.  You may want to use your handy bottle of Frank's that has been sitting in your fridge since 2012 because you thought it would be a great idea to get a GIANT BOTTLE OF HOT SAUCE.
Finally, this one is called Mo Tom because of the tomato juice. Probably more than one of you will be reading this hung over on Derby Day and wanted to make sure we spelled everything out for you.  You can thank me later.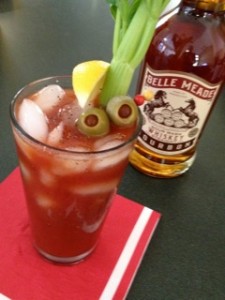 Mor Spirit
Makers' Mark bourbon, two mint leaves, splash of simple syrup, top with Early Times bourbon.
You don't need to read that one again. It really is just bourbon, mint leaves, sugar and more bourbon (Mor Spirit!).  If you have two different kinds of bourbon and live in a frat house, this is the drink for you.  You probably don't have mint leaves at the frat house, but we deem that a non-essential part of the recipe, along with the simple syrup.  The only problem here is that if you drink too many Mor Spirits, you are probably the guy in the infield at turn 3 who everyone is taking a picture of on their way out of the track.  And you never, never want to be that guy.  But when you are drinking "cocktails" that, when boiled down, are just a mix of two different kinds of liquor, you never know where you might end up.  If you are inclined to make a bunch of Mor Spirits on Saturday, please, clear your calendar for Sunday and be careful out there.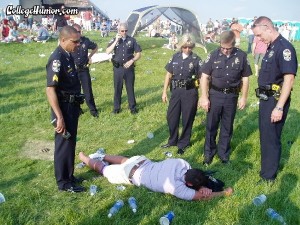 Danzing Candy
Heaven Hill Old Style bourbon, sugar from a pixie stick, crushed ice, garnish with 1-2 Necco Mint Julep candy chews (available here: http://www.candycrate.com/necco-mint-julep-candy-chews-bulk.html).
Can you believe Necco makes mint julep candy chews? I mean, I love mint juleps as much as the next guy, but candy chews?  There are a million possible flavors of candy chews, and there apparently is a market for "mint julep."  Personally speaking, I have never gotten halfway through a sleeve of Starburst and been like "damn, I really wish one of those chews had been mint julep flavored."  But hey, it came in handy here.
In terms of the actual recipe, this one might actually be tasty. It's going to be super-sweet, but there is nothing wrong with that (until the next morning).  And you gotta admit – Danzing Candy is a cool name for a drink.  I feel like that could be one of the drinks at one of these high end restaurants where everyone is like "the cocktails are amaaaaazing, you have to go there."
Tom's Ready
Kentucky Gentleman bourbon, mint reduction sauce (recipe available here: http://www.taste.com.au/recipes/10488/mint+sauce), lemon juice, splash of club soda, single ice cube.
This drink mixes elements of a Tom Collins with elements of a Mint Julep. The end result may very well mimic when your kid mixes all of the colors and it ends up brown, but I wouldn't know since I've never ever tried this drink and would probably have to be pretty drunk to try it.  On the bright side, the mint reduction sauce looks delicious, and probably infuses the drink with more mint flavor than your standard mint julep.  Not sure how the lemon juice works (you might want to 86 that), but the club soda I think adds a nice, refreshing touch that might end up making this an enjoyable cocktail.  We selected Kentucky Gentleman bourbon because "Tom" seems like a really appropriate name for a Kentucky Gentleman.  If the horse's name had been "Thomas Is Ready," it would have been more difficult because I have yet to find "Pretentious Northeast Gentleman" bourbon.
Also Eligible: Cherry Wine
Mint sprig, crushed ice, sauvignon blanc, ginger ale, splash of grenadine and a cherry.
This one pretty much speaks for itself. No bourbon, wine instead, and then some cherry flavoring and garnish.  Not sure whether it's good or not, but this is probably the most literal of the horse name/mint julep connections.  And when life throws you an alley-oop, you might as well slam it home through the basketball ring.
Good luck to all of you in your Derby partying. Hopefully you give one or more of these Juleps a try and they are halfway decent.  If you have any compliments or affirmations, we would love to hear them in the comments, on twitter (@thorobros) or via email (Thorobros@thorobros.com).  If you have any complaints about the juleps, kindly direct those to our dedicated complaint inbox at dontcheckthisemail@thorobros.com.
And most importantly, we really, genuinely hope your Derby ends like this: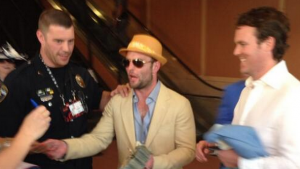 Share and Enjoy