This much we can agree upon: marketing is critical for horse racing. Beyond this basic principle, however, as is typical in horse racing, there are varying opinions concerning the optimal approach for marketing the sport. I've found that opinions generally fall within two schools of thought. First, there is marketing the social and party aspects of racing—or as someone said on Twitter last week, (I paraphrase) dress up, drink wine, and pick pretty horses. Tracks, drawing upon the success of the Triple Crown series—with big hats, fancy drinks, and infield concerts–are not focused on marketing the racing product, but rather the fan experience. I will refer to this approach as Experience Marketing.   The second type of marketing focuses on the sport itself. These efforts highlight the challenge of handicapping, the excitement of winning big, the impressive achievements of the trainers and jockeys, and the majesty of the equine stars. I'll refer to this theory as Product Marketing. Many fans argue that Product Marketing should be the focus and that Experience Marketing is too short sighted and unlikely to convert true fans. However, tracks see Experience Marketing as an immediate boost to attendance, especially on large days. It's quantity driven; the more people you attract to the races, regardless of the means used, the more potential fans there are to convert.
So what's the answer? What form of marketing should the industry embrace during this critical time? This article examines each school of thought and its pro and cons before proposing a hypothesis–Experience Marketing and Product Marketing are not mutually exclusive, and perhaps the most effective marketing combines both concepts.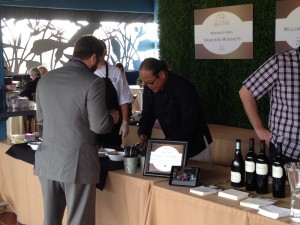 Experience Marketing
Racing has long been called the sport of kings, but somewhere in the 1990's, royalty stopped frequenting the track and racing's reputation suffered. However, each year when the calendar turns to May, big hats, parties, and celebrities return to the sport. In turn, racing's ratings soar and the sport receives national media attention. Recognizing the popularity of the Triple Crown, racing has attempted to bottle and resell this image of glitz and merriments across the country and throughout the year.
The Breeders Cup is an innovator in Experience Marketing. By way of example, the Breeders' Cup engages celebrity ambassadors in an effort to glamorize the sport of racing. It's marketing 101—Kate Upton likes the Breeders' Cup, you should too.   The Breeders' Cup also offers several posh, non-racing centric, experiences during the event. Last year for example, the Breeders' Cup hosted a Taste of Napa Valley experience, with celebrity chefs and Napa Valley wineries. Sure, you could see the races from this event, but the focus was clearly on a '98 Cabernet and Morimoto's seared tuna.
The Preakness infield fest—although at the opposite end of the spectrum from the Tate of Napa Valley—focuses on music, free beer refills, and even a bikini contest. Good luck placing a bet out there or finding a spot near a television to watch the races. Despite the obvious headliner for the 2015 Belmont Stakes, NYRA still heavily marketed O.A.R. and Goo Goo Doll concerts.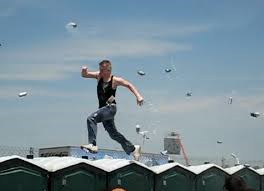 Examples are not limited to big race days. In May of this year, Pimlico hosted a wine tasting on a race day. Saratoga has long relied on Experience Marketing with Hats Off Weekend and its long tenured hat competition. Saratoga also has beer and food tastings and used to construct a mini amusement park in its backyard during Labor Day Weekend. Emerald Downs had "Guys' Weekend", with Seahawk's cheerleaders, beer tasting, and a car show. Other tracks have "College Days" with cheap beer and scholarship giveaways. Seemingly every track in the U.S. has held a food truck festival.
The list can go on. The common theme across all of these events and efforts? They have little or nothing to do with racing. Sure, they happen at a race track, and races are happening around the event. Yet any of these experiences could also happen without a race being run. It is this dynamic which is both the biggest pro and biggest con of Experience Marketing.
Pros: Experience Marketing is first and foremost designed at attracting people to the races who may not otherwise be interested in attending. Whether the focus is college students lured by cheap beer, or Yuppies attracted by fashion and wine tastings—the goal is to expand racing's audience to a younger and more appealing crowd. By creating an experience, racing is also able to create an image of good looking young people, having fun. That's a more marketable atmosphere than a scene of older degenerate gamblers rifling cigarettes and scouring the ground for inadvertently discarded winning tickets. It's similar to the business model employed by chic bowling alley Lucky Strike. Take something that can be really fun, but may have a bit of an image problem, slap some lipstick on it, and pursue a younger more glamorous fan base.
Cons: Besides being arguably insulting to the diehard race fan, Experience Marketing is often short sighted. Yes, the Preakness Infield Concert will attract a ton of fans and be wildly popular (although, I also just learned they lose money on that event) but how many of those fans take a minute to learn about racing? How many place a bet, take time to read the form, or go up to the rail to get a close view of a horse? Probably very few. Getting these fans to the track through fashion or artisan flatbreads, is only half the battle—you need to engage them and immerse them in the sport. Otherwise, it's likely they'll leave, admitting they had a great time, but with no investment or reason to return.
I was discussing this marketing concept with Marion Altieri, a racing journalist. She is fully in the Product Marketing school of thought. She relayed her experience on Belmont Day when sitting next to group of younger individuals who were far more interested in people watching and cocktails than the championship performances occurring on the track. When she asked one of the ladies in the group if she planned on returning to the races on Sunday, the "fan" appeared confused. "Why would I do that? The Triple Crown is today." That sums up the problem with Experience Marketing—there's no plan for tomorrow.
Product Marketing
On the opposite end of the spectrum is Product Marketing. It's a simple theory; if you have a product you are proud of, flaunt it and sell it. The strongest examples of Product Marketing from 2015 center around American Pharoah. Saratoga's Pharoatoga campaign brought a weekend race day crowd to an 8:00 a.m. Friday morning workout. No gimmicks, no fashion contest, just a racing star and a well communicated scheduled workout. Churchill Downs, Santa Anita and Del Mar also all marketed popular and successful nights around the Triple Crown star despite the fact he didn't race. Of course, the industry cannot bank on annual Triple Crown winners.
But Product Marketing extends far beyond PR from AP. This past summer at Saratoga, Gary Contessa offered a series of clinics for new fans, allowing them to get up close and personal with a horse. The NTRA offers "Night School", 101 sessions for new fans. Scott Wells, Remington Park's President, invites small groups of new fans to watch a race from next to the starting gate, and then proceed to the winner's circle to have their picture taken.
The focus is simple. Educate and highlight the very best of the sport. It's likely what attracted many current fans to racing.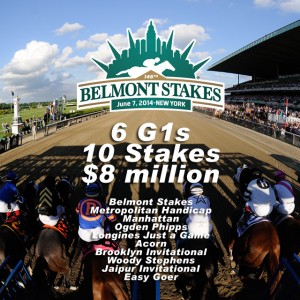 Pros: First, Product Marketing is generally cheaper. Programs like Night School and taking fans to the winner's circle cost far less than wine tastings and concerts. Second, Product Marketing is also tested and proven. Most sports market themselves through their teams, athletes, and excitement. There is no need to rely on gimmicks and side events. Let the sport sell itself. Third, and, most importantly, Product Marketing is far more likely to convert true fans. Lifelong fans need to make a connection to the sport, not with a side show or something that doesn't happen at a race track every day. The new fan must become invested in handicapping and wagering or in awe of the horses or human athletes. Without that connection, it is unlikely the fan will be willing to return.
Cons: Product Marketing is low risk, low reward. Tracks avoid taking high cost risks and organizing high profile events, but they also limit themselves in the width of the audience they will be able to reach. Product Marketing limits the target audience to causal fans or friends of casual fans. Experience Marketing casts a much larger net, and while many fans will leave at the end of the day with no emotional connection, there may be a few dozen, who can't wait to return. Those few dozen are arguably fans that straight Product Marketing would never have attracted.
Also, Product Marketing, by in large, has been the only marketing racing has done in the past 20 years. Those in favor of Experience Marketing can argue that Product Marketing has already failed racing and an image change is needed to lift racing into the 21st century.
The Answer?
In my view, this is not a black or white, a or b, proposition. Instead, the most effective means of marketing should employ both tactics. Attract untapped masses by baiting them with Experience Marketing efforts, and reel them in with Product Marketing. Experience Marketing will get new fans through the door, but the effort should not stop there. Race tracks or organizations must then use Product Marketing to make a connection with new fans in hopes of encouraging a return visit to the races. Once you get these new fans through the door, you have a small window of opportunity to engage them and try to convert new fans—individual attention and explanation of an otherwise complicated sport is the best means to accomplish this goal.
The planned events for the 30th Maryland Million Day are an excellent example. There is a planned party area for local college students. There will be music, shuttle services and beer specials. This Experience Marketing will attract a new college fan base to Laurel. But, a connection to the sport is missing. So Maryland Million is placing these fans near the rail, so they can watch the horses on the track and hear their hooves thunder down the stretch. Maryland Million has also retained handicapping professor Jeremy Plonk to provide a handicapping overview to the coeds and help them make wagers throughout the day. A similar strategy is also being employed in the VIP area, where corporate sponsors and clients can get dressed up, enjoy premium seating, open bar, and a gourmet buffet. To help new attendees navigate the difficulties of handicapping and wagering, us Thorbros have eagerly volunteered to be on hand to help answer questions and provide bet structuring advice.
I also think America's Best Racing has the right approach. If you visit their website, you'll see a mixture of Experience and Product Marketing—a how to video on making a Black-Eyed Susan and tips for how to dress for the Belmont, alongside more product driven articles like "Betting the Woodbine Mile on a Budget" and "Getting to know Breeders' Cup Contender Liam's Map." ABR also makes strides to invite social media influencers from food and fashion to the races, wine and dine them, yet also make sure the guest receives a crash course in wagering and visits the paddock to get an up close view of the horses. Again, these efforts combine marketing to individuals who would not otherwise go to a race track, and then using the small window of opportunity to connect them with the virtues of racing.
The good news for racing is that the effort is there. Race tracks and organizations continually deliver clever and innovative marketing initiatives.   The challenge remains ensuring that these efforts do not lose sight of what should be the primary goal—to convert long-term fans. And to do that, marketing efforts must showcase everything racing has to offer—a unique social experience and a tremendous product.
Share and Enjoy