Happy Travers Day, everyone! Not to restate the obvious, but we LOVE this card. The main course is the draw, but don't sleep on the appetizers or even the night caps presented in races 6 through 10 and 12. From a betting stand point, there are options abound. But as racing fans—it is a star studded spectacle certain to yield several memorable moments.
With a card this strong, we'd be remiss if we didn't at least attempt to tame it. Below are our thoughts/ analysis on the seven graded stakes races which grace this Mini-Breeders' Cup card. Good luck everyone.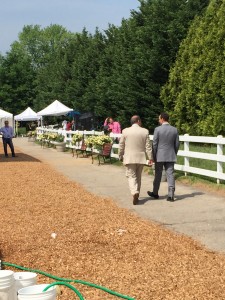 Race 6: Personal Ensign—1 ⅛ m Dirt—Fillies and Mares, 3YO and Up—Grade 1, $750,000
Small but interesting field for this race. A group of six signed on but not one of them is a need-the-lead type. You have the three year old champion in Untapable, who many believe might be just a step slower this year. You also have Stopchargingmaria, a Saratoga sweetheart, who boasts a 5-4-1-0 record at the Spa. The four remaining entrants are all graded stakes winners, except for Master Chef Bobby Flay's America.
With the lack of speed, you want to look for a versatile horse who can run their race regardless of the pace scenario. For this reason, Stopchargingmaria is the top choice. 'Maria can take the lead if necessary or play the stalker if a reasonable pace develops. You also know this horse is in form after her strong win earlier in the meet. Additionally, She relishes two-turns as wells as the Saratoga oval.
Untapable, though maybe not her best, still brings the heat. Off the board only once twice in her 15 race career, Untapable gets the second spot.
In third, looking to find some value in the race, I'll take America. I think she learned a thing or two in her win at Aqueduct this winter. Her last two races suggest she is getting into form this year. Might as well take a shot.
Not the strongest betting race. 4-6-1
Race 7: The Ballerina—7f Dirt—Fillies and Mares, 3YO and Up—Grade 1, $500,000
This is a fun little race.  Eight different betting interests, and you could probably make a good case for six or seven of those.  Off the top, though, this is a race where how you play might be impacted by how the track is playing on Travers Day.  It's no great secret that speed has had a tendency to be pretty golden on the main track in recent Travers Days.  If that's the case this year, it will be important to identify the horse that will be best able to take advantage of any speed bias.  In this case, that would probably be the favorites – La Verdad and Dame Dorothy.  Prior to the races, though, I think you have to assume a fair track.  Using that assumption, my top four are the following:
There seems to be plenty of front end speed in this race:  Sarah Sis, Merry Meadow, La Verdad, and Dame Dorothy all like to be in front, and Room for Me and a Kiss to Remember all generally press the pace.  Therefore, I am going with a bit of a longer price – Unbridled Forever.  The pace scenario sets up well for Unbridled Forever, as she is the only horse in the field that really likes to come from off the pace.  But at the same time, she never is a deep closer; instead, she likes to sit 2/3/4 lengths off the lead and then makes one run.  She won her last out, and is two for two at 7 furlongs.  Hopefully, Dame Dorothy, La Verdad and Sarah's Sis all go at it on the front end and Unbridled Forever comes to pick up the pieces.
In second, I like Dame Dorothy.  She will be one of the favorites, but she is 4 for 4 at 7 furlongs, and comes off a nice powerful win in the Bed O' Roses at Belmont.  She has JJ Castellano on board, and from the 6 post, JJ should be able to work out a decently nice trip.  Hopefully, she drifts up in the wagering because her Beyers are not as flashy as some of the others, but I think 3-1 or 5/2 is a square price on this runner.
For the third spot, I like Merry Meadow.  Her past performances make her seem like a bit of a 6 furlong horse, but she does have a win at 7 furlongs and she has won four of her last five races by daylight.  She also has a local win, along with two thirds in just three starts.  Sidenote: 7 of the 8 horses entered in this race won their last start – talk about a sharp field.
Finally, I like Room for Me.  The horse has some back Beyers that would make her very competitive here, and she seems to be on the improve recently.  This has been a tough meet thus far for trainer David Jacobson though, and I wonder about this one facing Grade I company.  Sometimes, she also tends to fold when things don't go her way – and I think things are unlikely to go her way here.  But at 6-1, she might be nice to fill out tris and supers.
Couple other notes:  La Verdad has the gaudiest Beyer figures in the field, but I think she is fundamentally a 6 furlong horse, and I think she is going to face some pace pressure on the front end.  Also, she doesn't have a published work since August 8, and that concerns me.
Sarah Sis is cutting back to 7 furlongs, which might suit her better than the route races she has been running.  If speed is good (and I think she is gunning from the rail), she may be worth using at a price.
Street Story is interesting.  She has paired her last two Beyers, and gives you 10/1 on the morning line.  She seems a bit slow, but if things break right, it would not shock me to see her get in the mix.
Race 8: The King's Bishop—7f Dirt—3YO—Grade 1, $500,000
Love the King's Bishop.  While stakes on the Travers' undercard may come and go, like bad television series, the Bishop is the Wheel of Fortune to the Travers' Jeopardy—a consistent companion.  The race is named after the horse, King's Bishop, who (fun fact forthcoming) was owned by Craig Cullinen, Jr.—the founding president of the Houston Astros.
The 2015 edition looks like a fantastic race. While both favorites—Competitive Edge and Holy Boss appear formidable, there are several in here, at a big price, with a real shot.  For Pick 4 purposes—I like both chalks as A's, but would also include Loose on the Town and Watershed as A's.  For the Bteam I like the 2, 6, and 9.  Ok, so I just gave 7 out of the 11 runners (and I still don't feel confident).  But for the purposes, of this exercise, here are my top 4:
There is a lot of speed in this race—1, 2, 3, 5, 7, 8, and 11 all have the propensity to be on or near the lead.  With a track that has been honest all year, if not even a little closer friendly, and several front runners trying 7f for the first time, I'm looking for a closer on top. Thus, I've landed on Watershed and Loose on the Town ("LOTT").  Both are lightly raced, with the former jumping from debut maiden winner to a Grade 1.  Interesting stat—McLaughlin is 6-3-1-1 in his last six attempts with such a move—but I have to think many of those were two year old stakes.  Regardless, this debut was sparkling and the Rags number is the best last out in the field.  If he improves…look out.  The race sets up for his closing kick and he gets another panel (a distance where he sports a 430 Tomlinson).  If we get 8-1, all systems go.
Similar story, but likely much higher odds for LOTT.  He showed marked improvement in his second start, despite falling short. He missed the break that day, and I expect him to be a little closer here. The distance should suit him.  While only two for 17, Lynch does have 7 of those starters ITM.
Of the speedsters, I like Competitive Edge and Holy Boss best. I like the turn back on Competitive Edge and think he rates just off the frontrunners here, setting himself up for first run.  The race on Derby Day took a lot out of him, but on the sheets, he may be circling back to that effort.  If he does, he wins.
Holy Boss has done little wrong in 2015, is certainly consistent, and finds ways to win.  At a short price, with other speed, and slight distance concerns, I'm not playing him on top in trifectas, but he's a must use underneath and buys piece of mind in horizontal wagers.
Two front running prices with a chance?  Limousine Liberal and the "other McLaughlin", Classy Class.  On the latter, Stevens, strong works, and a nice breather, have me thinking he's ready.
Selections:  4-3-9-7.
Race 9: The Forego—7f Dirt—3YO and Up—Grade 1, $700,000
Large field this year for the big finale for the Sprint division in Saratoga. The two favorites, Private Zone and The Big Beast, both show early speed. Private Zone has the more impressive resume, boasting 3 Grade I wins. However, The Big Beast has the current form advantage, running a very game second in defeat last out in the Amsterdam. Also signing on are Tamarkuz for the red-hot Kiaran McLaughlin barn, and the pray-for-rain Graded Stakes Winner Salutos Amigos.
The plan for this race is to hope for a speed duel. If both Private Zone and The Big Beast go for the lead, a rapid pace could develop and welcome in deep closer in the long stretch at Saratoga. Additionally, pace could be expected from the rail with Race Day. This runner does his best running closer to the front, and with the rail in the 7f chute has not much of a choice but to go. Falling Sky could show early speed with a good break from post 12.
If a fast pace develops, the most likely closer is Salutos Amigos, our top pick. This campaigner has what appears to be and in/out pattern on the sheets and runs the fastest numbers of the field. With his best stuff and a solid pace, value can begin at the top of your ticket.
For second, we go with Private Zone. He is proven to cover this distance, and appears to have more lasting speed than the Big Beast.
For third, the pick is Viva Majorca. This horse can run from off the pace, and has been an improving horse this year. You can also use
The picks: 10-7-9
Race 10: The Sword Dancer, 1 1/2 Miles, Turf, 3YO and Up, Grade I, $1,000,000
This is a good race, with a big, big horse – Flintshire, the defending Breeders' Cup Turf runner-up.  But there are plenty of other options in here, including the top three runners from the Bowling Green, earlier at this meet.  Here are my top 4.
The top selection here is Red Rifle.  You are getting 4/1 on the best last out Beyer, and the pace scenario here sets up quite similarly to the Bowling Green.  He should be able to sit a trip, and he seems to be hitting his stride this summer.  He has a win at the distance and a win over this turf course.  Gets Jose Ortiz for the first time, which is interesting, but not a significant downgrade.
In second, I have Messi.  This Euro is undefeated in the states, and has an improving Beyer speed figure pattern.  He is 1 for 1 at Saratoga, and 2 for 2 with Lasix.  This is a major step up in class, but he is in the hands of Johnny V and Graham Motion, both of whom know very well the types of horses that can compete in Grade 1 company.  Further, his first couple races in the states were about as easy as they come, winning in hand and "as rider pleased."  He doesn't have a published work since August 2, which is concerning, but Motion's training style is not mechanical or formulaic, and at 10/1, I will overlook that knock.  I have some concern, however, that Messi will be the "wiseguy" horse, meaning that we would be lucky to get 6/1.
Finally, I have to include old friend Imagining.  His trip in the Bowling Green was… weird.  He hung himself wide on the second turn, and seemed uncomfortable for the first part of the race.  Perhaps he would benefit from returning to his more pressing/stalking running style that he featured earlier in his career.  In any event, he is certainly fast enough to get it done in this spot, and he always seems to be able to get a piece of the action.  He has 3 in the money finishes from 5 starts at the distance, and one of those non-top-three finishes was in the BC Turf, where he only lost to Main Sequence by 4 lengths.  He's never finished out of the top 3 at the Spa, and Irad Ortiz is white, white hot.  I can't quit you Imagining.
Flintshire is tough, but at 8/5 I don't want him.  He is 1 for his last 12 in the win column.  He certainly acquitted himself well in the Breeders' Cup Turf, losing only to a monstrous Main Sequence.  Flintshire is also one of the most impressive Road Warriors I have ever seen – his last seven races were in France, California, Hong Kong, France, Dubai, Great Britain, and France again.  That is amazing.  But the one constant is that the horse consistently finds ways to lose and at a short price, he's going to have to beat me this time.  I will definitely be using him underneath, because he always seems to find a way into the exotic mix (same goes for Twilight Eclipse), but I'll look elsewhere on the win end.
Couple Notes:  Might be worth a look at Guardiniadding blinkers and Lasix for the first time.  Euro invaders have shocked at big prices in big races before, so he might be worth a couple bucks.
If its wet, Fixador might be worth upgrading.  He came in second with a 96 Beyer in a Grade III stake at Gulfstream over a good track.
Race 11: The Travers: 1 ¼ Miles, Dirt 3YO, Grade I, $1.25 Million
The Crown Jewel of the Saratoga meet is upon us. Our analysis for this race? It can best be summarized by this YouTube clip:
Yeah, I think that's all you need to know.
Selection: 2.
Race 12: The Kettle One Ballston Spa, 1 1/16th Miles, Turf, Fillies and Mares 3YO and Up, Grade II, $400,000
You know the card is locked and loaded when the race following the feature is a $400,000 Grade 2 afterthought.  But after watching American Pharoah trot home in the Travers, don't run to your cars (you're not going anywhere for a while anyway).  Grab a Kettle One [editor's note—we encourage responsible driving] and watch and wager on this super competitive race.
Biased Homer Alert! With the retirement of Moreno, Tepin has officially assumed the title of the Consummate Bro Pick.  We have had a lucrative spring and summer wagering on this mare, and we're not stopping now.  But that said, she fits here.  She turns back half a panel—a distance where she would have been the winner last out.  She's second off the layoff, been a model of consistency in 2015, and can save ground on the rail (the same trip she had last out). She does carry a race top 123lbs.
Danza Cavallo is going in the wrong direction after posting a very solid effort two back.  Maybe Graded company is too deep for her liking, or maybe she's coming out of a double X O pattern.  At 12-1, I'll root for the latter.  She is turning back from 1 mile and ½ to the distance where she posted that top US figure. There is some speed in here and she figures to make one last big run.  Chad Brown has scored with the longer odds entry in other stakes this year (see opening day for example).  It's Irad and Brown at 12-1.  Welcome to my tickets.
Coffee Clique has lost twice to Tepin this year.  But she got away from the rival and scored a nice win in Philly. She's had some additional time and has been firing bullets in the morning—look at that last work. All signs are that she's headed back in the right direction and could flip the script on Tepin today.
We like this distance the best for My Miss Sophia's third Turf try.  But again, she will not get an easy lead in here and I think it's likely she's run down late.  I am normally a sucker for a Chilean mystery horse—but 7/2 and I can't even figure out his running style from the DRF comments?  Will use underneath if at all.
Selection 1-2-8-3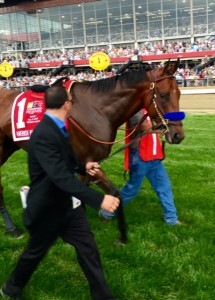 Share and Enjoy