As we approach the 31st running of the Breeders' Cup World Championships, each of us will analyze one potential contender per week that we think, based on their campaign and resume, fit the profile of a Breeders' Cup winner.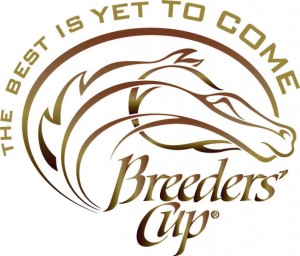 In anticipation of next weekend's QE II Challenge Cup at Keeneland, today's BC Profile examines "Win and You're In" Qualified and Filly and Mare Turf Contender Minorette.
Basics
Trainer: Chad Brown
Jockey: Jose Lezcano
Age: 3
Sire: Smart Strike
Dam: Silk and Scarlet (Sadler's Wells)
2014 Campaign
Minorette made her United States debut in 2014 after finishing a disappointing 8th in a Group 3 stake in Europe to close out her two-year old campaign.  Racing for the first time in the United States in a one mile allowance at Keeneland on April 6, she registered a competitive third place effort.  That race showed some signs that she might reach the promise that her connections had seen in her as a yearling, when her Coolmore ownership group sent her to Ireland and put her in the capable hands of Aidan O'Brien.  That effort was followed up with a solid second to Sea Queen in the Wonder Again Stakes at Belmont Park, this time stretching out to 1 1/8 miles.  Then, on July 2 in the Belmont Oaks, Minorette had her coming out party.  She got to go 1 1/4 miles for the first, and thus far only, time in her life, and submitted a tour de force.  Turning the tables on Sea Queen, she drew away inside the sixteenth pole and won by two solid lengths.  If you plan on playing Minorette in the Breeders' Cup, this is the race you will point to as evidence that she can get the job done:
Minorette followed up that Belmont Oaks effort with a subpar and disappointing effort in the Lake Placid at Saratoga, finishing fourth (and last).   Her effort in the Lake Placid was very one-paced, and seemed to lack any real explosion in the stretch in a race that appeared there for the taking.  In that race, however, she was turning back to 1 1/8 miles again, and a case could be made that she needs that extra panel.  Her Lake Placid performance is here:
Filly & Mare Turf Profile
This will be the 16th running of the Breeders Cup Filly & Mare Turf.  Over the 15 prior renewals, some distinct trends have emerged.  First and foremost, as with any of the turf races on Breeders' Cup day, respect the Europeans.  And respect all the Europeans — a point that was driven home distinctly by The Magician in the BC Turf last year.  The "forgotten" European will often outclass his or her North American peers and can offer a very nice price in the process.  Minorette is a quasi-European, having been seasoned in Europe as a Juvenile, but spending her entire 3-year old campaign here Stateside.
While Minorette doesn't quite satisfy the Euro angle, nor is she a repeat entrant in this race (another strong angle), she does check several of the other key requirements:  She has a G1 victory this year (the Belmont Oaks) and she has a win at the 1 1/4 distance (the Belmont Oaks).  She will have raced five times this year prior to the Breeders' Cup, which is right in the sweet spot for prior winners.  She also has an appropriate running "stalker" type running style — it is prudent to avoid speedballs in the Filly & Mare Turf.  Finally, she will have wheeled back in 21 days for the BC, which though a little quick, is not a negative for domestic based runners in this race.
So Minorette checks a lot of the boxes that indicate a potential contender for the F&M Turf.  The problem, however, is the competition she will face on November 1.  First and foremost, she will obviously have to deal with last year's winner, Dank, who is formidable.  Dank may simply outclass Minorette and the rest of this field.  Minorette will also be tangling with the best domestic runners, including Stephanie's Kitten, who will be coming off an impressive winning effort in the Flower Bowl at Belmont, and Emollient, who took down the G1 Rodeo Drive in style, and won't have to ship for the Cup.
We will have to see how Minorette does in the 1 1/8 mile QE II on October 11.  If she does well there, she will have a quick three week turnaround to the Breeders' Cup, as well as a ship to the West Coast.  However, assuming she puts together a nice effort in the QE II, she will get 1 1/4 miles again in the BC Filly & Mare Turf and may just be right in the mix with an eighth to go, and will likely offer a square price if she is.
Share and Enjoy