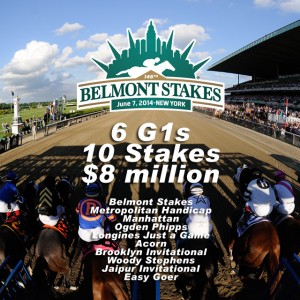 When does thoroughbred racing capture national media attention?  Fundamentally, it is four weekends per year:  Kentucky Derby, Preakness, Belmont and the Breeder's Cup.  Beyond that, there are some secondary meets and weekends that garner television coverage and some wider interest:  Saratoga, Keeneland, Del Mar, and the key Kentucky Derby prep races.  Though there are precious few times when racing obtains the national spotlight, tens and hundreds of races are run throughout the country on a daily basis, 365 days a year.  Increasingly, tracks are highlighting their significant days, and seeking to capitalize more than ever on the modest national media attention that is directed to the sport.  The Triple Crown races are perhaps the best example of this trend, and NYRA's decision to fill Belmont Stakes day with other major stake races is the most recent (and perhaps starkest) example.  But, in our minds, the most important question remains to be answered – is this model both sustainable and good for the sport's long term interests?
Beginning this year, NYRA decided to place the following races on the Belmont Stakes undercard: (i) Met Mile (G1); (ii) Manhattan Handicap (G1); (iii) Ogden Phipps (G1); (iv) Just A Game (G1); (v) Acorn (G1); (vi) Brooklyn Invitational (G2); (vii) Jaipur Invitational (G3); and (viii) Easy Goer.   In one fell swoop, NYRA created the most high-powered racing card in the country outside of the Breeder's Cup.  Simultaneously, it cannibalized stakes from other days during the Belmont spring meeting, most notably on Memorial Day weekend, the traditional home of the Met Mile.  Belmont is not the first track to do this, of course.  Churchill Downs has stacked stake races on top of each other on the Oaks, Derby and Stephen Foster cards.  Pimlico puts essentially all of its stakes races on Preakness weekend, with cards highlighted by the Black Eyed Susan/Pimlico Special and the Preakness.  Even Saratoga now has twelve stakes carded for Travers weekend, including four grade ones (it should be noted that the stakes on Sunday are for New York breds).
Undoubtedly, the NYRA super-card will attract tons of wagering dollars – people who were going to bet on horses on Saturday, June 7 are going to fire their bullets at Belmont.  What remains to be seen is whether it attracts any increased attention from non-horse fans or even casual horse fans.  Put simply, will anyone watch on TV or come to the track who otherwise would not have because Belmont piled its stakes up on this card?  I suspect the answer is no – the sole factor that will drive attendance and TV ratings is whether or not California Chrome is going for the Crown.
The second question is whether or not NYRA cares, other than tangentially.  It seems that this move is simply a play for wagering dollars and, in that respect, I believe NYRA will achieve great success.  And that brings us to the two larger and related issues which I think factor into the move to larger, high powered race cards:  (i) maximizing the number of wagering dollars directed to your track on days when the highest number of horseplayers are putting money in play; and (ii) the diminishing importance of, and attention to, on-track attendance.
From a business perspective, tracks want to attract wagering dollars.  Dollars wagered on-track are marginally better than dollars wagered from account wagering platforrms because the track does not have to split the takeout, but the industry's golden goose is still gambling (recognizing of course that track operators often have affiliated account wagering platforms; NYRA does not have to split the takeout for money wagered on a NYRA track through a NYRA Rewards account).  Accordingly, tracks are focused solely on attracting a larger and larger share of the dollars wagered on horse racing – a total dollar figure that, depending on where you look, is growing very slowly, holding steady, or shrinking.  In any event, there is not a rising tide that will lift all of the boats in the industry.  Therefore, the theory goes, to the extent there is a set amount of money that will be wagered on horses in a given year, drawing more and more attention to your track on gigantic race days will allow the track to access a larger share of those finite dollars.  For example, let's say that NYRA looks at Belmont's spring meeting and sees that it has an average handle of $10 million per Saturday, and $100 million on Belmont Stakes day.  I think NYRA has made the determination that it is going to get that $10 million, or something close to it, on every Saturday, regardless of whether or not there is a significant stake on the card.  On Belmont Stakes day, however, even the most casual race fan is watching and wagering – I think NYRA has made the calculation that (in this example) by maximizing the Belmont card, it can increase that Belmont day handle to $150 million.  If this example holds true, Belmont would have just found itself $40-$50 million of additional handle.
Personally, I think that this comes at the expense of creating a real on track experience.  By moving nearly all of its significant stakes during the Belmont spring meeting to one day, NYRA sends the message that this is the only day when you should make the trip out to Jamaica, Queens to attend.  For the rest of the days of the meet, Belmont will be happy to get an average handle from people sitting on their couch, at their computer or in a smoke-filled simulcast parlor.  I think that decision is a mistake.  Does the future of betting hinge on the internet, through traditional account wagering and potentially exchange wagering?  Perhaps.  But there is still money to be made from people actually passing through the turnstiles and spending a day at the track.  And to me, this is how the sport will grow.  It is very difficult to get someone to learn to love the sport by sitting in front of a simulcast channel and watching six different tracks over the course of an afternoon.  But take someone to Saratoga, or Del Mar, or Keeneland, or Gulfstream or Oaklawn or Santa Anita for a big day, and I think more often than not the person has a great time.  They might not be hooked, but they will be willing to come back.  Additionally, a significant number will be hooked and will become fans for life.
Share and Enjoy