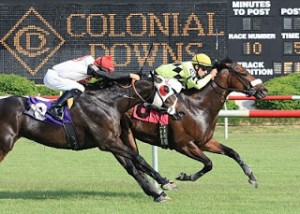 Talks between Colonial Downs and the Virginia Horsemen have broken down just four days before the deadline the set by the Virginia Racing Commission for the parties to reach an agreement.  While the "deadline" may be more of an attempted motivator than a "hell or high- water" cutoff, the two sides continued inability to reach a compromise increases the likelihood that Colonial Downs will be without thorobred racing this summer and fall.   That is unless another group of horsemen form and answer Colonial's offer. In an interesting move of gamesmanship, Colonial issued the following statement:
"In light of the damage done by the VHBPA's decision to shut down wagering, Colonial Downs is unable to bring about a high-end meet this fall.  This high-end meet is the future of Virginia thoroughbred racing if it is to thrive.  However, Colonial Downs' shares the Virginia Racing Commission's desire to maintain live thoroughbred racing this year and is prepared to make a $2 million interest-free loan to a new, to-be-formed horsemen group.  This loan will facilitate 25 days of thoroughbred races with one day devoted to the Virginia Derby and other nationally graded stakes races. All horsemen interested in racing at Colonial Downs this year should contact Tyler Picklesimer, our Racing Secretary, at (859) 466-2109."
Only in horse racing will you see one of the sport's "franchises" posting a public "help wanted" ad for running its operations.  Imagine if  the Yankees issued a press release on ESPN–"talks have broken down with [Cashman and/or Gerardi], if interested in running this team please call…… "
Regardless, Colonial's open invite may be more of a public relations piece than a good faith offer.  Given the small racing community in Virginia, a new horsemen's group would have to consist largely of the same members which are incapable of reaching an agreement with Colonial.  Moreover, any newly formed organization would need approval from the Virginia Racing Commission.  Even if these obstacles are avoided, the formation and approval of a new group would likely result in the current horsemen's group commencing legal action seeking an injunction to halt the agreement and any possible resulting race meet. Thus, while Colonial's offer to work with a new horsemen's group appears noble on the surface, it is impractical and unlikely to occur.
Despite the obvious positioning and use of negotiation tactics, as an outside observer , it still certainly appears that the two sides are nowhere near reaching an agreement.  Colonial has now played one of its best cards by in essence saying: we do not need you.  In response, the horsemen have not wavered.  They did not even make a counter proposal to Colonial's latest offer, deeming it a non-starter.
These types of disputes often resolve in the 11th hour, but at this point, the clock is almost there.  Neither side wants to be perceived as the "loser".   But in reality, if a deal is not reached, the ultimate loser, as is often the case, will be the fans and the sport.
http://www.tidewaterreview.com/news/va-tr-colonial-downs-offers-loan-to-new-horseman-group-to-ensure-live-racing-20140513,0,5615410.story
Share and Enjoy