The greatest two days in sports are upon us. Happy Breeders' Cup, everyone! While COVID has prevented the typical trackside pageantry, the substance of the event—full fields and betting opportunities abound—remain unchanged. Friday's card features five juvenile BC races—a very challenging proposition for handicappers. Logic would suggest tempering betting excitement and focusing more on Saturday's races—but where is the fun in that? In all seriousness though, Friday's races are wide open. If you have a strong opinion in one race, it may make sense to take a stand and spread wide in the other races. Our thoughts and analysis follow. Good luck, everyone!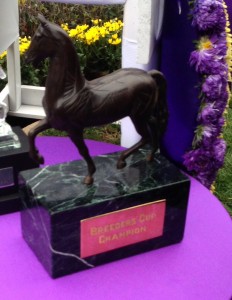 BC Juvenile Turf Sprint
The Juvey Turf sprint is a relatively new Breeders Cup race, so a winner's profile has not yet developed. While Euro's will likely receive plenty of attention in the other two turf races today, domestics figure to be better positioned in this sprint, largely because Euro horses are not used to fast opening fractions. There is a ton of speed signed on in this race—including the deserving favorite, Golden Pal. As such, we are keying two closers at decent odds—After Five and Second of July. We would favor the former over the latter given that After Five is still a maiden. Second of July is 2 for 2 with an impressive late surge through traffic in his last effort. Under those two horses, we can go a lot of different directions—the 7, 10, 11 and 14 all have numbers which are very similar and competitive here. They also all want the lead and we question whether any of them can hold on after an expected battle. County Final and Amazni Yimpilio have shown stalking ability and maybe get first run at the speed group. One other closer we will be watching is Ubettabeleiveit. He has won three of four starts with the one loss being on softer ground and where connections unsuccessfully asked him to press the lead. He figures to like the firm turf and could be rolling late. As an added bonus, his trainer offered—"If we win, we will be chuffed."
This is a very difficult race to figure out. We will probably key the 9 and 13 on top, hope for a pace duel and big prices underneath.
A: 4, 8, 9, 13
B: 6, 7, 10, 11, 14
BC Juvenile Turf
The Juvenile Turf has historically been dominated by European shippers. With no domestic colt jumping out at us, we will largely key Euros here. On paper—Battleground looks like the most talented of the Euro contingent and his connections have multiple BC successes. Many question the 101 day layoff for Battlegound, but O'Brien insists nothing is wrong and the horse has trained aggressively throughout his break. That said, we are keying the potential "forgotten Euro"—Cadillac. He's two for two on lefthanded race tracks with his top effort coming on the firmest turf he's encountered. Firmer Keenleand footing and a counterclockwise racecourse should bode well for this horse. We will also use three other Euros underneath—Ralph Beckett's pair—New Mandate and Devilwala—as well as France's Go Athletico. Go has beaten Sealiway twice and the horse's turn of foot is quite impressive. He figures to handles the two turns and Keeneland stretch well. Of the domestics—Gretzgy the Great has a front running style that could bode well in a somewhat paceless race. He is losing Lasix however.
A: 5, 9, 12
B: 2, 13, 4, 6, 11
BC Juvenile Fillies
Perhaps the "easiest" BC race of the day to figure out—although far from a slam dunk. We see two undefeated fillies as the most likely winners–Simply Ravishing and Dayouoftheoffice. Although the latter has slightly faster speed figures, Simply Ravishing's win on this course and potential to get the lead comfortably, give him a slight edge as our top selection. Both horses drastically improve while stretching out and both are training well suggesting all systems go. For some value, we will also use Vequist and Girl Daddy.
A: 1, 3
B: 2, 5
Juvenile Fillies Turf
While the Juvenile Turf has been Euro dominant, domestic horses have fared much better in the filly equivalent. With not a ton of early speed in here, we see Aunt Pearl as the most likely winner. She has a win at Keeneland, is turning back a panel, and despite having a comfortable lead, came flying home in her last effort at 29.5 seconds. She should be tough to catch here. Plum Ali also has competitive numbers and won a key prep race. Clement is 0-38 in the BC however. Our best value play is Spanish Loveaffair. She sports an improving speed figure pattern and turns back a panel. She could get first run. Our only pause is the post. Madone is undefeated and we will use her some, although west coast turf horses have not fared well in this race.
A: 4,5,12
B: 3, 9, 10
The Juvenile
Jackie's Warrior is a potential superstar. On speed figures alone, he is clearly the top choice. But there is so much speed in this race, that we think targeting closers and hoping for a big price upset makes a lot of sense. You have to use Jackie some, but we will try to beat him with closers and stalkers. Essential Quality pushed the pace in his last race, but in his debut, he sat a stalking trip and closed late. We expect him to sit back and make a run here. Sitting On Go also figures to make a run late. Although he had a modest debut win, his stretch out to a mile resulted in an impressive late running score. He's taken time off but his last bullet work suggests he's all systems go. For a bomber underneath, we are looking at Keepmeinmind. His uncoupled entry will ensure a fast pace. Connections have added blinkers and an Ortiz brother. This one could be full of run late and pick up a piece for an outfit, Southern Equine, who is known for scoring at huge prices. His sire, Laoban, broke his maiden in a graded race and this one will look to do the same.
A: 5, 7, 9
B: 2, 6, 10
Good luck, everyone!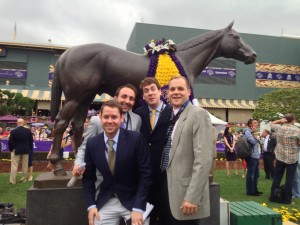 Share and Enjoy