Happy Oaks Day! I know we say it every year, but this is one of our favorite days on the entire racing calendar. Oaks marks the kickoff for an exciting Derby weekend and the promise of a memorable and (hopefully) lucrative Triple Crown season. Oaks Day has also led to some of our greatest successes and worst beats. Whether up or down, Oaks Day is the source of some of our best betting "war stories."
As expected, this year's Oaks card contains full fields, competitive stakes races, and plenty of opportunities. The main event, as discussed more below, is extremely competitive, and if the favorite, Bellafina, who is compromised by other early speed and has previously run a clunker at Churchill, does not fire, it could be bombs away for the exotics.
Our analysis of all the stakes races (and the one Optional Allowance Churchill snuck into the Pick 4 sequence) is below. Be sure to follow us on Twitter for updates and on site coverage of the Oaks. Good luck, everyone!
Note on Weather: There are threats of thunderstorms lingering all day. It's likely to rain at some point during the race day. How much rain Churchill gets, what the track condition becomes and when it hits are all question marks. We made some notes below about horses that are unknown or could move up or down on a wet track. Follow up on Twitter (@Thorobros) for updates.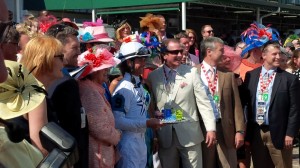 Race 5—The Eight Bells (Grade 2) –7 Furlongs, 3YO Fillies
The Eight Belles is typically a competitive race featuring lightly raced fillies with a lot of speed and promise. This year follows that trend.
At 8-1, we will key Lyrical Lady. After an impressive debut win last summer at Saratoga, she returned as the favorite in the Grade 2 Adirondack, only to lose by 16 lengths. She returned in March of this year and delivered an eye popping performance. The $625k purchase is clearly talented and although there is concerns she may bounce off that last effort, at 8-1, we'll take our chances and bet that she is only beginning to scratch the surface.
Lyrical Lady will not be alone up front as she figures to be pressed by Break Even. This speedster is undefeated, showing improving speed figures and is second off the layoff.
In the event that Lady and Break Even duel each other to the ground, we like Queen of Beas to get first run. She turns back a panel, draws Jose Ortiz, and comes off a layoff. Abreu has had success on this weekend at Chruchill in the past. Mother Mother is talented but her best efforts appear to be going longer. We will use her defensively.
A's: 7, 4, 3
B: 9
Race 6—The Edgewood (Grade 3)—1 1/16 mile (Turf) 3YO Fillies
On paper, 3-5 favorite and Breeders Cup champ Newspaperofrecord looks unbeatable. Brown usually fires off layoffs, the horse has been training well, she has a win at Churchill and she should get a setup as there does not appear to be a lot of other speed signed on (Fortunate Girl may try to press her). She has never caught firm turf, and if it's not wet Friday, that may be the only question mark. She's the most likely winner and we can't fault those who single her for horizontal wagers.
In the event Newspaper does not have her B game, we like Concrete Rose to score the upset. Although she was soundly defeated in the Breeders' Cup by Newspaper, she returned in March making a nice debut and winning a graded stakes. She would need another step forward (and Newspaper to takes a step backwards) but this improving filly should be much closer to the favorite this time around.
Winter Sunset is probably in too deep with this group, but she is improving in each start. She did falter at this distance last out, which is a concern.
A: 1
B's 3, 5
Race 7—The Alysheba (Grad 2) 1 1/16 Mile 4YO and up
McKinzie was less than 4-1 in the Breeders' Cup Classic here at Churchill in the fall only to finish 12th beaten by 31 lengths. He is 0-2 this year. He may be the most talented horse in the field, but at 8/5 and given his runner up finishes in 2019 and the prior dud at Churchill, we will use him defensively while keying other horses.
Our top pick here is Bourbon Resolution. He has won three of his last four starts and turns back in distance. On the other hand, he is coming off a new top effort and it's his fourth race in this cycle—signs which normally indicate a let down is coming. But he is 15-1. And if he's simply a horse getting better as a 4 year old, then a repeat of his last gives him a very good chance here at a price.
There is not a lot of speed in this race. Prime Attraction will likely go to the lead, but his last trip to the winner's circle was in 2017 (we will use him underneath). Tom's d'Etat is a logical contender for getting first run at the speed horse, leaving the rest of the field to try to catch him in the stretch. He's 3 for 4 at the distance and 3 for 4 in the exacta at Churchill. He also runs his best with time off, which he has had since his last race in January. Tommy boy will round out our A team and is our most likely winner.
Our B team will consist of likely lone speed Prime Attraction, Seeking the Soul (very competitive horse but concerned how he rebounds from the UAE trip) and Multiplier (a hard knocking stakes horse, second out for Mott and switching back to dirt–interesting).
A's: 5, 2, 1
B's: 3, 8, 9
Race 8—La Troienne (Grade 1) 1 1/16 Miles F and M 4YO and Up
The Pick 4 starts with one of our best value plays of the day. Bill Mott's Golden Award has won three straight, with improving speed figures before trying deeper waters in a Grade 3 at Keeneland. She caught a sloppy track that day and faded to a distant fourth place finish after going five wide down the stretch. Mott obviously has a lot of faith in this mare because instead of dropping her back in class, he keeps his foot on the gas and places her in a Grade 1. Not a trainer known to ambitiously place his horses, his confidence in GA makes us take note. If you are willing to overlook that last outing, you see a horse showing significant improvement. Another step forward and she fits in well with this group. She draws Ortiz for this one. All systems go at 12-1 (note—unless the track is a mess from rain– temper expectations given her last effort).
Our other A team pick is Blue Prize. She is 5 for 6 in the exacta at Churchill and is coming in off an extended freshening. Her work tab has been consistent and solid, suggesting the six year old mare is still firing on all cylinders. We expect an honest pace up front with Divine Miss Grey and Aw Emma, allowing Blue to rally late.
Our B team is led by She's a Julie who ran a top effort in her 4YO debut and now returns after some rest. Divine Miss Grey has some huge numbers but her best efforts all seem to be at AQU—although she has hit the exacta both times at CD, albeit with lower speed figures. Secret Ship has fast numbers but is shipping east for the first time and does not entice us at 5/2 to use other than defensively.
Mopotism and Teresa Z are potential value plays underneath in trifectas and superfectas.
A's: 2, 8
B's: 1, 3, 9
Race 9–$62,000 Allowance Optional Claimer, 7f, 3YO and up
I admit it–I was agitated and disappointed when I first glanced at this card and saw that, for the second consecutive year, Churchill had diluted the sacred late Oaks Pick 4 with an allowance race. The Eight Belles would have slotted in nicely to this Race 9 spot. However, once I dug into the past performances, I realized the opportunities (and challenges) presented by a fantastic betting race. Pick 4 players beware—you may want to spread in this race.
We had a hard time landing on a top choice in this race, but have identified four horses for our A team based on a recent propensity for winning. We'll start with the biggest odds, Fuel the Bern at 20-1 morning line. Bern has won three of four races and may be circling back to his top effort three races back at Aqueduct. Gargan and Saez hit at a nearly 40% clip. I like him to sit off the pace and make an early run.
Strolling has won 3 of his last five and seems to have improved leaps and bounds as a four year old. Fifth start of this cycle is somewhat concerning but the recent work suggests the horse is not slowing down. Court and Barkley hitting at 40% in a limited sample.
I don't like landing on the favorite in this race, especially one that seems to be heading in the wrong direction as an 8 year old. But Solid Wager is a 7 furlong specialist and he gets some serious class relief here. Second off a layoff is a strong move for Miller. The regular work regime suggests the horse is doing well.
Finally, Home Base gets a class drop and returns to what he does best, seven furlongs sprinting. He's coming off a long layoff to make his four year old debut. Although Tomlinson is only winning at 8% on the year, he's 20% off such layoffs.   He's worth a long look at 15-1.
Our B team is comprised mostly of value plays to combine with our top plays in other races. Rugbyman fits from a speed figures perspective and is a first time gelding. Musical America is not prone to win, but is showing improvement and is worth a flyer at 20-1. Knights Key is relatively consistent and could move up to an A if the track is wet.
Note: Soul Streit is a must use if he draws into this race. He currently needs a horse to scratch in order to make the field. But he's a fast as any other horse in the race and will be able to sit a nice outside stalking trip from the chute.
A's: 6, 7, 8, 12
B's: 2, 4, 5
Race 10—The Twin Spires Turf Sprint (Grade 2)—5 ½ Furlongs (Turf)—3YO and Up
At Thorobros we go great lengths to avoid playing 1-1 horses. But sometimes, when life hands you a free space, you take it. World of Trouble certainly seems like the winner in this group. WOT has won 5 of his last 6 races and 2 of his last 3 turf starts. He was a very game second at Churchill in the Breeders' Cup Turf Sprint at this same distance last fall. He won the Grade 1 Carter on dirt in his last start, but now returns to Turf—where his connections seemingly see his pathway to a championship. Now, for those of you looking to beat him…here are the knocks. Although there is not a ton of speed in this race, Ward has two horses Undrafted, a closer and Bound for Nowhere. The latter likes to be forwardly placed and although he would likely prefer to the sit just behind WOT, Ward may instruct Ortiz to press the pace. It's not likely Ward wants to burn his 3-1 shot to benefit Undrafted, but it's something to consider. Also, WOT's never run on firm turf—he may not have to tomorrow, but another potential question mark. All of that said, he's still the likely winner.
If WOT does not bring his A game, we like Angaston or Chaos Theory to spring the upset. WOT faltering would suggest a speed duel ensues and we like both of these horses to navigate through traffic late. Both were closing—especially Chaos Theory—in the Shakertown last month. Bound for Nowhere will also be on our B team in the event he does stalk WOT and the favorite doesn't have his best effort.
A's: 6
B's: 1, 5, 7
Race 11—The Kentucky Oaks (Grade 1) 1 1/8 Miles 3 YO fillies
Our Oaks analysis starts with the favorite, Bellafina. The Baffert trainee is undefeated in three starts this year. Her speed figure numbers are several points better than anyone else in the race, suggesting her B effort could be good enough. We cannot fault those who will single her in wagers. But we will not be in that group. Bellafina could very well win this race, but she is far from a lock. Bellafina's preferred style is on the lead, but here there are at least four other horses who will want to be on or near the lead as well. While Bellafina did "rate" in her last start, there were only four horses in the field and she passed two of them, while never more than a half a length behind. If the plan is to rate her here, she will likely be several lengths behind and have to pass four or five horses—something she has never done. Also, she has run one clunker in her career—here at Churchill Downs. She will be on our A team for horizontals but we will try to beat her in vertical wagers.
So who do we like if we are trying to beat Bellafina? We do not have a clear choice to key, but will be focusing on three horses Lady Apple, Champagne Anyone and Street Band. Lady Apple has won three straight and has taken a step forward in speed figures since stretching out to two turn races. Her Grade 3 Fantasy win was super impressive as she came through a tight hole on the rail, was seemingly buried by Motion Emotion, but didn't back down and won going away. We like her to sit behind the lead pack and get an early run. She's 20-1.
Champagne Anyone finally broke through in stakes company (after several failed attempts) last out. That last effort was her fist past a mile and she responded well posting a new career top. Her works since have been very strong. She certainly seems to be at the top of her game and improving.
Street Band appears too slow on speed figures. However, her numbers are improving and her run in the FG Oaks last out was super impressive. When Doyle asked her, she came running and did not stop. Larry Jones has won this race three times and the way in which he has handled this horse and the horse's style reminds us of 2015 winner (and Thorobros' favorite) Lovely Maria. 15-1.
We start our B team with Restless Rider who made her sophomore debut off a long layoff and finished a game second in the Ashland. It looked like she would run by the winner, Out for a Spin¸but there was some contact which caused her to falter. She rallied again but fell short. She likely needed that race. The concerns for her is that she's a hanger—doesn't like to pass horses late—and the 14 post will likely cause her to either be wide or pull back.
We close our B Team with two bombers—Liora and Out For a Spin. Liora is 2 for 2 at CD including a win over Restless Rider and Champagne Anyone last November. She ran second in two preps at Fairgrounds this spring. However, she looked pretty wobbly running down the stretch of the FG Oaks, suggesting she was tired. Two solid sub one minute five furlong works since suggest she is in better race shape. 20-1.
Out For a Spin won the Ashland at over 50-1. When an upset like that occurs, it's often a fluke due lone speed sneaking away or a pace melt down. However, watching the replay a few times, Out for a Spin simply looked like the best horse in the race. She has never backed up on her speed figures—suggesting a horse yet to reach her ceiling. She also draws the rail, but with her tactical speed and Ortiz on board, it could allow her to find a ground saving trip. A lot to like at 15-1 and we suspect those odds could be higher.
Note: With all the speed signed on we are likely not using any of those horses on top (but for Bellafina defensively). We will likely use Motion Emotion underneath some given her consistency.
Final Note:  If any horse scratches before Friday morning, Dunbar Road draws in and we will use her as an A horse.  The lightly raced horse is improving everyday and Brown is very high on her chances should she draw in.  Also, although 5-1, Also Eligible horses have a tendency to drift up in odds on big days as the majority of the public does not know the horse is in the race.  Shhhhhhh!
A's: 3, 4, 10, 12 (15 instead of 12 if she's in)
B's: 1, 14, 9
Share and Enjoy