Happy Travers Day, everyone! It's our favorite day of the racing year. Sure, it's tough to top the two day barrage of the Breeders' Cup or the pageantry and excitement of the Kentucky Derby, but for three guys who visited Saratoga before we could walk (and have visited since in frames of mind where it was difficult for us to walk), this is our Super Bowl.  While the Travers is the obvious headliner, Saratoga's recent switch to making this day a "Supercard" has brought the signature day of the meet to whole new stratosphere. 7 (!) straight stakes races anchor the back half of the card and offer opportunity after opportunity for big payouts.  We'll be chasing some of those payouts and our thoughts and analysis are below.  Good luck everyone.
Note: For the first Saturday of the meet, we feel confident handicapping for dry weather! Fast and firm, everyone!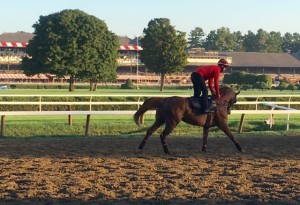 Race 6—The H. Allen Jerkens, Grade 1 (7f, Dirt)
Pace will play a very important role in the outcome of this competitive race. Promises Fulfilled is a deserving favorite but he draws a tough post.  He was going to the lead regardless, but Saez will need to send at all costs from the rail, especially with speed drawn to his immediate outside in Telekinesis and further outside in Gidu.  We think this scenario may result in a fast pace, in which case we like Still Having Fun the best.  He bested Promises Fulfilled in his last race (as well as Engage), seems to be getting better, and has run well fresh before.  Because we have faith in the Woody Stephens results, we also like the runner up from that contest, Engage and will use him as our second A team horse. He had a rough trip in his last race, hitting the gate, and unable to catch Promises Fulfilled who drew away.   Promises Fulfilled will round out our A team.
Firenze Fire ran a huge race in the Dwyer.  But it was such a huge step forward that we have to expect the horse will regress.  How far he bounces? Who knows.  We will use him on our B team defensively.  For a flyer, we will include Telekinesis on our tickets at 20-1.  His best number was his debut dirt sprint and he finally returns to that game today.  Casse successfully moves horses from synthetic to dirt regularly and we expect this horse to be full of run off the turn back.  He attracts a top pilot in Castellano.
A's: 7, 3,1
B's: 2, 8
Race 7 – The Personal Ensign, Grade 1 (1 1/8, Dirt)
This appears to be a two horse race between two great four year old fillies – Abel Tasman and Elate.  Abel Tasman is coming off of a 100 Beyer speed figure in a dominating performance in the Grade 1 Ogden Phipps at Belmont.  That race made up for her prior disappointing effort in the La Troienne at Churchill.  Abel Tasman is one for one at Saratoga (beating Elate in last year's Coaching Club American Oaks), and two for three with a second place finish at the 1 1/8 distance.  She has her usual jockey Big Money Mike Smith in the irons, and her work pattern suggests that Baffert has her primed to go.  The only knock is that she can be a bit of a quirky horse – she can pull and get rank, particularly in the first half mile of the race – and that has led to some inconsistent performances.
The other headliner in the race is Elate.  Last year's Alabama winner came off the bench and opened her four year old season with a dominating win at a 1 1/4 miles in the Delaware Handicap.  The field she beat was a bit suspect, but Hall of Famer Bill Mott seems to have targeted this race for a while, and will have her primed to go.  She like Saratoga, with her best Beyer speed figure coming from the aforementioned Alabama.  She needs to improve off her effort in the Delaware Handicap, but she has every reason to do so with Mott second off a layoff.  The pace scenario may slightly disadvantage her, as Abel Tasman sets up to get first run at Farrell and, to the extent she can hang up front, She Takes Heart.  Thus, Abel Tasman gets the slightest of nods in this race.
Two other horses to mention – Farrell projects as the clear cut fastest in the race, but even if she is alone on the lead, it's a tall order for her to hold off horses as good as Abel Tasman and Elate.
Outside of the top two, we are most interested in Wow Cat.  This Chilean invader was undefeated in the Southern Hemisphere, and was closing on Farrell when second in the Shuvee Stakes in her North American debut.  Chad Brown things highly of this filly, and she may get the perfect trip in this spot, sitting just off of Abel Tasman and in behind Farrell.  She needs a substantial move forward, but there is some talent here.
A: 1
B: 4,6
Race 8—The Ballerina, Grade 1 (7f Dirt, F and M)
The Ballerina features three favorites who all have some question marks—which has us looking at a potential payday. Don't get us wrong, Lewis Bay, Finleysluckycharm and Marley's Freedom could all win, but given their odds and shortcomings, we will be keying others.   Lewis Bay and Finley are both coming off of Beyer and Ragozin number tops.  Both are five years old and asking for a repeat top performance is easier said than done.  Of the two, Lewis Bay has more foundation and time between races so we give her the edge. Marley's Freedom appears to be the quickest on paper but we question her ability at 7 furlongs and her one trip outside of CA did not go as planned.
For now, we have a two filly A team consisting of two double digit odds horses. Our top pick in this race is Still There (3). Yes she's lightly raced and facing her biggest test to date, but she's 2 for 2 at the distance, has moved forward every time on dirt, and given that light foundation, could still be improving. At 12-1 (and we suspect higher) we like the prospects of the improving filly here.
We also like Highway Star, a hard knocking horse who just missed in this race last year. She hasn't won in almost a year but she's run second in four of her last 5 races.  She turns back to her preferred distance, gets a great post to watch the race unfold, and is coming off an eye popping work.  All systems go at 10-1.
For our B team we will use the three favorites and the 2 Ivy Bell.  We will be watching odds though—if any of those four drift up in odds—especially the Marley's Freedom, we will promote them to the A team.
A's: 3, 9
B's: 2, 5, 6, 7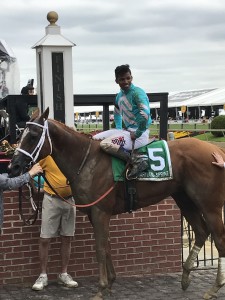 Race 9—The Forego, Grade 1 (7f Dirt)
This Thorobro loves 7f races—it's my specialty distance—as it often is for the horses competing. Like the Ballerina before it, keying horses with success at 7f is often a recipe for a nice payout.  Unfortunately, both favorites here are distance specialists—Limousine Liberal and City of Light. We like the latter better and he will lead our A team. In a sprint race short on speed, he draws a great post which will allow Irad to gauge the pace and potentially steal the lead.   He is turning back to a distance where he is 3 for 3 in the exacta and unlike many CA horses, he has success shipping outside the state.  Next on our A team is C Z Rocket.  The horse has moved forward on paper in each of his six races.  If he improves again, he will win. His last and only Grade 1 effort was a flop, but his recent form is excellent, he has a win at the track and two wins at the distance.  Trainer and jockey are hitting at a 40% clip. Our final A team addition is No Dozing (5).  He is coming off of a huge debut effort at 4 years old after being stripped of his manhood.  We see more room for improvement second off the layoff (33% for Delacour).
Lim Lib (1) highlights the B team. He would be an A team member but for the low odds and questions surrounding his Saratoga form where he's 0-3. Whitmore is a hard trying horse with some past great efforts.  He's likely to be right there, but given the odds and his recent tendency to hang in the stretch, we demoted him to the B team.
A's: 5,6,8
B's 1, 3
Race 10—The Sword Dancer—Grade 1 (1 ½ Miles, Turf)
I've always viewed the Sword Dancer as a logical race—where a handful of horses make sense and one of them is usually the winner. Not this year though.  Upon my first go through I eliminated one horse (sorry Seahenge).  After much deliberation, here are my thoughts.  But this may be a race to spread wide and hope for a longshot.
My logic here is that the distance will challenge many of these horses and the pace should be somewhat honest, with Glorius Empire and Funtastic both figuring to go.  So that leads me to two closers proven at the distance Sadler's Joy and Bigger Picture.  Both horses dueled down the stretch in this race last year, with SJ getting up in time.  Both horses also closed into the snail's pace from the Bowling Green and now get and extra panel of distance.    At the odds, we will key Bigger Picture.  Yes, he's seven and we are asking for a top performance but we think he's sitting on one as evidenced by his latest very sharp work.  He should have first jump on Salder's Joy as well.  After those two we like Channel Maker, an improving four year old who still has not hit his top numbers from his three year old campaign.  He could get first run at the leaders and is second off the layoff for team Mott.
For our B team, we will use Spring Quality.  Although lightly raced, the horse is coming off of his biggest effort as a six year old. Graham has given him time but we also question him at this distance.   Revved Up is interesting to us.  He's coming off of a top Ragozin number that if he pairs, puts him right in the mix.  The switch to Abreu leaves some uncertainty—but that's what you bargain for when playing 15-1. We round out the B team with Funtastic, the more likely candidate to wire the field.
A's : 6, 7, 10
B's 2, 3, 9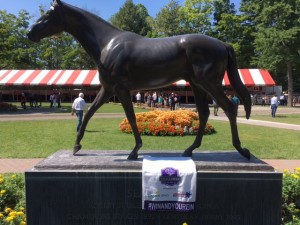 Race 11 – The Travers, Grade 1 (1 1/4, Dirt)
This is a very competitive renewal of the Mid-Summer Derby, Saratoga's signature race. The key to getting the winner right in this spot may come down to figuring out the pace scenario and the way the race will unfold.  It seems likely that the 1, Trigger Warning, will try to go to the lead, but there are a number of other horses that could be up and on the pace, including Mendelssohn, Good Magic and Catholic Boy.  If all of them go, it could be a fast pace, setting the race up for a horse coming from off the pace.  If just one goes, it could set up for that horse to take the field a long way.  If it's a contested, but moderate pace, it would favor those horses that are able to get stalking trips and then get first run at the leaders when the real running begins.  If you can work out which of these scenarios is most likely, it will narrow the field for you.  My inclination is that the pace will be legitimate but not outrageous, and that the horses that can work out stalking trips will have the advantage.
On form and past performance. Good Magic is a stand out in this spot.  His Bluegrass and Haskell wins, along with his second in the Kentucky Derby, make him the leading three year old colt still in training given Justify's retirement.  He's hard to overlook, and is an "A" horse here.  Also on the "A" team is the other Chad Brown entrant, Gronkowski.  Gronkowski had a great introduction to American racing in the Belmont, when he rallied from far back to grab second.  He's been training well, and Chad Brown has had positive things to say about him.  Hopefully Joel Rosario is able to put him into the race a little more at the start, allowing him to begin his rally from closer to the pace. Tenfold was the winner of this year's local prep for the Travers, the Jim Dandy, and that has been a positive angle for finding Travers winners over the years.  The horse is still improving, and would have shown a better Beyer figure if he hadn't gotten a little wild in the stretch in the Jim Dandy.  I'll trust that Asmussen has that sorted out, and that Tenfold might be able to commence a mid-pack rally at the 3/16 pole that gets him to the wire first.  Finally, our "A" team includes Catholic Boy, who might be the gutsiest three year old in training.  In his last two races, both graded stakes, he was overtaken by a talented Turf horse, Analyze It, and re-rallied to win both times.  The distance will be no problem for this one, just not sure whether this is the right surface for him.  He may prefer the turf, as you have to go back to last year's Remsen to find a dirt win for this one.  Hopefully, he has simply improved of late and is in position now to replicate his grass form on the main track.
The "B" team here consists of three horses. First is the filly, Wonder Gadot.  Wonder Gadot is going to attract money as the filly in the field, but she should relish the distance and has tactical speed to work out a forwardly placed trip under Irad Ortiz. Bravazo, the Preakness and Haskell runner up is a good solid horse with tactical speed.  D. Wayne Lukas can spring a surprise in these three year old races, and Bravazo was gamely coming at Justify in the Preakness at 1 3/16.  If he can replicate that race, he's got a shot.  Finally, the regally bred Mendelssohn has had two stinkers since coming stateside during his three year old campaign.  The Kentucky Derby can be excused, as the track was a mess and he had tons of trouble early.  The Dwyer is much, much tougher to excuse, as he was crushed by Firenze Fire (a very good horse) and didn't even hang for second.  But if he can replicate even a portion of the (bias aided) form that saw him dominate the UAE Derby, he will win this race.  He gets one more shot from us.
A: 3,9,10,11
B: 2,4,8
Race 12—The Ballston Spa, Grade 2 (1 Mile 1/16th, Turf, Fillies and Mares)
A small but talented field of fillies ends the day of stakes action. This may be least exciting race of the day from a betting perspective.   We expect Quidura to challenge Hawsmoor for the lead.  We think Quidura's best races have been on the lead and it will also give Brown's other runners an honest pace to close into.  We like Off Limits best, especially given the higher odds compared to her stablemate, Raving Beauty. Off Limits has a win at Saratoga.  She had a rough trip last time, going 7 wide.  We expect her to be closer to the pace today and have a free path down the stretch under regular rider Rosario. Raving Beauty will  be on our A team and we see the Brown exacta as a likely outcome.  We will also use Proctor's Ledge on top.  She appeared to be full of run in her last but could not find room to makle her move, steadying in the stretch. Put that race aside and she's 2 for 2 at Saratoga.
A's: 6, 1, 3.
Share and Enjoy