Happy Travers Day, everyone! For us, having grown up spending our summers in Saratoga, this is our Super Bowl.   20 years ago, this Thorobro finally convinced my parents to let me brave the crowds and commotion of Travers Day to witness Deputy Commander and Chris McCarron storm home. I still have a pair of McCarron's goggles from that race on display in my basement.
Fast forward to the present and the 2017 Travers is a spectacular betting race.  We could make an argument for all twelve starters and would not be shocked if any of the entrants win.  But the Travers does not stand alone. It anchors a fantastic Pick 4 sequence with a guaranteed pool (that we are certain will be far exceeded).   Our thoughts on races 8 through 11are below along with a few other key plays throughout the day.  Good luck!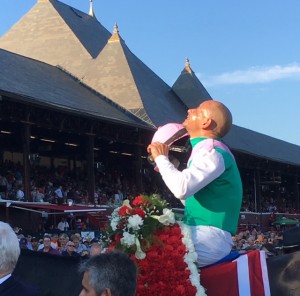 Undercard
Race 2:  10 is the top pick here.  For value we like 1, 5, 6 underneath.  A solid betting race.
Race  3:  2 horse, Chirping should be primed for a breakout
Race 4:  6 Shaft of Light is the likely winner, but we like the 8 at 20-1.
Race 5:  4 and 9 here with the 9 trying to wire the field at a price.
Pick 4
Race 8 – the H.Allen Jerkens (Formerly the Kings Bishop) – 7f Grade 1, $500,000 3YO
Our top A here is Practical Joke.  We think this horse has been longing for 1 turn all year, and the one time he got it was in the Dwyer, where he won in solid fashion.  Seven furlongs should hit him right between the eye, and he is going to get pace to run at between Takaful, Phi Beta Express and Coal Front.  We also like the 8, No Dozing as an A.  Arnaud Delacour knows how to prime a sprinter for the Saratoga big ones, with A.P. Indian last year as a recent example.  No Dozing came off the bench at Laurel in July to score by four lengths, albeit against a field that he laid over.  That was clearly a prep for this start, however, and his last two workouts over the Oklahoma Track have been dynamite.  At 12/1, the price is right.  In races like this, you leave Baffert and Smith off your ticks at your own risk, as evidence by their record at Saratoga in 2016 (3 for 3 with a $12.60 ROI). American Anthem sure fits in this spot, and he comes into the race off a dominating performance in the Woody Stephens on Belmont day at this same distance.  He will be our third A.
We have two Bs in here: Ann Arbor Eddie and Coal Front. Coal Front has looked like a superstar in the making in three starts, winning all three by at least a length and a half, including the local prep for this race, the Grade 2 Amsterdam.  These waters are deeper, however, and you have to wonder whether this Pletcher trainee may be over the top with only three races in his career. Ann Arbor Eddie is an interesting price, and his figure pattern indicates a likely improvement in this spot.  Even an improvement may not be enough to win, but Doug O'Neill has decent numbers when adding blinkers and 15/1 is a nice price on a horse that has won 50% of his lifetime starts.
A's: 1,8,9
B's: 5,7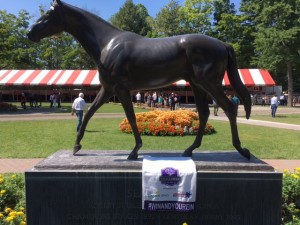 Race 9—The Forego—7f Grade 1, $600,000 3YO and up
Arguably the two best sprinters in the world square off here with Mind Your Biscuits facing Breeders Cup Champ Drefong.  Both are formidable. The race sets up for Drefong as he looks to be lone speed.  The one concern is the layoff.  He returned from 8 months on the shelf at Del Mar last month, but lost his rider at the start.  Will the same Defrong that dominated last year at Saratoga show up?
With these two favorites signed on, we should get square prices on everyone else in the race. Stallwalkin' Dude appears to be on an "every other race" pattern and this race would be an "off" race.  However, he loves Saratoga, can maybe sit a trip from this post and with little other speed right behind Drefong, and be ready to pounce.  8-1 for a horse that likes to win.
On the B team, Tom's Ready can fire at the distance and is turning back a panel.  0-3 at Saratoga is the concern, but 20-1 is worth a shot. Diving Rod has been a force in his last three races and the 7 furlong distance may fit him best.  He is now second off the layoff and entices Castellano—the leading stakes rider in 2017.
A's: 1, 6, 10
B's : 3, 4
Race 10 – The Sword Dancer – 1 1/2 Miles on the Inner Turf, Grade 1, $1,000,000
This is a compact field of 7, but a fun renewal of the Sword Dancer.  For us, we like Money Multiplier and Idaho best. Idaho is one of two Euros, and we have been burned in the past by throwing out the "other Euro."  In this case, though, Erupt seems off form this year, and comes off a race in which he was beaten nearly 57 lengths – giving new meaning to the phrase "up the track."  Idaho, on the other hand, is coming off a Group 1 placing at Ascot (behind two stars in Enable and Ulysses), and a win in a Group 2, also at Ascot.  He is in fine form, and should relish the 1.5 mile journey for O'Brien and Ryan Moore.
We like Money Multiplier best of the US entrants.  He fired nicely off a long layoff in the Grade II Monmouth down the shore, and put in a huge middle move to swallow the field and win going away.  He ran huge in this race last year, finishing runner up to Flintshire and earning a 109 Beyer.  In Chad we trust on the Saratoga turf.
Our B is Sadler's Joy.  Sadler's Joy is a fun horse who has had a recent case of the 3rds.  He struck the front in the Bowling Green last time out, and looked every bit the winner before idling and being passed by today's rivals Hunter O'Riley and Bigger Picture. We think the switch back to Julien Leparoux might help Sadler's Joy time his move better, and the horse is better suited for 1.5 miles anyway.
A's: 5,7
B: 3
Race 11—The Travers— 1 ¼ Miles Grade 1, $1.25 M—3YO
How competitive is this Travers? The Derby and Preakness winners are the fourth and co-fifth choices.  For Pick 4 purposes, we strongly recommend going deep here.  Not only is the race wide open, but the first three legs of this Pick 4 sequence could be chalky. The Travers may be the best shot at getting a square price.
With a wide open field, we like to start by looking at the shape of the race. Always Dreaming could be lone speed, as he was in the Derby (worked out well) and in the Jim Dandy (where he faded).  My guess is that the long campaign has worn on AD and that he will give up the lead around the turn. We will bet against him here.   To us, the key is who gets first run. Fayeq, Irap, Cloud Computing and West Coast figure to sit stalking trips just behind AD.  Cloud Computing's effort in the Jim Dandy was poorer than AD's.  He's also a horse Brown has said is better fresh, so second off the layoff may not lead to his best effort.  The other three all make sense and we like Irap best.  A tested road warrior who has won all over the country.  He beat Girvin two back, and Girvin went on to win the Haskell.  He is a big strong horse, out of Tiznow, and could be a late bloomer entering his prime.  Irap is also certain to get the distance and he has stamina influences on both his dam and sire sides.  At 8-1 he is a great play and our top choice.
Fayeq is an improving horse, who has been working extremely well.  McLaughlin had enough confidence in the horse to start him here.  Despite his success, the horse still has not switched leads in a race. McLaughlin and Saez have been working with him on that issue and they think they have figured it out.  If he's able to switch leads Saturday, he could find another gear.  30-1 (although we expect him to be less than that) makes this horse a must use.
West Coast has the fastest speed figures.  The distance may be an issue, but this horse has been carefully managed and the connections have had a huge year in stakes races.
The other horse we will use as an A is Tapwrit.  Unlike Always Dreaming, this Pletcher horse is coming off a career win in the Belmont and some rest.  We know he can get the distance and his grinding style could run down whoever gets first run at AD.
Finally, Good Samaritan's run in the Jim Dandy was too good to ignore.  He blew by the Derby and Preakness winners in his first dirt start.  Mott has been high on this horse for a long time and he certainly knows how to point a horse to a big race.
Our B will be headlined by the Haskell exacta, Girvin and McCraken.  We respect Girvin's ability to just win races, but would give a slight nod to McCraken here.  We think he is better suited for the distance and moved too early in the Haskell.
For those of you playing triples and supers, Giuseppe the Great, Gunnervera and especially Looking at Lee at 30-1 are worth using underneath.  There, we have now named every horse in the race.
A's: 3, 4, 5, 10, 12
B's: 6, 9
Share and Enjoy