From Mary Lou to Tom; Jim Dandy to Fourstardave; Siro's to backyard tailgating; and morning workouts to give aways; Saratoga has a cast of heroes, customs, and institutions which make it, in our opinion, the most unique sporting venue on Earth. Over the next 40 Days, we will profile 40 of these legends and traditions, adding our own memories and experiences from 30 plus years of summering at the Spa. It's our Salute to Saratoga. We hope you enjoy following along.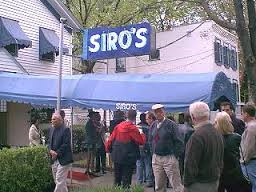 A Saratoga institution.  That much is not in dispute.  Here is how the current Siro's website describes it:  "[t]he origin of the restaraunt's name dates back to 1945 when Jimmy Siro, maitre d' at the Waldorf Astoria, purchased the Lincoln Avenue eatery that was known as The Maranese Restaurant.  And it was off to the races [Ed. Note: nice double entendre] for this trackside restaurant.  A Saratoga institution, the original Siro's has been a staple on the upstate social circuit since it opened. "
The "upstate social circuit" is worthy of a hearty LOL.  If by social circuit you mean some past old dudes with their shirt unbuttoned way too far, women who seem like they have been to Siro's and places like it about 4,000 too many times, and twenty-somethings who just spent all day drinking at the track and are looking to keep firing fireball shots before hitting Caroline  Street, then Siro's is your crowd.  But that doesn't mean its not fun.
In fact, its a blast.  Check out these photos: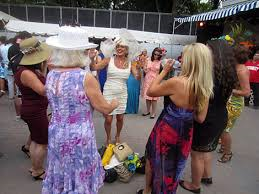 This is Siro's in a nutshell.  Especially that first picture.  Wow.  So great.
If you are looking to keep the party going after a successful (or unsuccessful) day at the track, this is the place for you.  It will be crowded, drinks will be way too expensive, and you will probably come away somehow smelling like Aqua Velva.  But there is live music, everyone there has had a couple (or more) drinks, and the atmosphere is really something to behold.  Its also the perfect segue to Caroline Steet, so that you aren't forced to stop partying at all.  As the great Tom Durkin said, "[t]here are not only 40 days, but there are 40 nights of Saratoga. I really pray there is never a 41."  It's the 40 nights that get you.
I hope everyone has a fantastic weekend and that you all make a ton of money at Saratoga and Arlington.  I'll see you at Siro's!
Share and Enjoy