Below is a collection of our favorite videos, sound bytes and photos from our coverage of Preakness 2015.  Enjoy!
First off, congrats to American Pharoah and his connections–especially Team Zayat–whose post-Preakness celebration signifies  everything that's great about racing.
Zayat Celebration–Let them through!
Unfortunately for Baffert, his other star "didn't take to the wet," although several have questioned Garica's decision to pull Dortmund back after a clean break.
Another horse who seemingly didn't take to the track, was second choice Firing Line, seen below getting saddled.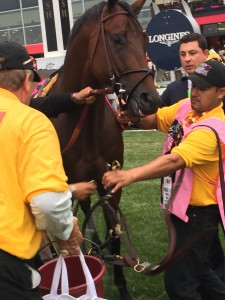 And here are some of our favorite shots from Black-Eyed Susan Day
And finally, some of our other favorite pictures from Pimlico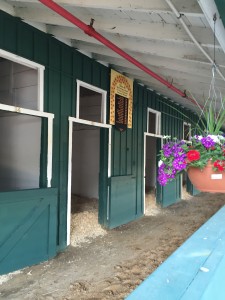 Interview with Hall of Famer, and Mr. Z Trainer, D. Wayne Lukas. Coach discusses the strategy for Mr. Z, Nakatani's creativity, and the extra training the colt required.
Share and Enjoy