On Travers day, there are two big races at Saratoga.  There is obviously the Travers in the afternoon, where the top three year olds in the world compete.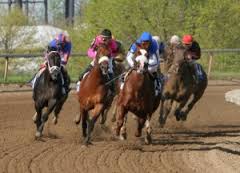 And then there is the race in the morning, where seasoned competitors of all stripes — old and young, male and female, hung over and not hung over — battle for the unequaled prize of snagging a wooden picnic table in a dusty, tree covered field.  This race, of course, comprise a Saratoga tradition unlike any other: The Running of the Picnic Tables.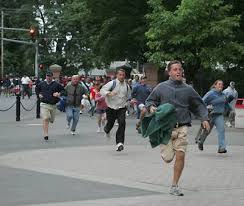 The running of the picnic tables is a quintessentially Saratoga event.  As anyone who has visited Saratoga knows, the backyard is a free-for-all.  Most of the picnic tables are free, and available to the first one that claims it — similar to the way land was claimed in the Wild West.  But just like those hardened frontiersmen who laid claim to the lands west of the Mississippi, the Saratoga running of the picnic tables is not for the faint of heart.
It starts at about 5:30 in the morning, when people begin to congregate around the Saratoga gates.  Everyone has something to mark their territory — newspapers, coolers, tablecloths, towels, a small child, I even saw someone use a shoe one time.  They actually left their shoe on a picnic table to claim it.  As 7:00 grows near, the anticipation builds.  There are some poor souls, in the back of the  line that woke up early and still have almost no shot of getting a picnic table (but if you find yourself in that position on Saturday, don't quit–read our tip below about determination).

But the real fun starts when the gates open.  People of all ages spring into action like they were shot out of a cannon.  Breaking through the gates at a dead sprint, everyone scatters to find the best spot, as those further back in the line fidget anxiously, hoping to find even one, partially broken unshaded picnic table–far from any betting windows and with no view of a TV.  Its quite a spectacle.
Of course, the granddaddy of all the picnic table runs is on Travers Day.  And even though attendance is limited to 50,000 people, there will still be a lot of competition for those limited tables.  Its going to be awesome.  We recommend getting a good night's sleep, staying hydrated, and keeping those elbows high.
For those of you who will be in the mix tomorrow morning, the Thorobros have some key (illustrated) pointers:
Form:  The woman in the pinkshorts and the cowboy hat has great form.  It is of the utmost importance to keep your form as you maintain a dead sprint towards your desired picnic table.  Often, patrons who had been drinking the night before will be dehydrated, or will have their form break down midway towards the best table.  Good leg kicks and a solid, 90 degree arm swing will give you that little edge over your competitors.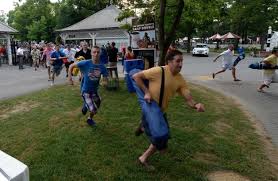 Determination:  You've been hand selected by your team to secure a picnic table on the biggest day of the Saratoga meet.  Act like you've earned this honor.  You are not going to get a good picnic table by sauntering through the gates and walking up to a table and nicely laying out your table cloth.  You gotta come strong and you got to be ready for all challenges.
By way of example, one Travers Day five years, we looked hopelessly defeated as tables were going fast and we were well behind the pace setters.  Channeling our inner Doug Flutie, we opted for an air attack, firing a tablecloth Hail Mary into a field of empty tables.  The rest is history.
Now, look at this little dude above in the plaid shorts.  He knows what we are talking about.  That guy is trying HARD.  And look at the fella in white in the background — I think he is taunting all the people behind him as he high-steps his way to his picnic table.  What a winner.  The moral of the story though — especially Saturday — is that you have to sprint like your life depended on it.  You have to collapse on that picnic table, lungs heaving, sweat pouring.  That way, later that afternoon, as you look deep into your can of Keystone Light, you know you earned that hard wooden seat.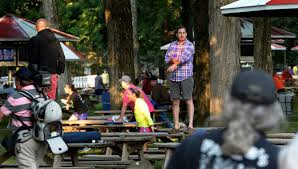 Triumph and Celebration:  You've done it.  You've reached the pinnacle.  You've secured a coveted picnic table for Saratoga's biggest day since the 1970s.  A nice towel, newspaper, old welcome mat or whatever else you could find around the house at 5:30 in the morning rests proudly on your new kingdom.  All around you, vassals scramble like rodents looking for any last remaining table.  But you are king.  You have a great table, with good shade, close to the TVs.  There is plenty of room for coolers and sandwiches.  There is nothing left to do but stand on your table, and survey the scene.  Look around, breathe in the lovely morning air.  Try not to think about the 2.5 slices of pizza that you drunk-ate the night before on your walk back home.  Shout to some of your homeboys who were a little slower to wake up, and are now wandering around the backyard like zombies, looking for any scrap of grass to claim for themselves.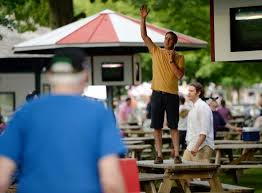 You've reached the mountaintop.  You – and you alone – outsprinted kids, senior citizens and dozens of other bros to get your picnic table.  Now its only 6 hours until post time….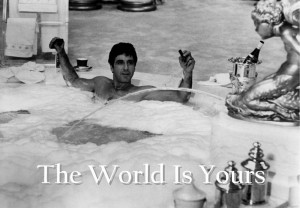 Share and Enjoy