The Kentucky Derby is a great reason to throw a party. It's an event where everyone dresses to impress, comes with a pre-determined theme, engages the party-goers with the chance to pick a winner and presents an opportunity to drink an otherwise obscure cocktail. What more could you ask for?
Kentucky Derby parties are held all over the country on the first Saturday in May, especially in cities and towns with 'Racing Fever'. Saratoga Springs is no exception, and starting in 2015 the National Museum of Racing and Hall of Fame has hosted one of the best around.
This event allows guests to stroll through the halls of racing history, and recollect on past champions of the sport before watching a race which will likely produce a new plaque in the hall of fame room. What better way to get in the mood for the Derby than to learn about the champions of the sport, including the newly re-vamped Triple Crown exhibit.
In addition, the event offered goers with samplings of some of the areas best restaurants and bars, including Druthers Brewing, DZ Restaurants, and the Thirsty Owl to name a few.  The vendors were encouraged to make Kentucky-theme food offerings, and party-goers could vote for their favorite option. There were many items cooked with bourbon, and a few different takes on a Hot Brown. But the winner in our eyes came in the form of a traditional Kentucky BBQ from Peabody's Bar and Grill. But honestly, how did Burgoo get left on the also eligible list.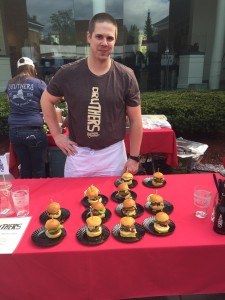 The event offered an opportunity to win big on your favorite. A 50/50 raffle allowed party-goers to vote for the winner of the race, with the winner being drawn from the pool of tickets for the winning horse. All proceeds for the event go to the Museum, a non-profit that does a great deal for the sport and the community.
The drink options were various, from traditional mint juleps offered by Woodford Reserve, the official bourbon of Kentucky Derby 142, to champagne in all varieties provided by Hart Distributors. A 'Best-Dressed' contest encouraged attendees to dress to impress. There was even a photo booth to commemorate the event.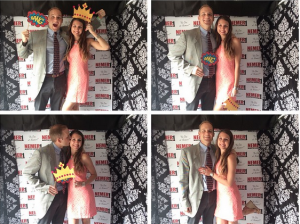 For the race itself, the Museum used its massive projector screen to provide a great view to all in attendance. Watching history unfold before your eyes, while literally surrounded by the history of the sport; a definitely unique experience.
This event provided all in attendance with an opportunity to enjoy one of racing's biggest days, encouraged them to learn more about the sport, and provided a great party atmosphere. This event comes highly recommended to anyone looking for an unique way to celebrate Derby Day.
Share and Enjoy