Welcome back to the second round of Horse Madness 2016! We are through the play-in round, and an updated bracket is here: Horse Madness 2016.
When we conjured up our Horse Madness Upset bracket, this was type of matchup we had in mind. What defines the greater upset? A true Cinderella, rags to riches story like Mine That Bird and his band of misfits he dragged cross country? Or a giant slayer who shocks the greatest champion of our generation in Keen Ice? We are excited to see how this one turns out.
Mine That Bird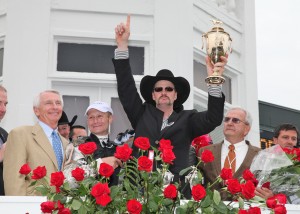 Mine That Bird was purchased for $9,500 as a yearling. The gelding began his career in Canada where he won four of six starts and was named Canada's two year old colt of the year. However, MTB's form did not translate south of the border when he shipped to the States. After a last place finish in the Breeders Cup Juvenile for Richard Mandella, MTB was transferred to the barn of obscure trainer Chip Woolley. The results that followed did not forecast Derby glory–a second and fourth place finish in two ungraded stakes in New Mexico. However, Bird's graded stakes winnings were sufficient to earn him a spot in the Derby starting gate. So the journey began with the now famous 2,100 mile drive across the US, with Chip Woolley, crutches and all, hauling Bird in a trailer behind his pickup truck.
The 2009 Derby was a relatively open affair after the scratch of morning line favorite I Want Revenge. Pioneer of the Nile, more on his legacy below, was the lukewarm chalk while MTB was 50-1. And as the field turned for home, Pioneer had the lead over a very game (and Thorobros backed) Musket Man. Then the unthinkable happened. The sea parted, giving Calvin Borel a clear path on a rail that had been golden all day. MTB exploded from the back of the back with a move so rapid, that Durkin missed him until he was three lengths clear. He splashed home to win by six and half lengths. An amazing upset and an unbelievable story. The Bird would never win again, but it didn't matter. His spot in history was cemented during his epic 2009 road trip.
Keen Ice
Keen Ice is an honest and talented race horse. A review of his past performances does not scream Cinderella. But his inclusion in this bracket is not about him, but rather who he beat. We all know the American Pharoah story– erasing 37 years of frustration by winning the Triple Crown in dominating fashion. Pharoah followed up that feat with perhaps his most impressive effort in the Haskell.  AP soundly defeated Keen Ice in the Derby, Belmont and Haskell. However, the Travers would be a different story. First, it was not in the original plans for the champ. Second, Saratoga is the Graveyard of Favorites, and if any venue could derail Pharoah, it was the Spa.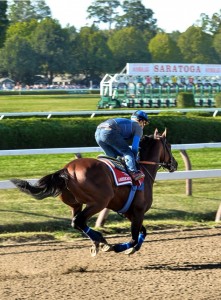 Saratoga was in a phrenzy for Pharoah's visit, but Dale Romans, Keen Ice's trainer, planned to play spoiler, noting he was glad NYRA limited attendance to 50,000, so fewer people would boo him when Keen Ice won. Maybe Romans knew Frosted's game plan. The second choice hounded front runner Pharoah pressing him through fast fractions and even getting ahead of AP in the stretch.  As the pair reached the 16th pole, AP had defeated Frosted.  But Keen Ice, at odds of 16-1, was gaining with every stride under Javier Castellano.  AP dug deep, but his tank was empty. Keen Ice surged past the drained champion, and etched yet another tombstone for Saratoga's graveyard.
Share and Enjoy