From Mary Lou to Tom; Jim Dandy to Fourstardave; Siro's to backyard tailgating; and morning workouts to give aways; Saratoga has a cast of heroes, customs, and institutions which make it, in our opinion, the most unique sporting venue on Earth. Over the next 40 Days, we will profile 40 of these legends and traditions, adding our own memories and experiences from 30 plus years of summering at the Spa. It's our Salute to Saratoga. We hope you enjoy following along.
Day 5:  Rachel Alexandra and the "Raising of the Rafters"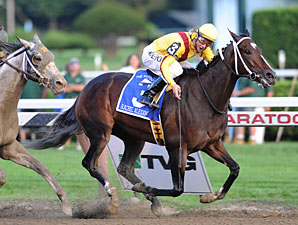 What would Salute to Saratoga be without some of the incredible horses who have made this place special over the years. There is a litany of Champions to choose from who raced at Saratoga to add to this list.  However, there are fewer who made their Championship-defining performances on the hallowed grounds of Saratoga race Course. In honor of #FillyFriday, and her offspring Rachel's Valentina making her first start of her career on Sunday, today we salute Rachel Alexandra. A filly who captivated the Saratoga public for an entire 2009 season, and capped it off with a gritty, unparalleled performance to close out the meet in the Woodward.
Rachel arrived at Saratoga in late June and early July of 2009, following her dominating performance in the Mother Goose, where she won by an amazing 19 lengths. Having previously dominated the Kentucky Oaks, and defeated boys in the Preakness, prior to the Mother Goose she was the hottest ticket in racing. Had she ended her season right then, she likely would have locked up 3 year old Filly Champion. But Steve Asmussen and Jess Jackson had other ideas for their filly. Instead of giving her a mid-season break, they wanted to continue her winning streak all summer long.
Asmussen scheduled her to work every Sunday morning, something that became widely known by race fans that summer. Oklahoma was packed with patrons, eagerly waiting to see this Classic-winning filly put on a show, even if it was not in competition.
The Saratoga crowd was waiting to see where Asmussen and Jess Jackson would place her for he next start. Would he run her in the Alabama, or take on the boys in the Travers? She could face older females in the Personal Ensign? But her connections stayed mum for most of July.
In late July, it was announced that Rachel would take on the boys, but would do it at the Jersey shore in the Haskell. You could feel  Saratoga Patron's collective hearts break. How could they train her here, make her a hometown favorite and not run in a classic Saratoga Stakes. By running in the Haskell, it took the Alabama out of consideration and made the Travers a stretch as it would be a short turnaround for the filly.
After her triumph in Jersey, Rachel returned to Saratoga once again. And the rumors started, slowly, that she might make a start at the Spa, but what race was unknown. As the dog days of August wore on, it was announced that Rachel Would take on older males in the Woodward.
Suddenly, Saratoga was abuzz again. Everyone was talking about the 3 year old filly who was planning to do the unthinkable: beat older males.
On the day of the race, the track was packed. It seemed the whole town came out to see her. There was even a hat giveaway which bore her name. Could she do it? That's all that was talked about that last Saturday of the 2009 season. The anticipation was overwhelming.
She came onto the track looking magnificent, with her bay coat shining.
Rachel's followers backed her strongly at the window, but any savvy horse fan knew that her 1-4 odds were by no means a lock. At the break she took her usual place at the front of the pack, but as Durkin noted the field gave her "no free ride", forcing her to go :22 4/5 for the first quarter.
Rachel maintained her lead throughout the backstretch, with each horse giving her a run. As she made the top of the stretch she had already turned back three runners best efforts, but Macho Again and Bullsbay, that year's Whitney and Stephen Foster winners respectively, still had shots to take at the big filly.
Bullsbay came first, making a move in mid-stretch. However Rachel repulsed it. But Macho Again, who benefitted from the fast fractions, was making a huge run from last. He approached Rachel just outside the 1/16th pole. Calvin Borel implored Rachel for her best run and she responded. You can hear the desperation in Durkin's voice, as he and the crowd held their collective breath all wanting to see the great filly do the impossible.
At the line "it was going to be desperately close" as Macho Again was relentless but Rachel proved her champion status. She held off Macho Again in a dramatic stretch drive for the ages. It was the loudest crowd and applause I had ever heard at Saratoga. Bigger than any Travers winner, it did indeed "raise the rafters at the Spa". The applause continued throughout the winner's circle presentation, and did not end she was well down the stretch on her way to her barn.
 Here is Tom Durkin's electrifying call, which is considered one of his very best.
She is indeed Rachel Alexandra, THE GREAT!
Rachel captivated Saratoga for an entire summer, with every emotion imaginable. She was indeed the Champion that year, and a very deserving one. Her Woodward will go down as one of the greatest performances by a 3 year old filly ever. And it happened, right here at Saratoga.
Share and Enjoy