One of the best things about going to the races, other than the potential to walk away with a bag of cash, is the ability to meet and talk to new friends. Although this is the sport of kings, there are people from all walks of life at the track, especially on a big day like Belmont Stakes Day. Some of these people you want to make friends with, others you want to stay away from and others you might just want to stand around, to get the benefits of friendship without the burdens. I have a real-life example of each of these people from previous Belmont Days, and advice about how to make the right call about your contact with them.
As to people to make friends with, you want to identify and buddy up with the people who have what you can't get. People that bring something to the table. I know what most of you are thinking: good betting knowledge. While it is a good idea to talk to someone who is "gets hot", sometimes these guys don't stay hot. Or these guys will not want to be bothered with you or might even intentionally tell you the wrong horse. What I am talking about is things that are physically impossible to get at the track.
My example of this comes from Belmont Stakes Day 2011. I was sitting in the 3rd floor of the grandstands with my family and friends, enjoying a nice day. Although no Triple Crown was on the line, it was going to be an exciting day. I had just graduated from college, had some great horses to bet. But we forgot to  stop at the deli next to our hotel on our way to the track. I was devastated, the food at the track was never good, and overpriced. I waited through the first few races angry with myself, stomach rumbling. By about the 4th race, the track was starting to fill, including the area around the entrance to our section.
I noticed a group of people standing immediately at the top of our section, two men and a woman. They never left that spot, at least not all at one time. I noticed that they kept taking something out of the rafters, and putting it back. It was long and silver. I did some recon and figured out it was an aluminum pan. I knew it had to be filled with food. I couldn't resist the groans from my stomach, and got the courage to ask what was in there.
I approached them, and asked what they had in the pan. Much to my surprise they asked me which one. I said any of them, not knowing there were more. The older man told me two were Jamaican jerk chicken and one was beef, his mom's recipe straight from the homeland. I was stunned, shocked. How did they get those in here, past security? I had to know more.
I asked how they got them in. He told me that his son worked with NBC and brought them in this morning. Genius idea, great way to stick it to the man I thought and told them. They offered me a piece, and it was delicious. They had a ton of it, and I asked if my friends could come try some. Not worried about running out the man said "Sure, so long as each of you buys us a beer or two." Easily the best deal in the track that day. I stood with them periodically throughout the day, talking horses, drinking beers and devouring perfectly spiced chicken wings; it was great. My new friends had exactly what I wanted but could not get for myself. They literally brought something to the table. Whether what you want at your table is food, a certain seat, or access to a certain area, I am sure someone at the track can get it for you. All you got to do is find them and ask, or maybe buy them a beer.
As to the people who you might want to be around, but not necessarily closely associate with, I will call them wildcards. My story about wildcards comes from 2012. The year I'll Have Another's Triple Crown attempt never started. His attempt was not the only attempt that failed that day. A friend of mine was having a picnic in the backyard that day. He and some other guys came early, with some food. But they were not letting people bring beer that day, however his friend Tyler would have none of that.
Tyler decided that he could get beers into the track. His "big plan" was to put beers in plastic bags, throw the bags over the fence and grab them on the other side. Great idea, no flaws. Knowing of the plan, but choosing to watch from a safe distance, we watched the plan play out. Tyler executed part one, but when it came to the throw things went wrong. The bag was large, full of beers. Tyler, already having imbibed a beer or five did not appreciate the height of the fence. The bag got caught at the top of the fence, ripped open sending beers everywhere on both sides of the fence. Bystanders, seeing blood (beer?) in the water, bum-rushed the scene. The beers were gone in seconds, none of them going to Tyler or the party. Tyler felt like he let the party down. But to the contrary, he provided great entertainment. If you attend the Belmont on Saturday, look to the wildcards near you for some free excitement. But don't get too close, you might get sucked in.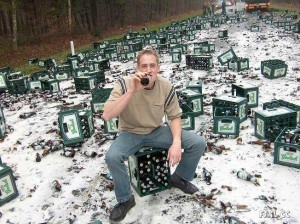 Finally, there are some people at the track you just need to avoid. At Belmont 2010, I had an unfortunate encounter with one of these people. Actually, the interaction began not in the track but in the parking lot. I was driving in with a friend, JD. We were waiting, with blinker on, to turn into a lot. All of sudden, out of nowhere, Joe Blow from Jersey in a BMWer came flying in and cut in front of me. I gave him the international sign for WTF, which I could tell he did not appreciate because he slammed on his brakes repeatedly, trying to get me to rear-end him. As we parked, we both got out of our cars he told me to calm down(which is never the right thing, because it ONLY enrages people). We exchanged words, got close to fisticuffs but finally ended it with out physical incident.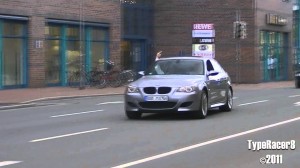 That interaction almost ruined our day. JD was hot and agitated the rest of the day, and I was on edge myself. Although it would have been hard to avoid Joe Blow altogether, do your best to down play these types of events. Someone will cut you in line, someone will say something about your mother, you will  get the finger; this is New York after all. Don't get sucked in. Rise above it, believe in good karma and do what you came there to do: have a good time and win some money. You don't want to be someone else's Joe Blow.
There is a camaraderie among race fans, but it is a different camaraderie than you see among the home fans at a baseball game. Among race fans there is disagreements about who is on the right about a statistic, who picked the right horse, and whether a certain bet is smart. But just like any other sports fans, your friends in the stands are always there to build you back up after a tough beat. And more than that, sometimes
Go ahead and make some new friends at the Belmont this Saturday, just make sure they bring something to the table or even if its only a wild card.
Share and Enjoy