Breeders' Cup Limited's decision on where to host the 2015 Breeders' Cup may be the most significant and telling decision in the organization's history.  In 1982, the  Breeders' Cup was developed, in part, on the concept of introducing a sport with declining interest  to different fan bases across the country.  Consistent with that vision, ten different sites have hosted a Breeders' Cup.  Six of the first seven Breeders' Cups were staged at different tracks. Between 2002 and 2007, the Breeders' Cup further expanded its hoof print, running Cups at smaller market tracks such as Lone Star Park in Texas (2004), Monmouth Park in New Jersey (2007), and Arlington Park in Chicago (2002).   However, in the seven years to follow, the Breeders' Cup has or will be hosted at only two sites–the iconic Churchill Downs and sunny Santa Anita–with Santa Anita hosting five of those seven.
The move towards Santa Anita is consistent with a 2009 strategic plan presented to the Breeders' Cup board by a hired sports consultant agency.  The official plan, approved by the Breeders' Cup in December 2009, was to "explore the possibility of a permanent host site."  Others since have suggested that this exploratory plan included a commitment to one site for five to ten years.  The Breeders' Cup has yet to officially announce a permanent, or even five year commitment to Santa Anita.
With this background in mind, the Breeders' Cup's decision as to where to host its 2015 championships is both telling and  significant. Will the Breeders' Cup select Santa Anita and unofficially declare its intent to make that venue the permanent host site, much to the ire of the East Coast?  Or will the Breeders' Cup return to a past host, such as Gulfstream or Churchill Downs, and perhaps signal a fixed rotation?  Or could the Breeders' Cup select an eleventh new host site, ignoring its 2009 adopted strategic plan and honoring the events' founding principles?
One thing is certain; Breeders' Cup 2015 has plenty of suitors, each with pros and cons, not only as to the location's suitability as a host site, but also for what that selection will mean for the Breeders' Cup and for the sport in general.  This three part series will evaluate the pros and cons of leading potential host sites, starting with a look at the incumbent, Santa Anita.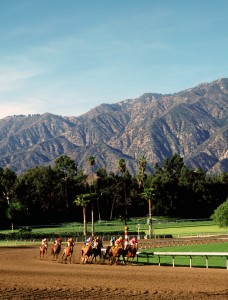 Santa Anita
Pros:  If the Breeders' Cup is ultimately targeting a permanent site, it would be hard pressed to find a better host than Santa Anita.  The weather is ideal.  The Pacific time zone permits networks to broadcast the Classic on primetime in the East without the need for artificial lighting. The facilities have vastly improved and include a functional infield which can attract a younger fan base.  It brings primetime racing to the West Coast and taps into a major and largely undeveloped market with plenty of young and wealthy targets to convert into the next generation of horse fans and owners.  The proximity to Hollywood increases celebrity attendance–something the Breeders' Cup seems focused on promoting–which helps glamorize the sport and increase its profile in mainstream and social media.
In addition to the pros of the Santa Anita and the West Coast itself, there are also benefits to a permanent home for the Breeders' Cup.  In a sport that has endured a turbulent past decade, it cannot afford any setbacks during arguably its biggest weekend of the year.  Santa Anita greatly reduces the risk of a disappointing Breeders' Cup, either from financial, racing, or weather perspectives.   The attendance and handle numbers both improved in 2013 (94,628 and $160,704,877) from the 2012 figures (89,742; $144,272,332).  This upward trend also occurred during the 2008 and 2009 runnings, suggesting more improvement could be expected from hosting a third and perhaps fourth consecutive Breeders' Cup.    Despite initial concerns, horsemen, especially the Europeans (see last year's turf dominance by the Euro contingent), appear unnerved by the commitment to Santa Anita and to date, the location alone seems unlikely to cost the Breeders' Cup any star horses.  Of course, Santa Anita also significantly reduces the likelihood of a 2007 Monmouth like monsoon or a 2002 Arlington-esque freeze.   Indeed, it appears that hosting a Breeders' Cup at Santa Anita is a "safe bet", with annual success expected and the risks and unknowns associated with relocating to a new and untested market or climate eliminated.
Cons:  From a policy standpoint, many will argue that a permanent location violates the original intent and spirit of the Breeders' Cup, which was to expose different markets and locations to the sport.   Similarly, a commitment to a permanent site could stifle renovations and improvements made by other facilities motivated by the prospects of hosting a Breeders' Cup.  For example,  Del Mar and Keeneland are switching surfaces and considering other improvements in an attempt to lure the Breeders Cup.  Gulfstream underwent a $500 million renovation.  An announcement or inference that Santa Anita has been selected as a permanent host site removes a major incentive driving improvements by other facilities; improvements which of course benefit the sport and fans long after the Breeders Cup has left town.
From a statistical perspective, the last four Santa Anita's Breeders' Cups all rank behind 2010 and 2011 Breeders' Cups run at Churchill Downs in both handle and attendance.  These numbers suggest that the Breeders' Cup is losing significant money every year Santa Anita hosts, at least in comparison to Churchill Downs.
From a racing stand point, Santa Anita's surfaces have shown a bias.  Even the biggest Santa Anita apologist cannot argue with the insane bias given to horses in the Turf Sprint who have experience with Santa Anita's quirky downhill turf course.    Critics also claim that Santa Anita's dirt surface is biased, both in terms of running style and also towards West Coast horses.  The last two years the main track has, at its best, been described as moderately speed favoring, and at its worst, a West Coast version of the cement strip at Calder.  Friday of the 2013 Breeders' Cup serves as ugly evidence of this bias with Exhibit A being Godencents front running romp in the Dirt Mile where he set suicide fractions of 22.1 and 44.75 from an outside post only to draw off and win by nearly  three lengths.  Also, historically, the main track has favored West Coast horses, especially in the Juvenile races and in the Sprint division.  For example, Southern California based horses have claimed five of the last seven Juvenile Fillies and four of the last six Juveniles held at Santa Anita.   Not to disrespect Beholder, but she has yet to win a Grade 1 at any track outside Santa Anita, yet she could claim her third straight Eclipse Award this year, again, without needing to win a major race outside of Arcadia.  If these biases continue, there is concern that top East Coast horses, well regarded closers, or a turf sprint star with no downhill experience will bypass a Santa Anita hosted Breeders' Cup.
Closer Look:  Despite the potential drawbacks and likely East Coast outcry, Santa Anita is clearly the one to beat.
Odds: 2-1
The next installment in this series will examine the prospects of Churchill Downs and Del Mar as potential 2015 host sites.
Share and Enjoy