From Mary Lou to Tom; Jim Dandy to Fourstardave; Siro's to backyard tailgating; and morning workouts to give aways; Saratoga has a cast of heroes, customs, and institutions which make it, in our opinion, the most unique sporting venue on Earth. Over the next 40 Days, we will profile 40 of these legends and traditions, adding our own memories and experiences from 30 plus years of summering at the Spa. It's our Salute to Saratoga. We hope you enjoy following along.
With over 150 years of racing under its weathered belt, it's no surprise that Saratoga Race Course is cloaked with established traditions. But at Saratoga, traditions are contagious and each year new traditions form which, by virtue of their occurrence at the Spa, inherit a lore and legacy unearned by their infancy. Potential new traditions lurk are around every corner at Saratoga, even in the most unexpected places.
And so was the case five years ago. On the Sunday morning after Travers, I admit I couldn't wait to get out of Saratoga and head back to the friendly confines of my apartment in Philadelphia. It marked day five of my friend's bachelor party, and the thought of returning to the races for a full day, to only then turn around and drive five hours back to Philadelphia was disheartening. My tank was on empty. I was waiving the white flag. But my navigator and future Thorobro was adamant that we stayed for day's races—"Rachel is running. We have to stay." So I dusted off the cobwebs, drank about 22 hours-worth of 5 hour energy and boarded the hearse pointed towards Union Avenue. With the third Thorobro at the helm, we entered the track from the Nelson Avenue entrance, but then made an unexpected B line to the barn area. "Where the hell are we going?" I asked. "Got a little surprise" was the response. We got out of the car and walked towards the barn area. I didn't know it at the time, but this was the start of my favorite new era Saratoga tradition.
Tradition and Eric Guillot are antonyms. The brash, cargo short wearing, trash talking Cajun is anything but traditional in the racing world. And I think Guillot would be the first to admit that, and be proud of it. In the past five or so years, Guillot has been a lightning rod at Saratoga, but he's also enjoyed tremendous success despite a small stable of horses. In 2010 he won the Test Stakes with Champagne D'Oro. That same year he lit up the tote board with an over 90-1 shot. In 2013, his three year old star Moreno lost the Travers by only a few jumps. Guillot made headlines a week later when he sought an investigation into whether winning jockey Luis Saez used a buzzer on Will Take Charge. The next year, Moreno returned to win the Whitney and finish a close second in the Woodward. Moreno's back in the Whitney this year, and he and Guillot are looking to defend their title.
During this five year Saratoga run, Guillot has also delivered classic quotes and orchestrated some of our favorite shenanigans. In 2013, he stated he was going to tie canoe to the roof of his golf cart, and drive around with it all meet in anticipation of Moreno winning the Travers. Last year he constructed the now famous voodoo chain with toy horses and a chicken foot which hung outside his barn area. After winning the Whitney, a video surfaced of Guillot wearing the flowered blanket like a boa, doing his best Ric Flair impersonation (see here).   Say what you want, about Guillot, but he's certainly entertaining and in my opinion, brings a little WWE type flair from which racing, sometimes perceived as "stuffy," can benefit.
Guillot's propensity to entertain was on full display at his barn on that early Sunday afternoon. As we rounded the corner, there was Guillot, standing over a giant pot, stirring the contents with a boat oar. "He's practicing witch craft" was my first thought.
"Gentlemen!", Guillot exclaimed, "beers in the cooler, bowls over there, get yourself some of the world's best gumbo!"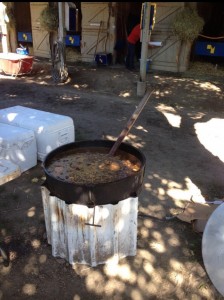 The last thing I wanted at that point was stable made gumbo. My body already hated me. But declining Guillot's offer was not an option. I loaded up a bowl, cringed as the Louisiana hot sauce was dumped on, and braced for my first bite as if I was taking another shot of Jagr. No need. I may overuse superlatives, but that was the best bite of food I've ever had at a race track. The specifics of the recipe are of course a secret, but I did get this much out of the chef: "two bottles of Louisiana Red Hot, chicken, and sausage from every cut of pork imaginable." He also added "your rice to gumbo ratio is very important." Three bowls, four or five beers, and several laughs (and an appearance from Champagne D'Oro) later and we were on our way back to the track—my body, mind and soul nourished. One of my new favorite Saratoga traditions was born.
In the years that followed, we've returned to Guillot's barn for the annual gumbo party. The entire backside is invited, and the turnout has seemingly grown each year. He's even added a band to the festivities. While the gumbo may be the centerpiece, Guillot and his Southern hospitality are certainly the draw. So if you are fortunate enough to be in Saratoga this weekend, and hear about an invite to some vague gumbo party in the barn area, don't ask questions. Just go. Your new favorite Saratoga tradition is around the corner.
Share and Enjoy