Will he or won't he? That's the million dollar question being asked of the racing world during the three week interval between American Pharoah's Preakness win and his scheduled date with fate on June 6 in Elmont, New York.  With this question also comes the inevitable discussion concerning how badly racing—a sport perceived as fading in popularity–needs a Triple Crown winner.
We are not debating the benefits a Triple Crown winner would bestow on racing. We also aren't ready to answer the will he or won't he question. Instead, this article is focused on the present and how racing can capitalize on its three week foray in the spotlight.
We start with this unfortunate premise: if history repeats itself, the racing world should brace for disappointment on June 6. No knock on American Pharoah—we love him and think he has a great chance. But for racing, this is not uncharted territory. Just last year horse racing had the same shot at salvation. Ditto for 2012, 2008, 2004, 2003, 2002, and so on and so on. Each one was thought to be "the one." Each one ended in heartbreak of varying degrees.
Because of this history—we offer the following call to duty—don't wait for a Triple Crown; act now. The racing community should not, as it has done in the years past, sit back and wait for a Triple Crown redeemer. Instead, right now, the entire racing community should recognize and seize the current opportunity afforded to it by American Pharoah. Racing is in the midst of a three week period where it has the nation's attention; where it appears above the fold on the New York Times, is discussed on the Today Show, and its star jockey throws out first pitches at Dodgers games. The racing community needs to recognize this current opportunity and use it to increase the sport's profile and educate and attract new fans.
Of course, this is easier said than done. We've tried to drum up concrete examples of how various groups in the racing community, including fans, can do their part. Here are our thoughts on how racing can avoid its past history and not miss out on the three week (two remaining) window of opportunity opened by American Pharoah.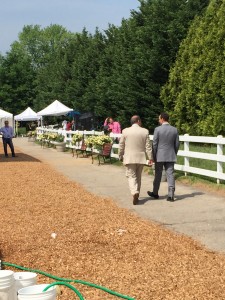 The Connections:  Of everyone on this list, we credit AP's connections the most for embracing their role as racing's ambassadors for these three weeks. While Ahmed Zayat has been under scrutiny in the last week, he has remained active on social media and even boldly predicted a victory for American Pharoah in the Belmont. Trainer Bob Baffert has also remained available to the media and offers casual fans a recognizable figure. Most notably, jockey Victor Espinosa has been a media fixture during this time. Espinosa's story from his roots in Mexico to his third attempt at a Triple Crown is the most compelling human interest story of AP's bid and it's important that this story is the one told through the media. Not that Victor Espinosa owes the racing community anything, but every interview he gives and appearance he makes can only help the sport. Racing has recently focused more on promoting the human athlete, and Victor's Triple Crown quest plays right into this marketing campaign. We hope Victor continues to remain in the spotlight.
One other thought. We're sure the Zayat's are extremely busy these three weeks. However, what if, in connection with NYRA, the Zayat's offered some sort of "Be Our Guest" contest, affording a lucky winner the chance to accompany the owners to the Belmont. As much as people criticize Loooch Racing, one cool thing he did last year was run a contest to have a fan be his guest at the Breeders' Cup on Friday to watch Ria Antonia run in the Distaff. We think Looch is on to something here. This guest wouldn't need to impose on the Zayat's monumental weekend. Maybe just get the guest a paddock credential, have NYRA provide decent seats, and set up some 10 minute meet and greet with the Zayats, maybe at the barn area.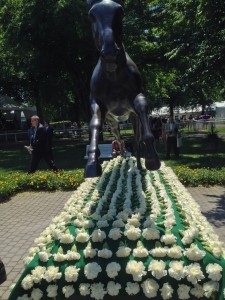 Race Tracks: This is the group where we would like to see the most improvement. Just this past weekend, major race tracks enjoyed beautiful weather and a federal holiday. Yet, we saw little effort on race tracks' part to market Pharoah in an attempt to generate buzz and get fans to the races. Belmont stands to benefit the most from AP's bid. Yet other than a few emails cleverly using "ph" in words spelled with "f", we've seen little ephort from NYRA. We were on site this weekend and were disappointed by the lack of Belmont buzz. There could have been an AP poster give away. Maybe sell some t-shirts. Put up some signs. How about having people in the backyard promoting the race and trying to sell tickets to June 6 (we understand there are still 22,000 grandstand seats available)? We didn't see any of that.
Santa Anita has the benefit of being AP's home track (to the extent he has one), but we've seen little effort from them as well. Perhaps have Baffert and/or Espinosa sign a poster?
Churchill still has the Kentucky Derby winner on site. Pharoah worked out yesterday morning but we saw nothing from Churchill promoting this or inviting people to the front apron to watch the work and catch a glimpse of the equine hero.
The list could go on and on.
We know all race tracks will rise to the occasion on June 6 and offer a viewing party. However, there is still another weekend of racing (which besides the Penn Mile, lacks major stakes action) where tracks around the country could benefit from marketing Pharoah in effort to increase on-track attendance and perhaps convert new fans.
Media: We start by giving credit to TVG and HRTV. We still agree with Kenny McPeek's pre-Derby Twitter rant that the sport would benefit from more pre-race coverage and analysis. That said, these networks upped their coverage of the Derby and Preakness, offering several shows in the days leadings up to the big races. Still, we'd like to see more pre-race coverage and content. Maybe this is better suited for NBC Sports, but a "Journey to Belmont" mini-series, detailing AP and his connections' preparations for June 6 could be interesting to the casual fan. NBC Sports (or TVG/ HRTV) could also show recent Triple Crown misses—putting together small segments on past failures and lessons to be learned from history (stay tuned as we'll be putting together a similar series on our site). We'd also love to see a Racing 101 show for new casual fans looking to be "caught up" and ready to wager come June 6.
The options for quality programming these next two weeks are endless. We hope all racing media, especially NBC Sports, who has gambled on racing, recognizes these prospects and increases the air time.
Fans: Often times we fans sit back and are critical of the racing industry without acknowledging and accepting our own responsibility. Like us, you may have received texts, emails, or calls from non-racing fan friends and family members asking: "Do you think he will do it?" We ourselves are guilty of often responding with some vague answer about waiting to see how the race shapes up and then moving on from the conversation. Instead, we should engage these people who are showing interest. Explain to them the challenges facing Pharoah, send them YouTube clips of past failed efforts, and be sure to email them links to stories as they develop throughout the week. When the entries are drawn, send them the past performances and offer to explain them. If you are going to Belmont, have these people tag along. Watching from home? Invite them over. The point is this: non racing fans are interested in Pharoah's quest and they will look to you as their requisite racing expert for your opinions.  Use this opportunity to engage these potential fans, every person we can educate a little more about the sport is a victory in our books.
We'd be interested to hear other ideas anyone has about how racing can up its marketing efforts over the next two weeks. The sport has a golden opportunity that we believe it has overlooked in past Triple Crown bids. Instead of waiting to see "will he or won't he," the racing community should take advantage of the present certainty—two weeks of national attention on the sport's current star.
Share and Enjoy